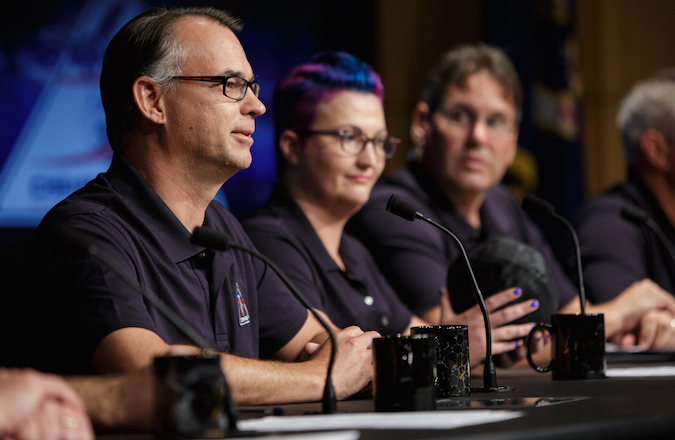 The scientist in charge of NASA's OSIRIS-REx mission hopes to apply more than $30 million in leftover funding toward reducing the risk of the probe's touch-and-go maneuver to snag a piece of asteroid Bennu, then eventually hire more experts to analyze the primordial specimens when they return to Earth in 2023.
The billion-dollar asteroid sample return mission is set for blastoff Thursday from Cape Canaveral, and it should launch with more than $30 million left in its development account.
"We are coming in tens of millions of dollars under budget," said Dante Lauretta, OSIRIS-REx's principal investigator at the University of Arizona in Tucson. "The exact number won't be known until we close out the development phase, which depends on how long into the window it takes us for us to go, so we're holding some reserves just in case the launch slips."
The development phase of the OSIRIS-REx mission ends about a month after launch, which has until Oct. 12 to get off the ground or else wait another 12 months to wait for Earth and asteroid Bennu to be in the right position again.
How much is still on OSIRIS-REx's coffers?
"The final number won't be known until all of those (launch) events come to pass and we officially close out the development phase," Lauretta said. "But at least $30 million, and potentially more."
OSIRIS-REx stands for the Origins, Spectral Interpretation, Resource Identification-Regolith Explorer. It is the first U.S. asteroid sample return mission, heading for object the size of a small mountain that makes laps around the sun near Earth's orbit.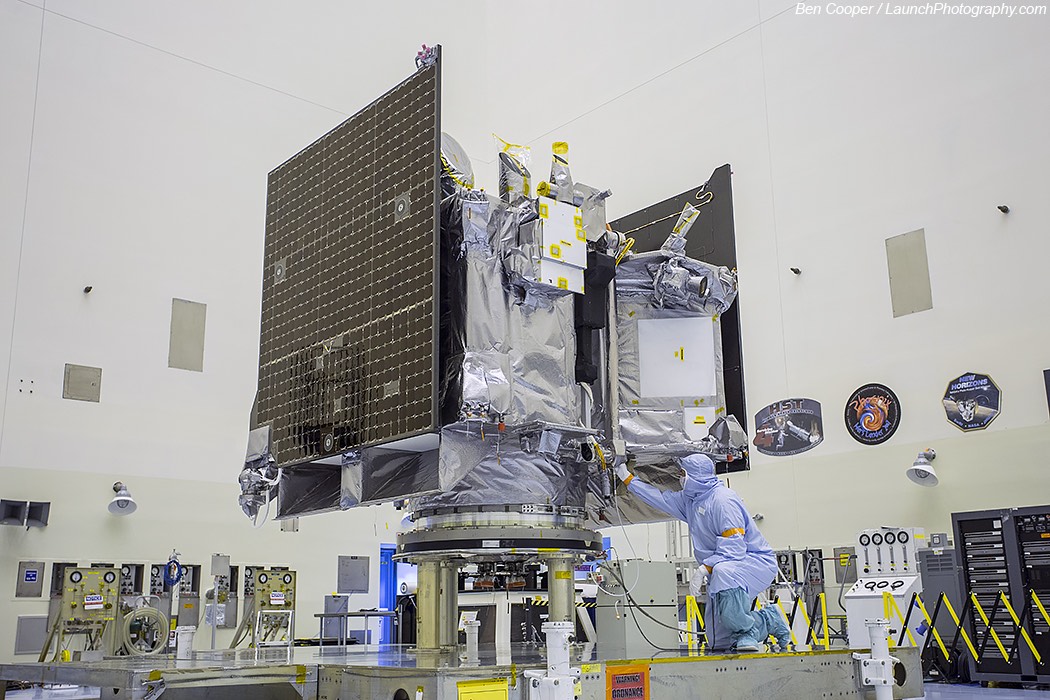 The spacecraft, made by Lockheed Martin, is about the size of a sports utility vehicle, weighing in at 4,650 pounds (2,110 kilograms) with its tanks full of propellant.
OSIRIS-REx will return to the vicinity of Earth in September 2017 for a gravity assist to slingshot toward Bennu, where it will arrive in late 2018. After a year-and-a-half of mapping and science surveys, OSIRIS-REx will close in on Bennu around July 4, 2020, reach out a robot arm, and release a bottle of compressed nitrogen gas to blow rock and dust into the probe's collection chamber, which looks like an air filter on an antique car.
The spacecraft will return to Earth on Sept. 24, 2023, and drop its landing capsule in a U.S. military test range in Utah. Scientists at the Johnson Space Center in Houston will open the canister and start analyzing the specimens, seeking clues about how asteroids led to the formation the planets, and potentially brought the seeds of life to Earth.
Lauretta said he hopes the money left over from OSIRIS-REx's development will help reduce risks the spacecraft will encounter during the 4.4 billion-mile round-trip journey.
"The best resource that we can get in operations is time," Lauretta said in an interview with Spaceflight Now. "The more time that we have in reserve — funded schedule margin for the operational phase — the more we can buy down the risk of the TAG (touch-and-go) event. We can do more rehearsals, more characterization of the asteroid, and developing the features that feed our natural feature tracking guidance system, which is the autonomous system on the spacecraft that does the final calculations for closure to the asteroid.
"And then the unknown unknowns," he added. "We may have anomalies that we're troubleshooting in flight. We may have to bring in additional experts when Bennu surprises the heck out of us, like the Rosetta (comet) target did to their team. So just having the resources to handle that."
Some of NASA's robotic missions fare better than others in keeping to budget limits. Like OSIRIS-REx, the agency's MAVEN orbiter launched to Mars in November 2013 completed its development with funding to spare. Managers re-allocated some of the savings to support additional scientists on the team.
On the other hand, the InSight lander that was to launch to Mars earlier this year is facing a $150 million budget overrun and a two-year delay due to a problem with one of the craft's science instruments.
Like OSIRIS-REx, both missions are "PI-led," meaning they were selected by NASA in competitions. Scientists receive federal grants, and are in charge of almost all major aspects of the projects. That is in contrast to some of NASA's more expensive missions, like the Curiosity rover on Mars, which are directly managed by the agency.
OSIRIS-REx is the third mission in NASA's New Frontiers program, a line of intermediate-class interplanetary missions that includes the New Horizons flyby probe that reached Pluto last year, and the Juno orbiter that arrived at Jupiter in July.
Scientists originally proposed a precursor mission concept, named OSIRIS, to NASA's lower-cost Discovery program, which has a cost cap around a half-billion dollars. But NASA did not select the OSIRIS mission, and the science team, then led by the late Michael Drake, beefed up the design and objectives before submitting another proposal to the New Frontiers program.
NASA picked OSIRIS-REx for development in 2011, ending a seven-year cycle of brainstorming, proposals and reviews that began with a meeting between Drake, Lauretta and an engineer from Lockheed Martin in a Tucson bar in 2004.
Lockheed Martin had the idea for an asteroid sampler mechanism using compressed gas, and Drake's team saw promise in it.
"Honestly, we would have been in trouble if we had been selected in the Discovery program," Lauretta said. "We didn't realize the complexity of the operation of the mission at that point fully. We may still not fully recognize it, but we're certainly a lot smarter than we were back then. We're really the right size for New Frontiers."
Lauretta said further savings could help fund research on the asteroid specimens returned to Earth. OSIRIS-REx is designed to gather at least 60 grams — about 2 ounces — of material, but could bring home much more.
"The hope is that we continue the outstanding cost performance that we've demonstrated on this program, and then that money can roll into sample analysis," Lauretta said. "You can do a lot of things when the material is back on Earth."
NASA will make the final decision on how the extra OSIRIS-REx money is spent, according to Geoffrey Yoder, the acting associate administrator for the space agency's science mission directorate.
"Once we get OSIRIS-REx launched and we start looking at our operations costs, just to make sure everything is the way we understand it, that's when we'll look to make sure we really have it properly funded to get this great science," Yoder told Spaceflight Now. "It won't be until we're finished with that, that we know the real under-run.
"The team has done an amazing job doing risk-informed decision making," Yoder said. This was tough. They've been able to take on the hard risk decisions, and deal with it to where it looks smooth, but they were fighting."
Lauretta has an $800 million budget under his management, covering the design and construction of the spacecraft and its instruments, then seven years of flight operations and two years of sample analysis.
Add in the $183 million cost of the United Launch Alliance Atlas 5 rocket and special launch services tailored for the unique OSIRIS-REx spacecraft, a student-led instrument aboard OSIRIS-REx built with a separate funding line, plus financial reserves, and the total cost of the mission comes in near $1 billion.
Once officials know the exact value of OSIRIS-REx's leftover money, Yoder said a panel at NASA Headquarters will "ask if this is really the right level that we have, and should this go to support other missions that we're working on, or future missions."
Email the author.
Follow Stephen Clark on Twitter: @StephenClark1.