Updated on Wednesday with new images of Complex 40 and Pad 39A.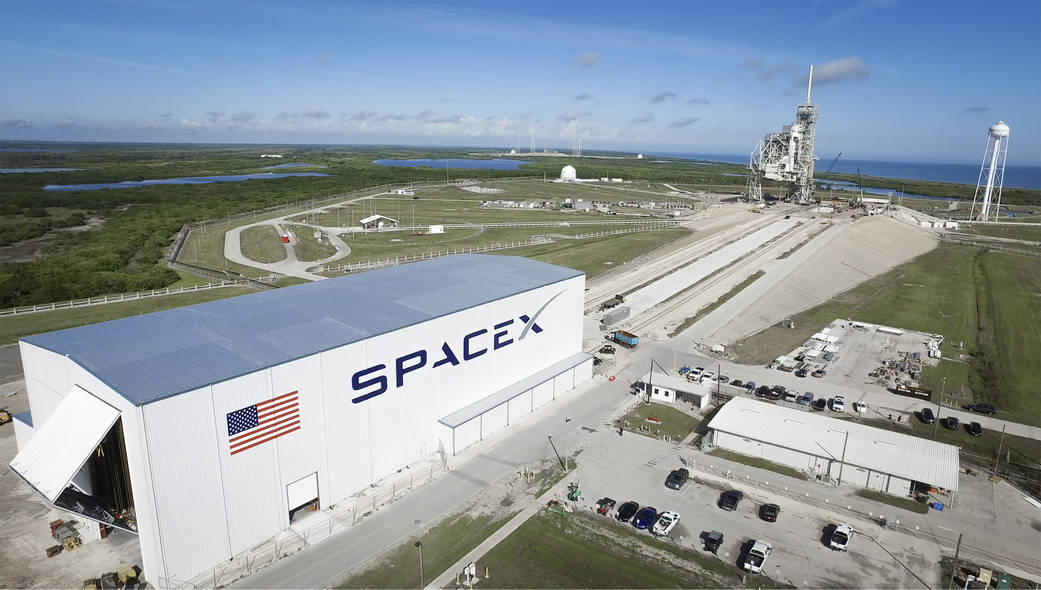 Ground crews could face months of cleanup and repairs to SpaceX's primary launch pad at Cape Canaveral after a rocket explosion wrecked the facility last week, but officials said that other pads in Florida and California could support Falcon 9 flights when the booster is ready to blast off again.
Managers are assessing damage to SpaceX's primary launch pad at Cape Canaveral in the aftermath of an explosion Thursday that destroyed a Falcon 9 rocket and the Amos 6 commercial communications satellite.
Images of the Falcon 9 launch pad, known as Complex 40, show the top of facility's strongback structure sustained significant damage. The explosion of the Falcon 9 rocket Thursday twisted the latticework metal at the top of the strongback, which feeds propellants into the launcher's upper stage and connects electrical umbilical cables to the rocket's satellite payload.
SpaceX has not disclosed further details on the condition of the launch pad, but the company said it will share more on the status of the launch complex in the future.
"The pad clearly incurred damage, but the scope has yet to be fully determined," SpaceX said in a statement Friday.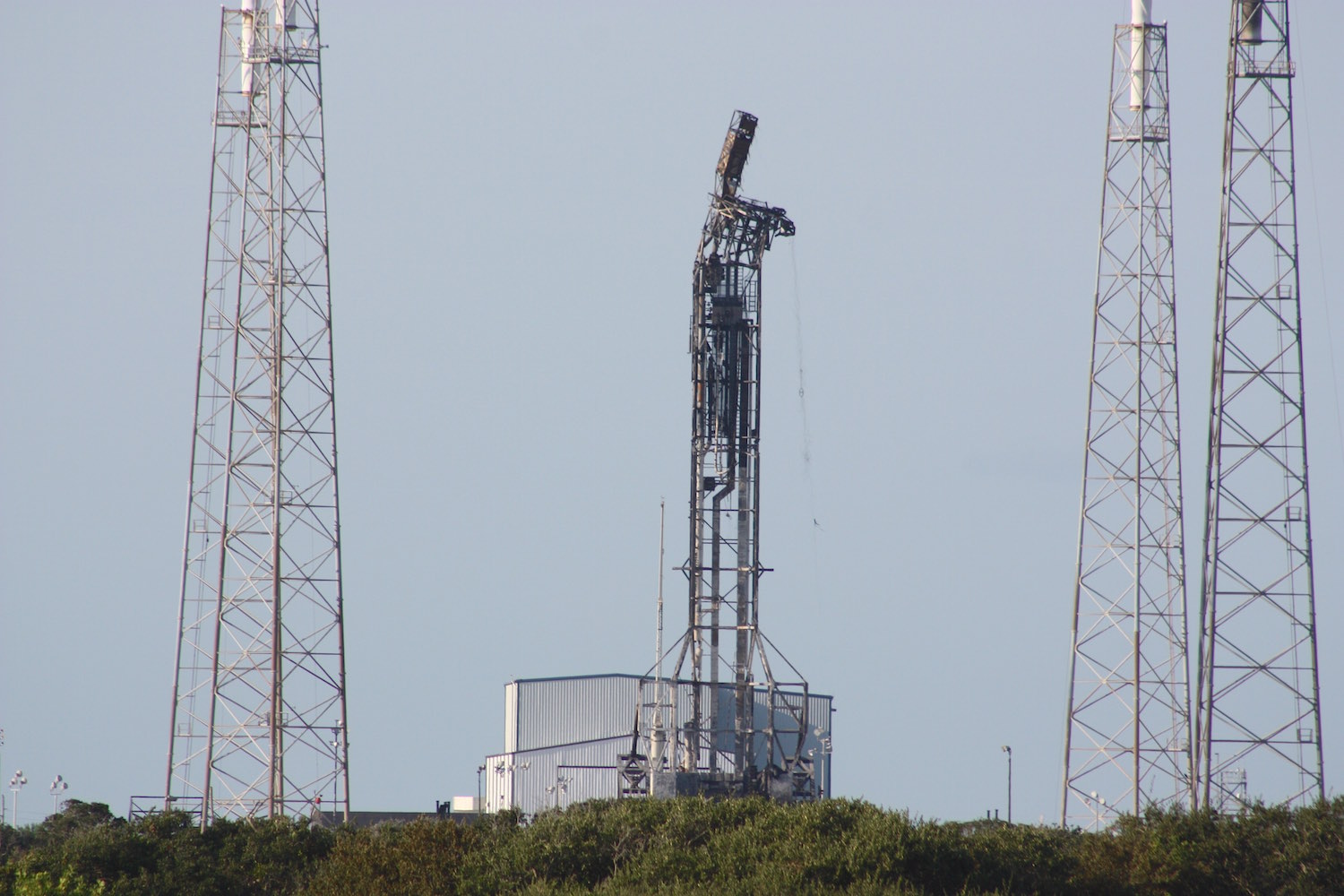 SpaceX's next launch after the flight with Amos 6 was supposed to lift off from Vandenberg Air Force Base, California, with 10 communications craft for Iridium's next-generation voice and data relay constellation. All 10 of the satellites, designed by Thales Alenia Space and built by Orbital ATK in Arizona, were already delivered to Vandenberg before last week's mishap in Florida.
Crews at Vandenberg's Space Launch Complex 4-East, the Falcon 9 launch pad on the West Coast, were in the "final stages of an operational upgrade," SpaceX said. Company officials said earlier this year the launch pad, last used for a Falcon 9 flight in January, was to be outfitted to support missions using SpaceX's higher-performing "full-thrust" Falcon 9 booster, which burns super-chilled densified propellants.
Launches from Vandenberg are only suitable for satellites heading into orbits flying over the poles, and the bulk of SpaceX's manifest is loaded with missions going to the International Space Station or into orbits over the equator, requiring liftoff from Cape Canaveral.
While the Iridium mission — the first of seven SpaceX launches for the "Iridium Next" fleet — is next in line on the Falcon 9 manifest, it is unclear whether that flight will mark the resumption of SpaceX launch operations. In the aftermath of a Falcon 9 launch failure last year, SpaceX and its customers agreed to shuffle the order of the manifest for the return-to-flight launch.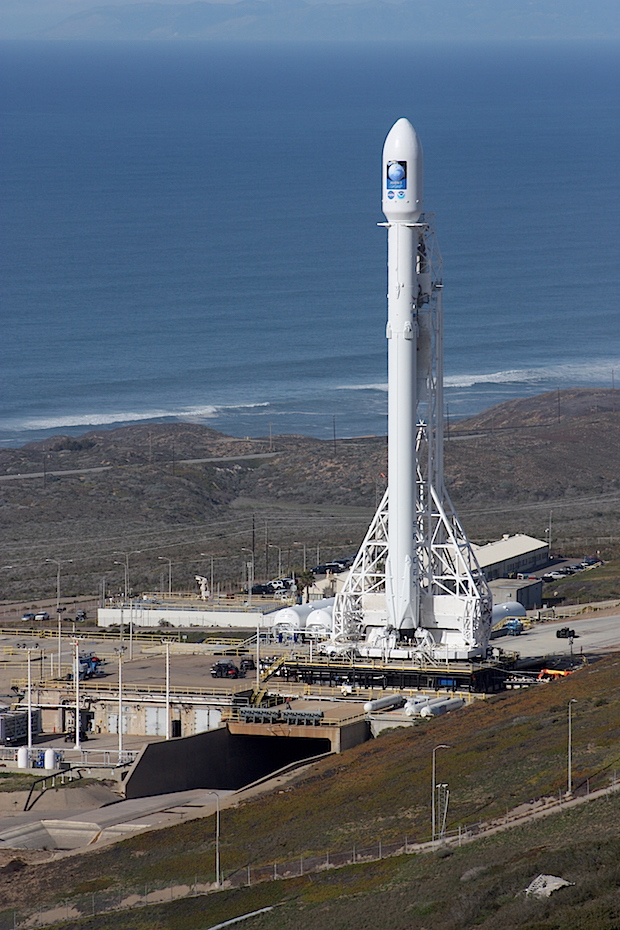 An Iridium spokesperson said Tuesday that the company is "waiting to receive more information on this event from SpaceX and how it could impact their overall launch manifest."
The 10 satellites are connected to their SpaceX-built dispenser and ready for filling with toxic hydrazine fuel for in-space maneuvers. That is one of the final steps for a satellite before its launch, and spacecraft are usually not fueled until a target launch date is confirmed a few weeks away.
"We're confident in SpaceX and that they will find and resolve any issues causing this incident, and we will be ready to go once that occurs," Iridium said.
SpaceX said it has established an accident investigation team to comb through telemetry data and physical evidence to determine what caused Thursday's blast, which the company said originated near the Falcon 9's upper stage liquid oxygen tank.
"To identify the root cause of the anomaly, SpaceX began its investigation immediately after the loss, consistent with accident investigation plans prepared for such a contingency," the company said in a statement. "These plans include the preservation of all possible evidence and the assembly of an Accident Investigation Team, with oversight by the Federal Aviation Administration and participation by NASA, the United States Air Force and other industry experts."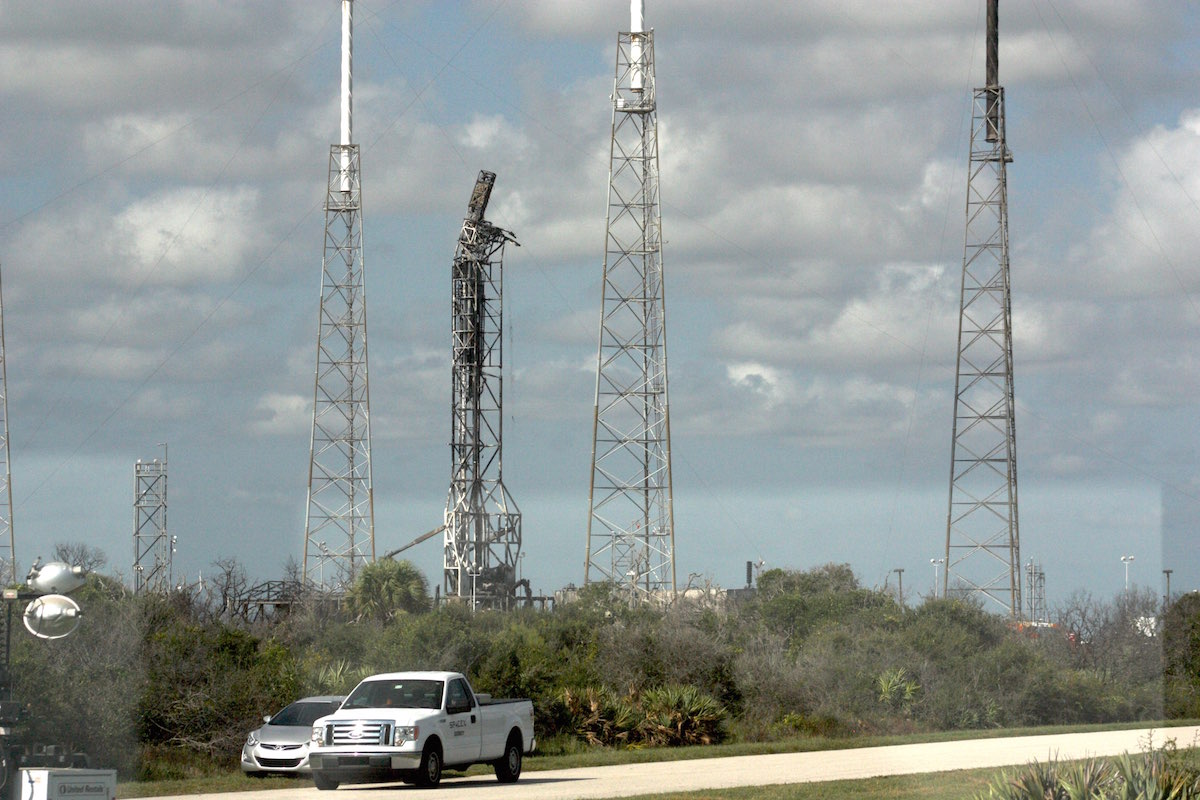 SpaceX said engineers are reviewing approximately 3,000 channels of telemetry and video data covering a time period of just 35-55 milliseconds.
Before last week's explosion, SpaceX had three launches planned at Vandenberg before the end of the year. After the upcoming Iridium launch, which was set for Sept. 19, another Falcon 9 launch from California's Central Coast was to follow as soon as late October with Taiwan's Formosat 5 Earth observation satellite and a commercial Sherpa space tug developed by Seattle-based Spaceflight Industries with around 90 CubeSats and microsatellites.
The second of seven Iridium Next launches under contract to SpaceX was due to occur in late December.
If the cleanup and repairs at Complex 40 prove lengthy, SpaceX could move its operations base in Florida to launch pad 39A at the Kennedy Space Center, the decommissioned space shuttle pad the company leased for Falcon launches in 2014.
Launch pad 39A is located about three miles north of Complex 40, and SpaceX said construction to modify the shuttle pad for Falcon launches is nearing completion. Pad 39A should be ready for launch operations in November, officials said.
The hangar built along the former shuttle-era crawlerway at the southern perimeter of pad 39A can hold five Falcon rocket cores at a time, enough to support the simultaneous preparation of five Falcon 9 missions, or one triple-body Falcon Heavy and two Falcon 9s.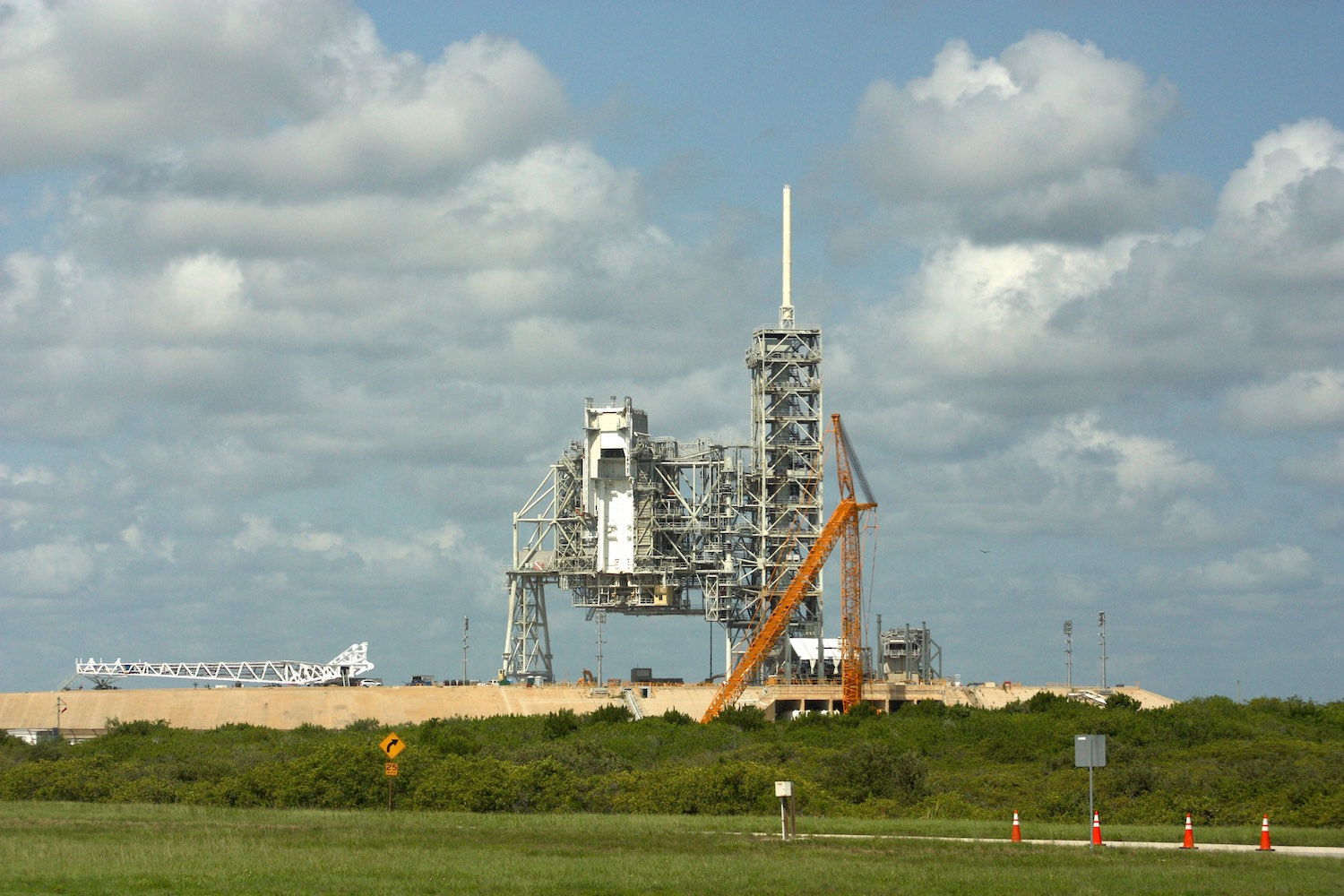 "Both pads are capable of supporting Falcon 9 and Falcon Heavy launches," SpaceX said of pad 39A and the Vandenberg facility. "We are confident the two launch pads can support our return to flight and fulfill our upcoming manifest needs."
SpaceX plans to build a fourth launch facility at Boca Chica Beach in South Texas, but construction workers found soil at the seaside location needed reinforcement. Crews imported dirt to build up the foundation of the launch pad, and plan to allow the mound to settle before adding concrete to kick off full-scale construction of the commercially-operated complex.
The first launch from the South Texas base, a few miles north of the Mexican border, is expected no earlier than late 2018, SpaceX said in May.
Email the author.
Follow Stephen Clark on Twitter: @StephenClark1.