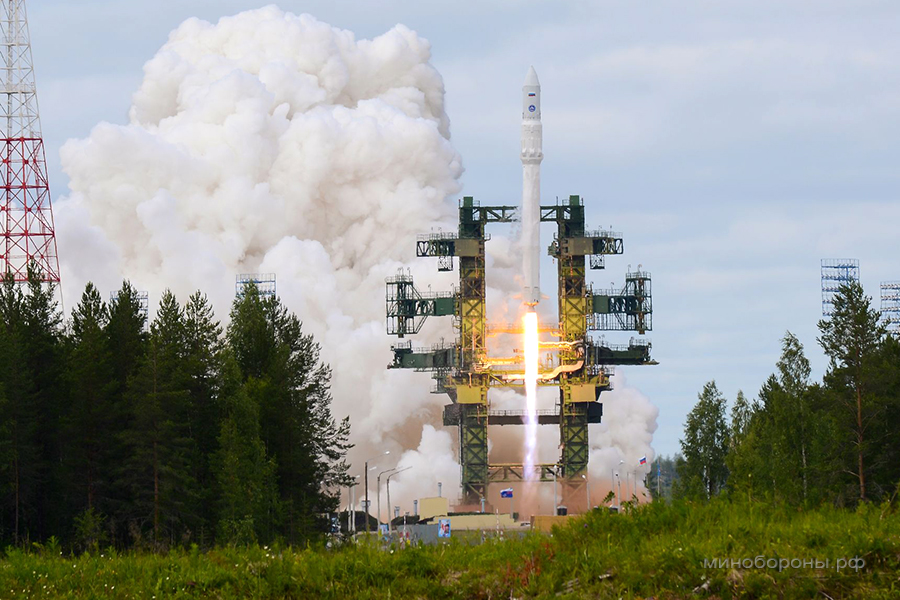 South Korea's space agency has signed a contract to launch an Earth observation satellite into orbit in 2020 aboard Russia's Angara rocket, giving the new booster its first commercial customer, International Launch Services announced Monday.
An Angara 1.2 rocket will place the Kompsat 6 satellite into a sun-synchronous polar orbit after liftoff from the Plesetsk Cosmodrome in northern Russia, officials said.
ILS announced the arrival of the Angara booster on the global commercial launch market in July 2015, and the Kompsat 6 launch contract is the company's first win with the new Russian rocket.
The Angara deal also marks ILS' entrance into a new segment of the launch market. The company is best known for arranging commercial satellite launches on the heavy-lift Proton rocket, a vehicle aimed at lofting large communications payloads into space.
"This was a challenging competition for Kompsat 6 as we were bidding against a very strong field of commercial launch service providers," said Thomas Carroll, ILS vice president of sales. "ILS was selected under KARI's extensive review process based on many factors. This confirms our position in the launch market segment as a preferred launch service provider."
Owned by Khrunichev, the Moscow-based company that developed and builds the Angara rocket, ILS is responsible for cinching Angara launch contracts outside Russia. Headquartered in Virginia, ILS formed in 1995 as a joint venture between Khrunichev, Energia and Lockheed Martin to market Proton and Atlas launch services worldwide.
ILS announced in 1999 it would exclusively manage marketing and sales of the Angara rocket, which the company then said was scheduled for a maiden launch in 2001. But the Angara rocket's $3 billion development festered due to Russian financial woes, and its first demonstration flights did not take off until 2014.
Lockheed Martin sold its stake in ILS in 2006, and Khrunichev became a majority owner of the launch services firm in 2008.
Last year, ILS declared the smallest version of the Angara rocket available on the commercial market, finally realizing the marketing and sales function announced in 1999.
Russian officials see the Angara rocket as a replacement for the Proton and Rockot boosters currently used to launch much of Russia's military satellite fleet, along with commercial communications and international Earth observation spacecraft.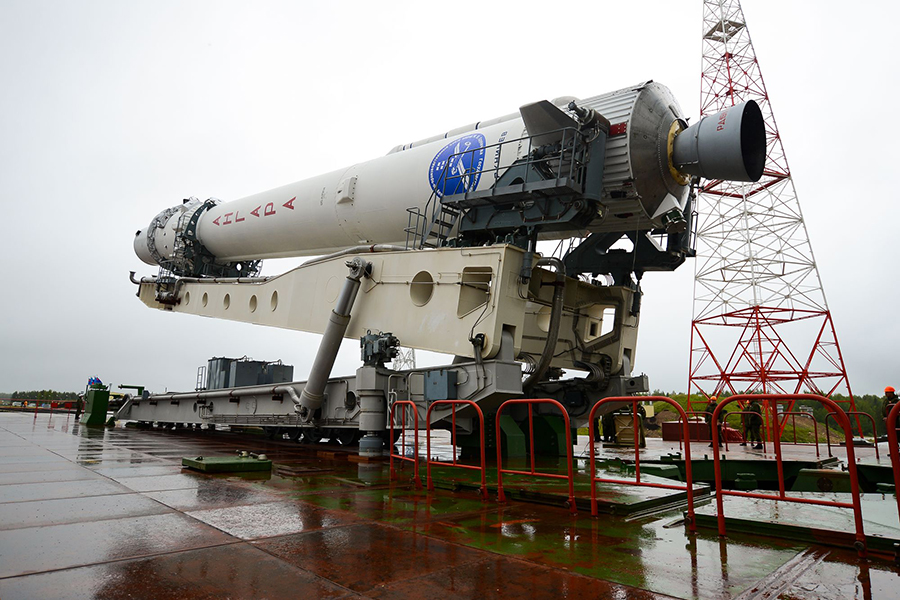 The Angara rocket will come in at least two configurations: A two-stage light-class launcher called the Angara 1.2, and the three-stage heavy-lift Angara A5 rocket.
Both versions completed successful test flights in 2014, with a suborbital demonstration of the Angara 1.2 rocket and an Angara A5 mission that put a dummy satellite into geostationary orbit nearly 22,300 miles (about 35,786 kilometers) over the equator.
While the Angara A5 will eventually replace the Proton rocket, Angara 1.2 is sized to launch small satellites into orbits several hundred miles above Earth, serving a slice of the market currently served by Europe's Vega launcher, Russia's Rockot booster derived from a Soviet-era missile, and India's Polar Satellite Launch Vehicle.
The Angara 1.2's first stage is powered by NPO Energomash's kerosene-fueled RD-191 engine, a less powerful derivative of the RD-171 and RD-180 engines flown on the Zenit and Atlas 5 rocket. The RD-191 has the same basic design as the RD-181 engine exported by Energomash to the United States to fly on Orbital ATK's Antares launcher.
The rocket's second stage has an RD-0124 engine, burning the same kerosene/liquid oxygen mix, borrowed from the upper stage of the Soyuz rocket. A liquid-fueled kick stage, or "service module," will be added to the top of the rocket to inject satellites into their target orbit, according to Khrunichev.
The larger Angara A5 rocket is composed of five Angara 1.2 first stage cores strapped together, giving the booster significantly more power.
While the Angara 1.2 rocket is available for commercial flights beginning in 2019, the Angara A5 will not be ready for commercial launches until 2025 or later, ILS officials said earlier this year.
Like the Angara 1.2, the heavy-lift Angara model will initially only launch from the Plesetsk Cosmodrome, a military-run facility about 500 miles (800 kilometers) north of Moscow. An Angara launch complex at the new Vostochny Cosmodrome should be complete in the early 2020s, allowing flights to originate from Russia's Far East.
ILS bills the Angara 1.2 as an attractive alternative to other small satellite launchers. It can place up to 5,500 pounds (2,500 kilograms) into a 310-mile-high (500-kilometer) polar sun-synchronous orbit, a destination favored by many Earth imaging satellites.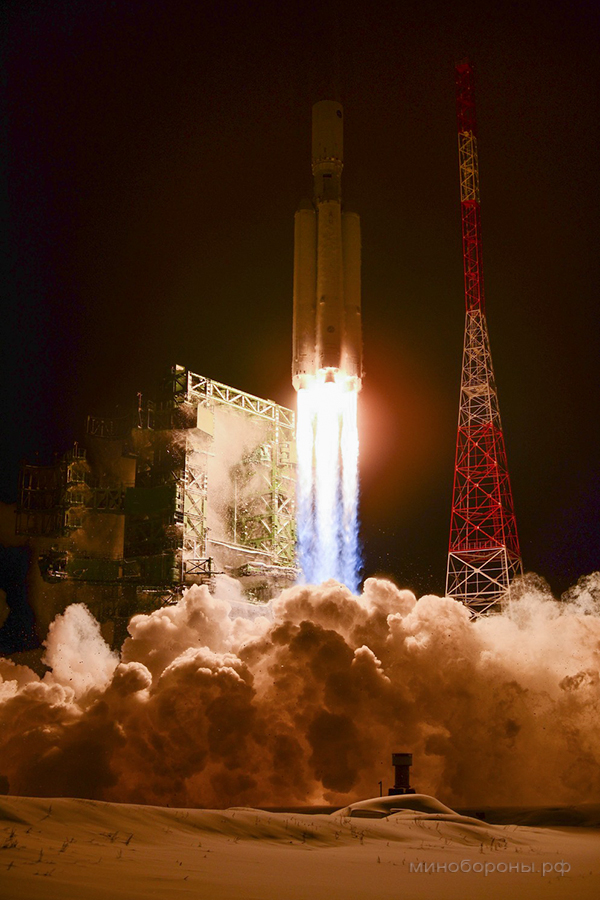 That capacity is more than Angara's chief competitors in Europe and India, and ILS says Angara 1.2 is cheaper than other options in the small satellite launch market.
Officials did not disclose financial terms of the Kompsat 6 launch agreement, or which launch companies bid for the contract.
Fitted with an Earth-viewing synthetic aperture radar payload, the Kompsat 6 satellite will be built and operated by the Korea Aerospace Research Institute, South Korea's space agency. The spacecraft, estimated to weigh more more than 3,700 pounds (1.7 metric tons) at launch, is the next in a line of Earth observation satellites developed by South Korea.
Kompsat 6 will replace the radar-imaging Kompsat 5 satellite launched in August 2013.
"We are honored to be selected for the launch of the Kompsat 6 satellite," said Kirk Pysher, ILS president. "The Angara 1.2 launch vehicle is ideally suited for launch of Kompsat 6 by providing KARI with both schedule assurance and optimal mission performance. ILS and Khrunichev welcome the opportunity to support this important mission for KARI, furthering the international cooperation between our organizations."
The Kompsat 6 satellite's radar payload, developed in partnership between LIG Nex1, a South Korean defense contractor, and the German unit of Airbus Defense and Space, will take all-weather day-and-night imagery of sites around the world. The imaging radar will resolve objects as small as a half-meter — 1.6 feet — in its highest-resolution "spotlight" mode.
That is four times better than its predecessor Kompsat 5.
South Korea's previous Kompsat satellites have launched on Taurus, Rockot and Dnepr rockets, and as a secondary payload on Japan's H-2A launcher.
"The selection of the ILS Angara 1.2 vehicle for the launch of Kompsat 6 was carefully considered for performance, heritage, price and schedule assurance," said Gwang-Rae Cho, KARI president. "We have the utmost confidence in ILS, Khrunichev and the Angara launch vehicle and look forward to our continued cooperation in space activities with ILS and Khrunichev with the Kompsat 6 launch."
Email the author.
Follow Stephen Clark on Twitter: @StephenClark1.