Throttling up to more than a million pounds of thrust at SpaceX's Central Texas test facility, a Falcon 9 rocket booster recovered after a commercial satellite launch in May passed a key milestone Thursday as the company sets its sights on re-flying a used first stage on a mission this fall.
Nine Merlin 1D engines mounted at the base of the rocket ignited for nearly two-and-a-half minutes during Thursday's test, funneling a plume of exhaust through a concrete flame duct out the side of the test stand.
Restraints kept the kerosene-fueled vehicle grounded.
The 156-foot-tall (47-meter) first stage rocket booster launched May 6 from Cape Canaveral with the JCSAT 14 communications satellite, a Japanese video and data relay platform, and detached from the Falcon 9's upper stage less than three minutes after liftoff.
Soaring through the upper atmosphere at hypersonic speed like a flying broomstick, the rocket deployed aerodynamic grid fins and fired a subset of its nine Merlin engines to slow down for landing on a barge stationed in the Atlantic Ocean about 400 miles (650 kilometers) east of Florida's Space Coast.
After extending four landing legs and nailing a vertical, engine-assisted touchdown, the rocket returned to Port Canaveral several days later for transport to SpaceX's hangar at Kennedy Space Center's launch pad 39A. Engineers inspected the blackened rocket for damage, then shipped it to SpaceX's sprawling test facility in McGregor, Texas.
The company plans to run it through a series of tests to make sure it could withstand the stresses of another launch, and Thursday's hold-down firing is a major accomplishment in the run-up to a re-flight.
But the booster fired in Texas will not fly again. That distinction will go to a Falcon 9 first stage that landed on SpaceX's recovery vessel after an April 8 launch with a Dragon supply ship for the International Space Station.
SpaceX managers tagged it as a reference vehicle because it weathered extreme temperatures and structural loads on re-entry following its May 6 launch. The Falcon 9's second stage placed the JCSAT 14 satellite — now renamed JCSAT 2B — into an elliptical geostationary transfer orbit stretching more than 22,300 miles (about 36,000 kilometers) above Earth.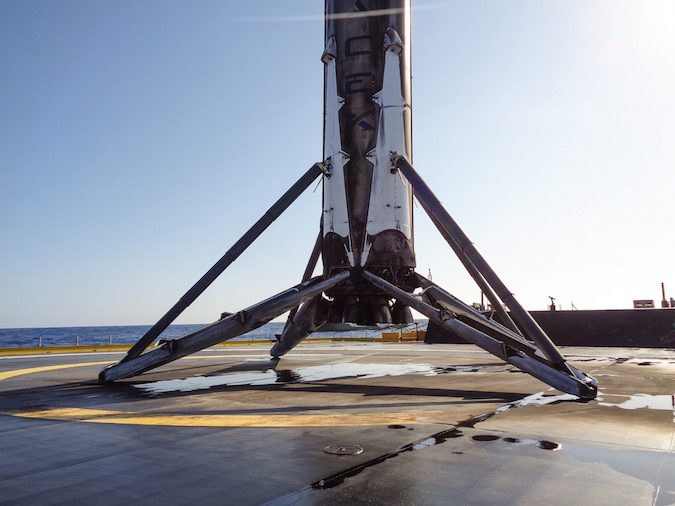 The high-altitude orbit required additional speed from the first stage, too fast to turn around and return to Cape Canaveral. It re-entered the atmosphere at nearly 4,000 mph — about 6,300 kilometers per hour — and withstood temperatures several times hotter than the Falcon 9 booster assigned to be the first to fly a second time.
If the rocket exposed to worse re-entry conditions aces ground testing, SpaceX thinks the more pristine Falcon 9 booster from the April 8 cargo launch should be good to go.
SpaceX has not announced a payload for the first launch of a previously-flown Falcon 9 rocket.
Hans Koenigsmann, SpaceX's vice president of flight reliability, told reporters earlier this month that the company is in negotiations with potential customers to put their spacecraft on the used rocket.
The Falcon 9 will launch with a newly-manufactured second stage and payload shroud. SpaceX has no plans to recover the rocket's second stage, but engineers are working on a scheme to eventually recover and reuse the two halves of the Falcon 9's clamshell-like payload fairing, which usually splits off between three and four minutes into each mission.
Reusability is a key tenet in SpaceX's corporate mission. Elon Musk, SpaceX's founder and chief executive, says launch costs will be significantly reduced if the space transportation firm can master rocket reuse.
For the first flights of used rocket boosters, SpaceX hopes to slash the Falcon 9's launch costs by about a third from its $61 million list price, said Gwynne Shotwell, the company's president and chief operating officer, in remarks earlier this year.
SpaceX has five used Falcon 9 booster stages in its inventory.
The first vehicle to successfully land intact after a commercial launch in December 2015 is set to go on vertical display outside SpaceX headquarters in Hawthorne, California. Another first stage that landed at sea after a May 27 launch with a Thai telecom satellite suffered damage to its landing gear, and SpaceX has not said whether that vehicle could fly again.
The most recent SpaceX launch July 18 featured the Falcon 9's second return-to-launch-site landing at Cape Canaveral. Company officials said early inspections showed that booster appeared to be in good shape for another mission.
Email the author.
Follow Stephen Clark on Twitter: @StephenClark1.