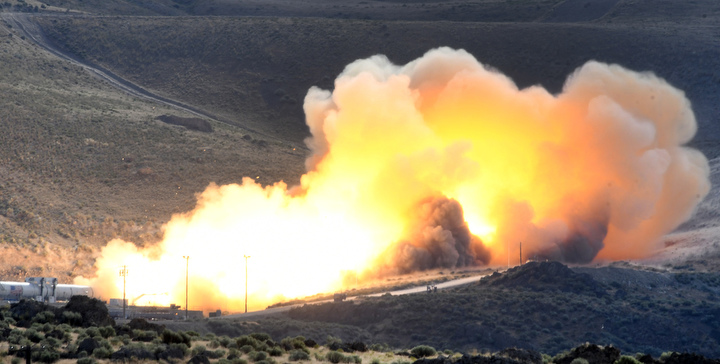 A solid-fueled rocket motor mounted horizontally on a Utah hillside ignited and powered up to more than 3 million pounds of thrust Tuesday in a final full-up test-firing before a similar booster helps propel NASA's huge Space Launch System away from Earth on a demonstration flight in 2018.
The 154-foot-long (47-meter) rocket lit at 11:05 a.m. EDT (1505 GMT) Tuesday, an hour later than planned after test technicians ran into trouble with a ground computer controlling the booster's countdown sequence.
Engineers resolved the problem after a short delay, and the rocket motor fired with a spectacular golden plume of nearly 6,000-degree Fahrenheit (3,300-degree Celsius) exhaust, launching a vast plume of smoke thousands of feet over the hillside at the booster's test site in Promontory, Utah.
Manufactured by Orbital ATK, the rocket consumed 5.5 tons of its pre-packed propellant per second, burning through 1.4 million pounds of powdered aluminum fuel, oxidizer and binding agent in a two-minute, six-second firing. Pressures inside the steel propellant casings reached 900 psi, or 62 times Earth's atmospheric pressure at sea level.
Engineers expected the booster — the most powerful solid rocket motor in existence — to generate approximately 3.3 million pounds of thrust, equivalent to more than 10 four-engine jumbo jets, said Kent Rominger, Orbital ATK's vice president of propulsion systems strategy and business development, before Tuesday's test.
Technicians chilled the solid propellant inside the 12-foot-diameter (3.6-meter) to about 41 degrees Fahrenheit (5 degrees Celsius) to test the booster's performance at cold temperatures, according to Alex Priskos, manager of the SLS boosters office at NASA's Marshall Space Flight Center in Huntsville, Alabama. Orbital ATK conducted a similar test-firing last year with the fuel heated to 93 degrees (34 degrees Celsius).
The cooler temperatures were predicted to diminish the booster's thrust from the 3.6 million force-pounds produced in warmer conditions. Such a change is within the booster's operating specifications, but engineers needed to quantify the difference to adjust the rocket's trajectory on a real flight.
The boosters are a critical part of the Space Launch System, a rocket under development by NASA since 2011 to dispatch astronauts on missions beyond low Earth orbit for the first time since 1972.
A first glance at data collected on Tuesday's test showed the firing met all objectives, officials said.
"We've had a chance to look at just some very, very preliminary data … and everything looks great so far," Priskos told reporters after Tuesday's test firing. "We're going to be digging into the data a lot more as we go forward."
Tuesday's test was the fifth and final ground firing planned on the SLS booster before the heavy-lifter's first launch in 2018.
"What an absolutely amazing day today," said Bill Gerstenmaier, NASA's associate administrator of human exploration and operations. "Just a great chance to be here and actually witness this test-firing.
"It's not just a test-firing," Gerstenmaier said. "It's really a qualification motor test-firing, which fits in a sequence. That essentially says this design is ready to go fly, and ready to go do the mission which it's designed to go do."
Two SLS boosters will fly on each SLS launch, delivering more than 75 percent of the rocket's total thrust in the first two minutes of flight. Counting the power produced by four RS-25 liquid-fueled main engines on the SLS core stage, the huge rocket will climb away from Kennedy Space Center's launch pad 39B on 8.4 million pounds of thrust, more than any U.S. launch vehicle in history.
When fully assembled with an aft skirt and nose cone, the strap-on boosters will stand 177 feet (54 meters) tall. For SLS missions, engineers added a fifth segment to the space shuttle's existing four-section boosters, raising the rocket motor's total impulse by 25 percent and thrust output by 20 percent, Priskos said.
"The outside of the car looks the same," Priskos said of the modifications. "When you look under the hood of the vehicle, almost everything else has changed."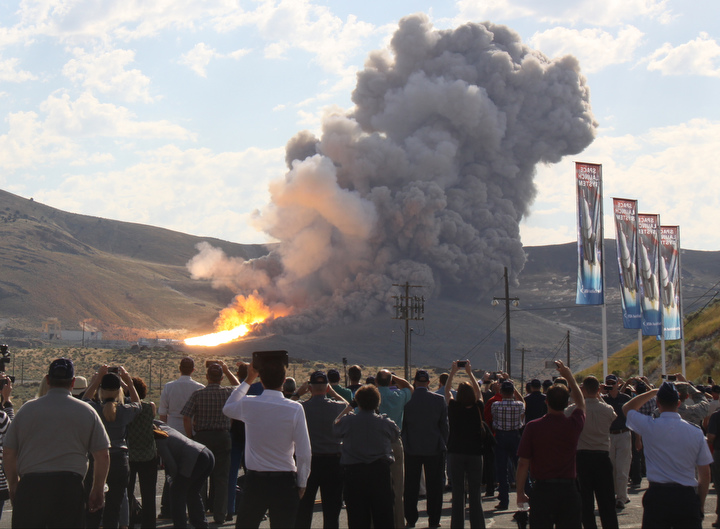 The boosters burn the same solid fuel as the shuttle motors, but engineers changed the shape of the propellant grains to meet SLS requirements. Orbital ATK also removed the parachute recovery system flown on the reusable shuttle boosters because the motors will be discarded after SLS launches, saving about 10,000 pounds (nearly 5 metric tons) in weight, Kriskos said.
The attach points between the boosters and the core stage were also moved from their locations on the space shuttle, and engineers strengthened the booster's forward skirt with stiffeners to take the extra load from the motor's higher thrust.
Other changes included modifications to the nozzle's heat shield and throat, along with upgrades to computer controllers on the rocket motor.
"The avionics system that flew on shuttle was all analog," Kriskos said. "This is a state-of-the-art digital avionics (system) in separate boxes. The other one was all consolidated in one package."
With ground testing complete, NASA and Orbital ATK managers now turn their attention to data analysis and preparation of the solid rocket boosters destined to fly on the first SLS launch, called Exploration Mission-1, in late 2018.
Three of the 10 booster segments for the EM-1 launch have been filled with propellant at Orbital ATK's solid rocket propulsion plant in northern Utah. Technicians will cast the remaining seven sections with propellant over the coming months.
The booster parts will be transported from Utah to the Kennedy Space Center in Florida via train in the fall of 2017, according to Charlie Precourt, vice president and general manager of Orbital ATK's propulsion systems division.
The boosters will be stacked vertically on a mobile launch platform inside the Vehicle Assembly Building at KSC, then joined with the SLS core stage currently under manufacture by Boeing at NASA's Michoud Assembly Facility in New Orleans.
NASA's Orion spacecraft, with crew and service modules made by Lockheed Martin and Airbus Defense and Space, will be hoisted atop the SLS upper stage provided by United Launch Alliance before rollout to launch pad 39B.
Gerstenmaier said Tuesday that EM-1, a test flight without astronauts, is on track to launch in late 2018.
"We're still kind of targeting for September (2018), but we're trending more towards maybe October or November timeframe," Gerstenmaier said. "This is a continual process. We go look and see what hardware is available — what systems are available when — and we go look at the schedule, and we optimize the schedule based on what we get."
The EM-1 mission will last about three weeks, with the Orion spacecraft traveling beyond the moon on a shakedown cruise before NASA proceeds with a crewed flight some time between 2021 and 2023.
Gerstenmaier touted NASA's plan for renewed human expeditions into deep space with the Space Launch System and Orion spacecraft. With a presidential election looming, he said he is hopeful the program retains the largely-bipartisan political backing it has received from Congress and the Obama administration since they agreed on a space exploration vision in 2011.
"If we can keep our focus and keep delivering, and deliver to the schedules, the budgets and the promise of what we've got, I think we've got a very capable vision that actually moves the nation very far forward in moving human presence into space," Gerstenmaier said. "This is a very capable system. It's not built for just one or two flights. It is actually built for multiple decades of use that will enable us to eventually allow humans to go to Mars.
"If you look at the continuum of this program, it may not be optimum from anyone's particular standpoint if you want it optimized for a particular aspect," Gerstenmaier said. "But if you want a robust program that can keep this nation as a leader in spaceflight, this is a human spaceflight program that I think any country would be lucky to have, and we're really blessed that we have this program in his country."
Email the author.
Follow Stephen Clark on Twitter: @StephenClark1.