STORY WRITTEN FOR CBS NEWS & USED WITH PERMISSION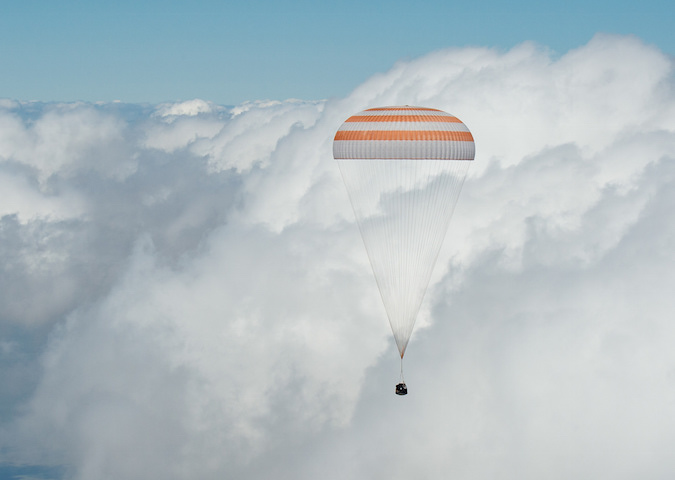 A Russian cosmonaut, a NASA astronaut and a British flier strapped into a Soyuz spacecraft, undocked from International Space Station and plunged back to Earth Saturday, safely landing on the steppe of Kazakhstan to close out a 186-day mission.
Dropping out of a partly cloudy sky under a billowing orange-and-white parachute, the charred Soyuz TMA-19M descent module settled to a jarring rocket-assisted touchdown at 5:15 a.m. EDT (GMT-4; 3:15 p.m. local time) about 90 miles southeast of Dzhezkazgan.
Russian recovery crews stationed nearby, along with NASA and European Space Agency support personnel, quickly reached the spacecraft, which ended up on its side, to help commander Yuri Malenchenko, NASA flight engineer Timothy Kopra and ESA astronaut Timothy Peake out of the cramped return module.
The crew members were extracted one at a time and carried to nearby recliners for quick medical checks and satellite calls home to friends and family. All three looked healthy and in good spirits as they began re-adapting to gravity after six months in weightlessness.
"Such an incredible adventure," Kopra said in a final tweet before leaving the space station.
Kopra appeared a bit uncomfortable when he was pulled from the capsule after landing, but within a few minutes he was smiling and chatting on the phone. Peake, smiling broadly and appearing completely at ease, said "I'd love some cool rain right now. It's very hot in the capsule." He added he would also enjoy a cold beer.
All three were to be flown by helicopter to Karaganda, about two hours away, for a traditional Kazakh welcome home ceremony. From there, Malenchenko planned to board a Russian jet for the flight back to Star City near Moscow.
A NASA jet was standing by to fly Kopra and Peake to Bodo, Norway, where Peake planned to catch a European Space Agency plane for a flight to the ESA astronaut training center at Cologne, Germany. Kopra will continue on to his home near the Johnson Space Center in Houston.
Mission duration was 185 days 22 hours and 11 minutes since blastoff Dec. 15, a flight covering 2,976 orbits and nearly 78 million miles.
Malenchenko, who logged 641.5 days aloft during five previous space flights, including a stay aboard the Russian Mir space station and a shuttle flight, boosted his total time in space to 827.4 days, moving him up to No. 2 on the list of most experienced space fliers. The record is held by Gennady Padalka, who has 878.5 days in space over five missions.
Kopra, veteran of a previous station visit, has now logged 244 days off planet while Peake, the second British citizen to fly in space and the first to visit the station, spent 186 days in orbit.
Left behind aboard the space station were Expedition 48 commander Jeffrey Williams and Russian cosmonauts Alexey Ovchinin and Oleg Skripochka, who arrived at the lab complex aboard the Soyuz TMA-20 spacecraft on March 18.
They'll have the station to themselves until July 9 when three fresh crew members — Anatoly Ivanishin, Japanese astronaut Takuya Onishi and NASA astronaut Kate Rubins — arrive aboard the Soyuz MS-01 ferry ship.
During a brief change-of-command ceremony Friday morning, Kopra, commander of Expedition 47, turned the station over to Williams, saying "it's been a tremendous honor to serve with this crew. I can't think of a better group of people to spend time with in space and to work with. I'm very, very grateful for that opportunity."
Williams, in turn, congratulated the departing crew members "for a successful stay on the International Space Station."
"You've made our stay so far … extremely productive and rewarding," he said. "We wish you a safe return to Earth and a safe return to your families."
During their stay aboard the International Space Station, Malenchenko, Kopra and Peake welcomed two Russian Progress freighters, a SpaceX Dragon cargo ship, an Orbital ATK supply craft and the Soyuz TMA-20M spacecraft that delivered Williams, Ovchinin and Skripochka.
Kopra carried out two spacewalks totaling seven hours and 59 minutes while Peake and Malenchenko conducted one each. It was Malenchenko's sixth spacewalk over six flights.
The crew also helped install an expandable crew module now attached to the aft port of the Tranquility module for two years of tests to determine its ability to stand up to the rigors of the space environment. If all goes well, larger expandable modules under development at Bigelow Aerospace in Las Vegas could serve as habitats for commercial space stations or eventual deep space voyages to Mars.