STORY WRITTEN FOR CBS NEWS & USED WITH PERMISSION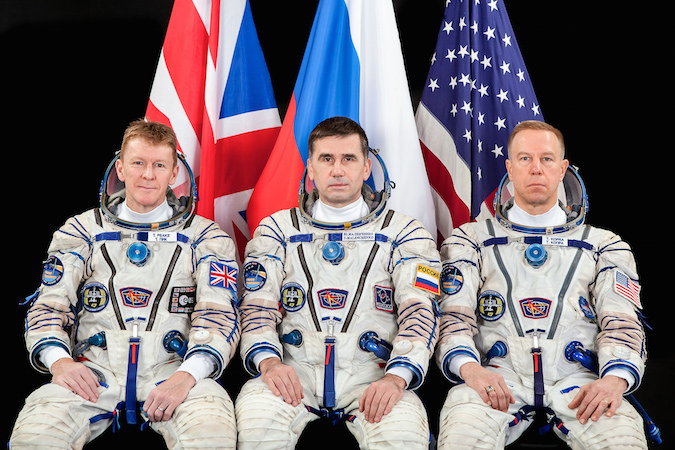 Three space station crew members made final preparations Friday for undocking and landing in Kazakhstan early Saturday to close out a 186-day stay in orbit.
Soyuz TMA-19M commander Yuri Malenchenko, NASA flight engineer Timothy Kopra and British astronaut Timothy Peake plan to undock from the International Space Station's Earth-facing Rassvet module at 1:52 a.m. EDT (GMT-4) Saturday to begin the three-and-a-half hour return to Earth.
Left behind aboard the space station will be Expedition 48 commander Jeffrey Williams and Russian cosmonauts Alexey Ovchinin and Oleg Skripochka, who arrived at the lab complex aboard the Soyuz TMA-20 spacecraft on March 18.
They'll have the station to themselves until July 9 when three fresh crew members — Anatoly Ivanishin, Japanese astronaut Takuya Onishi and NASA astronaut Kate Rubins arrive aboard the Soyuz MS-01 ferry ship.
During a brief change-of-command ceremony Friday morning, Kopra, commander of Expedition 47, turned the station over to Williams, saying "it's been a tremendous honor to serve with this crew. I can't think of a better group of people to spend time with in space and to work with. I'm very, very grateful for that opportunity."
"I know, Jeff, that the station is in great hands and I'm proud to be able to pass off this command to you today," Kopra said.
Williams, in turn, congratulated the departing crew members "for a successful stay on the International Space Station."
"You've made our stay so far … extremely productive and rewarding," he said. "We wish you a safe return to Earth and a safe return to your families."
The crew spent the rest of the day completing their packing and readying the Soyuz for the trip home.
"The Soyuz commander, Yuri, has been really busy the last week or two finding every little nook and cranny in the Soyuz, putting everything in the exact right place," said station veteran Terry Virts. "If the capsule has too much stuff on the right side or too much stuff on the left side, it won't fly properly through the atmosphere. So it's a bit of an involved process."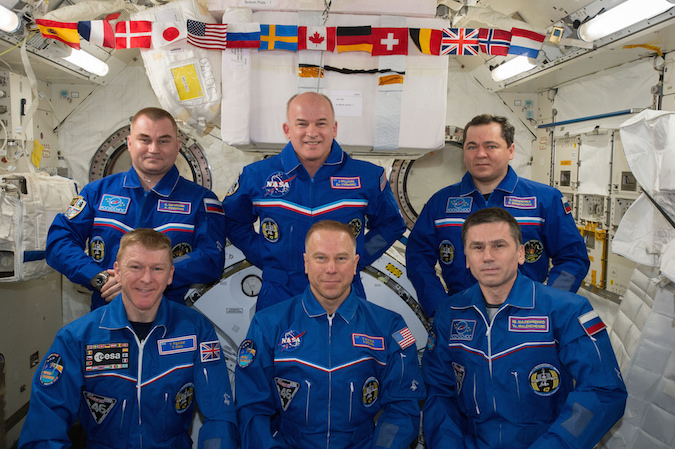 Flight controllers, meanwhile, continued to review telemetry to find out what caused an electrical component that helps convert raw energy from the station's solar arrays into tightly regulated direct current electricity to fail overnight Thursday, cutting power to a few smoke detectors, electrical outlets and hull heaters.
Officials said no critical systems were affected. The DC-to-DC Converter Unit, or DDCU, in question is located inside the space station and spares are available on board. But flight controllers do not plan to take any corrective action until after Kopra's crew departs and engineers complete a failure analysis.
Malenchenko, Kopra and Peake plan to bid their crewmates farewell and close the hatch to their Soyuz TMA-19M spacecraft around 10:35 p.m. Friday.
After undocking and moving a safe distance away, Malenchenko will monitor a programmed four-minute 37-second rocket firing, starting at 4:22:07 a.m., to slow the spacecraft by about 286 mph, just enough to drop the far side of its orbit deep into the atmosphere for an approach to Kazakhstan.
Just before plunging back into the thick lower atmosphere at an altitude of 62 miles, the three modules making up the Soyuz TMA-19M spacecraft will separate and the central crew compartment will orient itself heat shield forward, entering the zone of peak heating at an altitude of about 50 miles around 5:53 a.m.
If all goes well, the descent module's main parachute will deploy about seven minutes later and the crew will drop to a jarring rocket-assisted touchdown on the steppe of Kazakhstan around 5:14:39 a.m. (3:14 p.m. local time) about 90 miles from the town of Dzhezkazgan.
"The Russian saying is 'soft landings,'" Williams told Kopra and his crewmates Friday, "but those of us who have done it know there's nothing soft about it! But you're ready to do it."
In a NASA interview Friday, Virts provided a dramatic description of a Soyuz landing he made last year and thanked former astronaut Scott Kelly for warning him about what to expect.
"The whole thing is a crazy experience," he said. "Had Scott not briefed us on it, we would have thought we were going to die. But because we knew what was coming, we had a great time, we were having a lot of fun, we were kind of hooting and hollering in the capsule. It's like the best roller coaster ride you've ever been on in your life."
After watching the spacecraft's heat shield burn away in a 4,000-degree plasma just outside the descent module's porthole "the big parachute comes out, and for a few minutes you're sitting there and you don't really know when the Earth's coming because the Earth's behind you. … You really can't see what's going on."
"And then, BAM! There is the worst car crash you have ever been in, and when we hit, our Soyuz rolled over, so there was this gigantic crash. … So it was kind of an amazing experience. It's worth the six months in space just to get the return to Earth."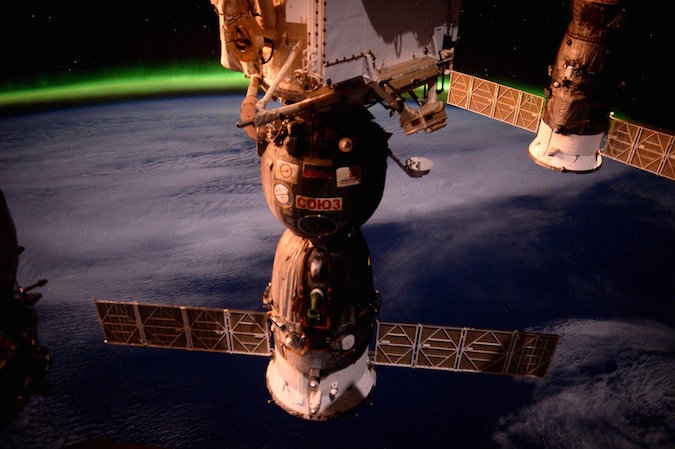 Russian recovery crews, NASA and ESA personnel will be staged nearby to help Malenchenko, Kopra and Peake out of the cramped descent module as they begin the long re-adjustment to the unfamiliar tug of gravity.
After brief medical checks and satellite phone calls home to friends and family, the returning fliers will be flown by helicopter to Karaganda for a traditional Kazakh welcome home ceremony. From there, Malenchenko will board a Russian jet for the flight back to Star City near Moscow.
Kopra and Peake will board a NASA jet and fly to Norway, where Peake will change to a European Space Agency plane for a flight to Cologne, Germany. Kopra will continue on to his home near the Johnson Space Center in Houston.
Assuming an on-time touchdown, mission duration will be 185 days 22 hours and 11 minutes since blastoff Dec. 15, a flight covering 2,976 orbits and nearly 78 million miles.
Malenchenko, who logged 641.5 days aloft during five previous space flights, including a stay aboard the Russian Mir space station and a shuttle flight, will boost his total time in space to 827.4 days, moving him up to No. 2 on the list of most experienced space fliers. The record is held by Gennady Padalka, who has 878.5 days in space over five missions.
Kopra, veteran of a previous station visit, will have logged 244 days off planet while Peake, the second British citizen to fly in space and the first to visit the station, will have spent 186 days in orbit.
During the course of their stay aboard the space lab, Malenchenko, Kopra and Peake helped receive two Russian Progress freighters, a SpaceX Dragon cargo ship, an Orbital ATK supply craft and the Soyuz TMA-20M spacecraft that delivered Williams, Ovchinin and Skripochka.
Kopra carried out two spacewalks totaling seven hours and 59 minutes while Peake and Malenchenko conducted one each. It was Malenchenko's sixth spacewalk over his five flights.
The crew also helped install an expandable crew module now attached to the aft port of the Tranquility module for two years of tests to determine its ability to stand up to the rigors of the space environment. If all goes well, larger expandable modules under development at Bigelow Aerospace in Law Vegas could serve as habitats for commercial space stations or eventual deep space voyages to Mars.
"We've been so privileged to work here on board with a huge variety of science experiments that we know are going to be a stepping stone for human exploration," Kopra said Friday. "And we've demonstrated, both from the ground (and) the crew on board, together we've demonstrated that we have a world-class international laboratory.
"We've had technology demonstrations where we've launched satellites, we have an inflatable module, the first of its kind, docked to the space station and so it's been a privilege for all of us to be able to participate in all of these different activities."