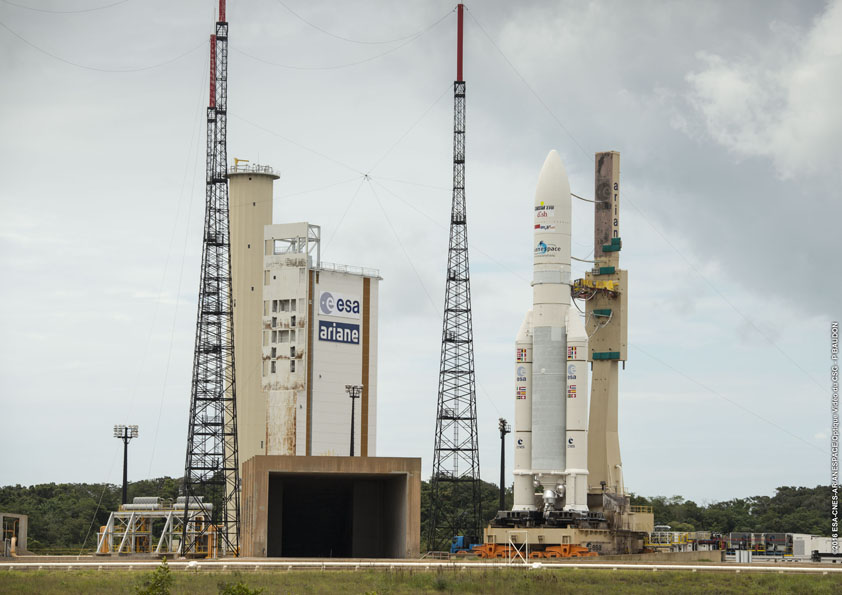 The third Ariane 5 flight of the year is on track for a late afternoon liftoff Friday from French Guiana with two U.S.-built communications satellites to broadcast television channels to millions of DISH Network subscribers and improve banking services across the islands of Indonesia.
The heavy-duty rocket, comprised of a hydrogen-fueled core engine, twin powerful solid rocket boosters and a dual-satellite payload, rolled out to its launch pad Thursday morning in Kourou, French Guiana.
Towering nearly 180 feet (55 meters) tall, the Ariane 5 is scheduled to blast off at 2030 GMT (4:30 p.m. EDT; 5:30 p.m. French Guiana time) Friday at the opening of a 70-minute launch window.
Officials with Arianespace, the Ariane 5's commercial operator, delayed the mission from last week to resolve a problem with a cryogenic fluid connector between the rocket's upper stage and mobile launch platform.
After verifying the fix, managers gave approval for final flight preparations Tuesday during a launch readiness review, targeting liftoff Thursday. But a last-minute issue with an umbilical connection prompted a 24-hour schedule slip before rollout of the Ariane 5 to the launch pad Wednesday.
Engineers completed final checks on the repaired umbilical connector overnight in time for ground crews to transfer the Ariane 5 from its final assembly building to the ELA-3 launch zone Thursday morning.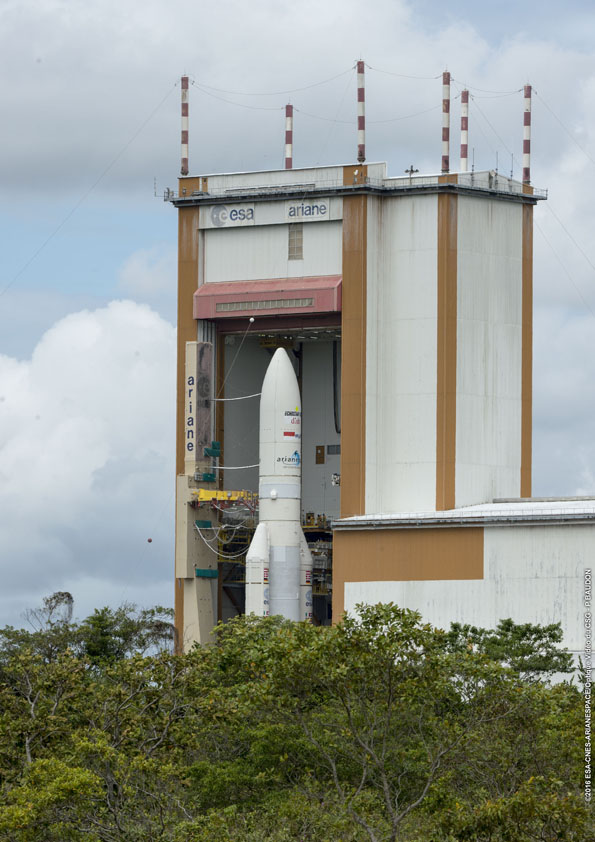 The 1.7-mile (2.7-kilometer) rail journey took about one hour, with the Ariane 5 arriving by midday at its coastal launch complex nestled in a clearing in the South American jungle.
Workers planned to mate the Ariane 5's mobile launch table with the launch pad's electrical and propellant loading systems Thursday afternoon, and the ground team will fill the first stage's pressurization system with liquid helium.
The final countdown will commence early Friday, with final electrical and communications checks and fueling of the two-stage Ariane 5 with a super-cold mixture of liquid hydrogen and liquid oxygen propellants. The Ariane 5's twin strap-on boosters burn pre-packed solid propellants.
After a computer-controlled sequencer takes over command of the final countdown seven minutes before liftoff, the core stage's Vulcain 2 main engine will ignite at 2030 GMT (4:30 p.m. EDT; 5:30 p.m. French Guiana time). Seven seconds later, the two solid rockets will fire to push the launcher skyward.
Riding nearly 3 million pounds of thrust, the Ariane 5 will clear four lightning protection masts and pitch eastward from the European-run Guiana Space Center, embarking on a hypersonic rocket-powered journey across the Atlantic Ocean.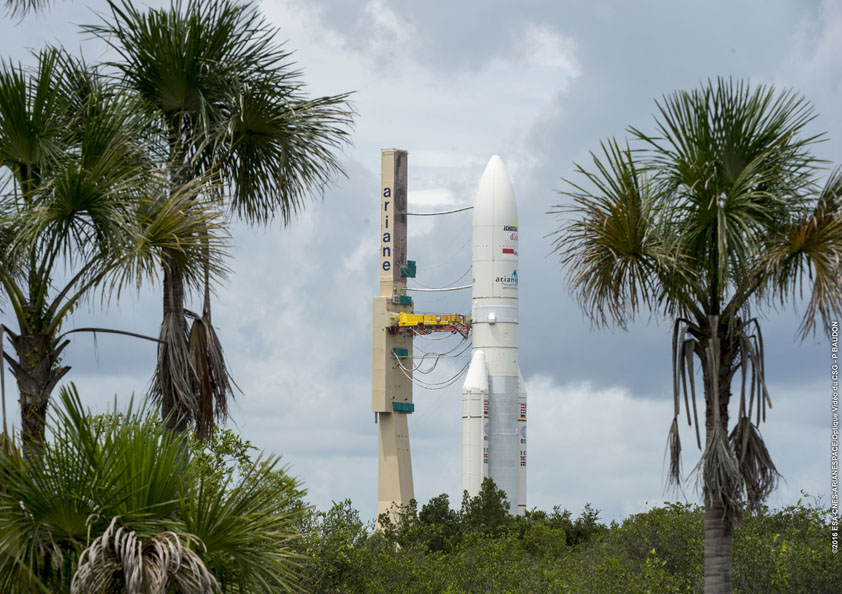 The Ariane 5 will surpass the speed of sound about 43 seconds after liftoff, and the two expendable solid rocket boosters will jettison at T+plus 2 minutes, 21 seconds, at a speed of nearly 4,500 mph (about 2 kilometers per second).
The launcher's Swiss-made nose cone will release from the top of the rocket at T+plus 3 minutes, 25 seconds, as the first stage Vulcain 2 engine continues its nearly nine-minute firing, consuming about 700 pounds (316 kilograms) of cryogenic fuel per second.
The Ariane 5's first stage will shut down at T+plus 8 minutes, 54 seconds, while the rocket is in range of a ground station in Natal, Brazil. Six seconds later, the core booster will separate to fall back into the Atlantic Ocean, and the upper stage's HM7B engine will ignite to accelerate the EchoStar 18 and BRIsat spacecraft into geostationary transfer orbit.
The HM7B powerplant is programmed to fire more than 16 minutes, switching off at T+plus 25 minutes, 30 seconds, while soaring over Africa.
Separation of the EchoStar 18 spacecraft, the larger of the two satellites on Friday's flight, is scheduled for T+plus 29 minutes, 20 seconds. It is beginning a 15-year mission to broadcast television to DISH Network subscribers across the United States.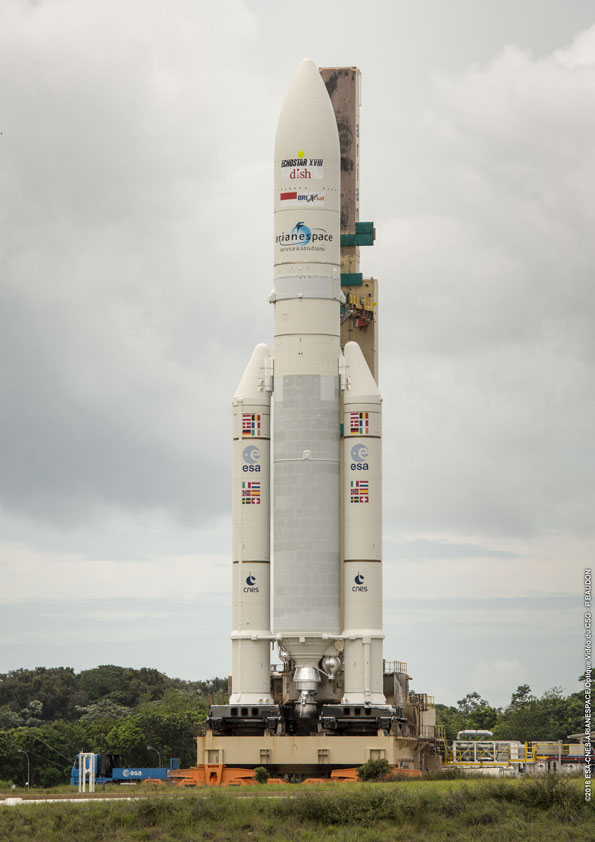 A few minutes later, at T+plus 34 minutes, 52 seconds, the Sylda 5 dual-payload adapter structure will be discarded to reveal the BRIsat payload for deployment at T+plus 42 minutes, 5 seconds. Owned by Bank Rakyat Indonesia, BRIsat is the first communications satellite dedicated to support banking services.
EchoStar 18 weighs approximately 6.3 metric tons (13,889 pounds) fully fueled, while BRIsat's launch weight is 3,540 kilograms (7,804 pounds), totaling more than 9,840 kilograms (21,693 pounds).
That will be the heaviest unclassified payload ever delivered to geostationary transfer orbit.
When accounting for the weight of the rocket's Sylda payload adapter structure, the total mass allocated to the payload on next week's launch is 10,731 kilograms (23,657 pounds), according to Arianespace.
Both satellites were built by Space Systems/Loral in Palo Alto, California.
The Ariane 5 rocket next week will target an orbit ranging from 250 kilometers (155 miles) to 35,766 kilometers (22,224 miles), with a tilt of 6 degrees to the equator.
Email the author.
Follow Stephen Clark on Twitter: @StephenClark1.