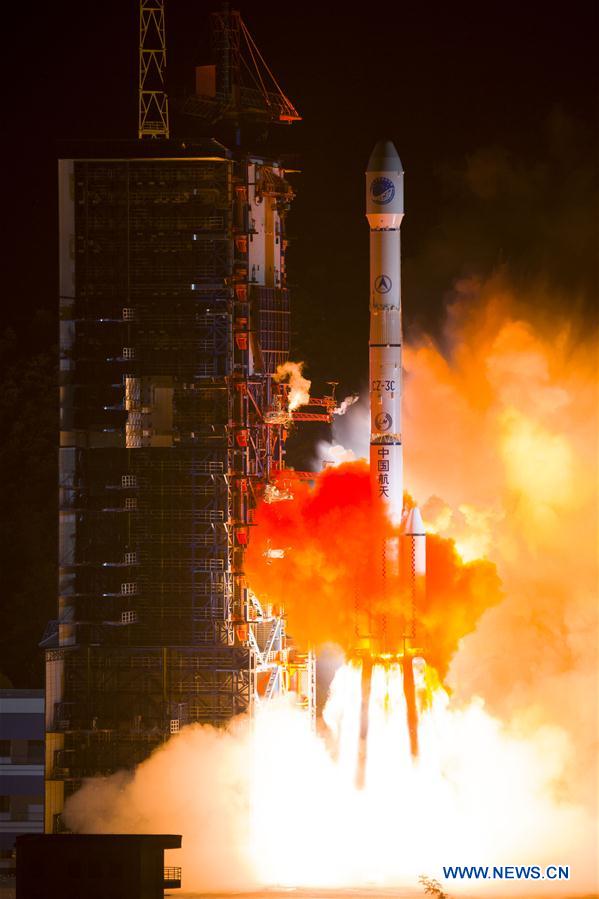 A Chinese Long March 3C rocket boosted a fresh satellite into orbit Sunday to join the country's Beidou navigation system, deploying the craft into an elliptical orbit ranging more than 22,000 miles (35,700 kilometers) above Earth.
The new navigation platform will power its way into a circular geosynchronous orbit over the equator in the coming weeks, adding to China's independent satellite network beaming positioning and timing signals to users around the world.
The Long March 3C rocket lifted off at 1530 GMT (11:30 a.m. EDT) Sunday from the Xichang launch base in southwestern China's Sichuan province, according to the state-run Xinhua news agency.
Powered by a core stage and two hydrazine-fueled strap-on engines, the Long March 3C climbed away from Xichang, turning east and dropping its twin boosters about two minutes after liftoff. The rocket's first stage shut down and jettisoned about two-and-a-half minutes into the flight, and the second stage ignited for a three-minute burn.
A reignitable cryogenic third stage consuming a mix of liquid hydrogen and liquid oxygen fired up for the first of two burns Sunday less than six minutes after launch, and the rocket released the Beidou navigation satellite into orbit about a half-hour into the mission.
U.S. military tracking data indicated the satellite reached an orbit with a low point, or perigee, of 128 miles (206 kilometers, a high point, or apogee, of 22,207 miles (35,789 kilometers), and an inclination of 19.3 degrees.
The satellite's on-board propulsion system will guide it into a circular geosynchronous orbit more than 22,200 miles over the equator to begin its mission.
"The satellite, after entering its designed work orbit and finishing in-orbit testing, will join others already in orbit and improve the stability of the system, preparing for BDS (Beidou Satellite Navigation System) to offer global coverage," Xinhua reported.
The craft launched Tuesday is the Beidou system's 23rd satellite, and the third new spacecraft to join the fleet this year.
China aims for the Beidou network to be ready for global navigation services in 2020, joining the U.S. Air Force's Global Positioning System, Russia's Glonass service and Europe's Galileo navigation satellites — which is still in its initial deployment phase — as worldwide providers.
Beidou managers say the constellation will provide positioning services with an accuracy of about 33 feet, or 10 meters, speed estimates within less than one foot per second, and time measurements within 10 nanoseconds.
The Chinese military will be a primary user of the Beidou navigation services, but Chinese officials tout many civilian applications, including personal navigation, aviation routing and disaster relief.
The fully operational Beidou system will consist of 35 satellites in three types of orbits: Geosynchronous orbit over the equator and two high-latitude orbits circling 22,236 miles (35,786 kilometers) and 13,376 miles (21,528 kilometers) above Earth.
Xinhua reported last month that 30 Beidou navigation satellites were planned for launch through 2020, and Russia and China have agreed to make the Glonass and Beidou systems compatible. The Beidou navigation frequency has also been "synchronized" with Europe's Galileo network, according to Xinhua.
The Beidou system started providing independent navigation services over China and neighboring countries in 2012.
Email the author.
Follow Stephen Clark on Twitter: @StephenClark1.