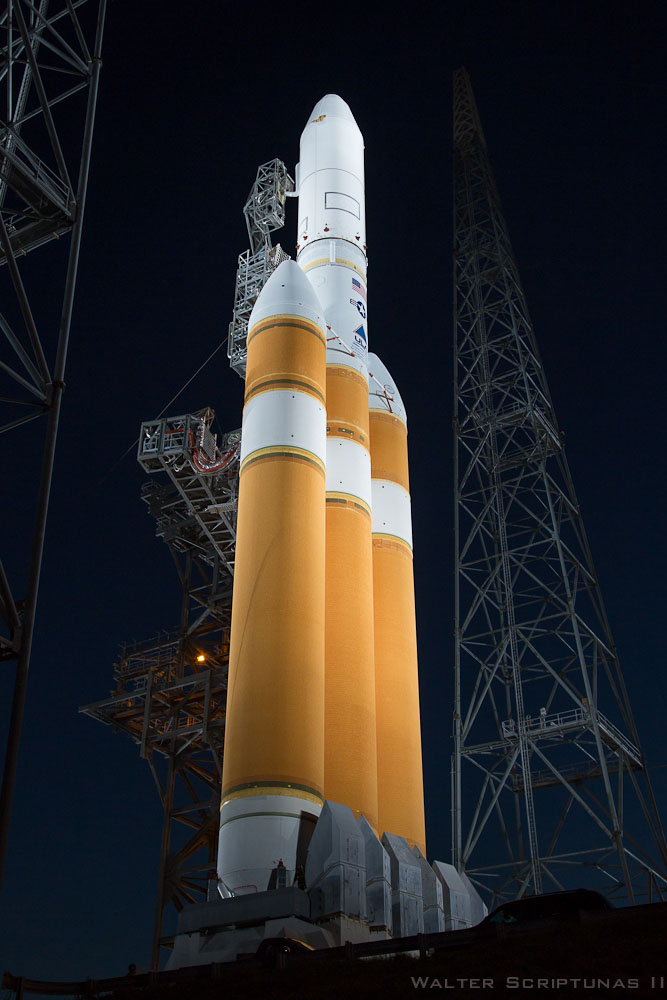 CAPE CANAVERAL — A new launch date has been established — June 9 — for the Delta 4-Heavy rocket to carry a classified satellite into space for U.S. national security needs.
Liftoff of the United Launch Alliance rocket will be possible during a five-hour period stretching from 1:30 to 6:30 p.m. EDT (1730-2230 GMT). The actual launch window is hidden within that unclassified period.
Readiness of the payload delayed the flight from its earlier target of June 4. But given the secretive nature of the spacecraft, no details were publicly revealed about what specifically triggered the slip.
The satellite and rocket are stacked atop Complex 37 at Cape Canaveral Air Force Station for the mission.
"The spacecraft, launch vehicle and support systems are ready to support launch," United Launch Alliance said in a statement to the press today.
The launch is being performed for the U.S. National Reconnaissance Office, the agency responsible for the country's spy satellite fleet. The NRO is a joint organization between the Department of Defense and Intelligence Community.
The identity of the satellite launching aboard the Delta 4-Heavy is top-secret. The launch is known as NROL-37.
It is the first of five national security space launches scheduled over the next four months, three aboard Delta 4 rockets and two on Atlas 5.
After the Heavy, the Navy's MUOS 5 communications satellite and the NROL-61 mission are planned on back-to-back Atlas 5 launches, then a pair of Delta 4s will launch the second set of Geosynchronous Space Situational Awareness Program, or GSSAP, satellites for U.S. Strategic Command followed by the Air Force's Wideband Global SATCOM 8 communications spacecraft.
See earlier Delta 374 coverage.
Our Delta archive.