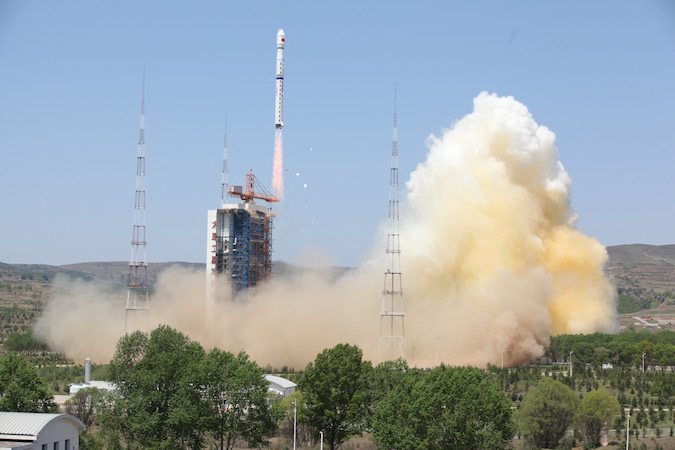 Three Earth observation satellites for the Chinese government and a commercial Argentine startup launched Monday, entering an orbit 300 miles (500 kilometers) above Earth to begin mapping missions.
A Long March 4B rocket carried the satellites into space after lifting off at 0317 GMT Monday (11:17 p.m. EDT Sunday) from the Taiyuan space base in northern China's Shanxi province, according to the state-run Xinhua news agency.
The 15-story booster, powered by three hydrazine-fuel stages, deployed the three satellites into orbit a few minutes after the launch, which occurred at 11:17 a.m. Beijing time. Chinese officials declared the mission a success, Xinhua reported.
U.S. military tracking data indicated the satellites from Monday's launch were flying in an orbit between 480 and 500 kilometers (298 to 310 miles) above Earth, at an inclination of 97.5 degrees.
The spacecraft aboard the Long March 4B rocket were Ziyuan 3-2, a civilian Earth imaging craft to be operated by China's Satellite Surveying and Mapping Application Center, and two microsatellites owned by Satellogic, a Buenos Aires company aiming to field a network of at least six Earth observation birds by the end of this year.
China's Ziyuan 3-2 satellite is a follow-up mission to the first Ziyuan 3 mapping spacecraft launched in January 2012.
The new spacecraft "will be used in land resources surveys, natural disaster prevention, agricultural development, water resources management and urban planning, among other tasks," Xinhua reported. "It is the second satellite in a remote-sensing mapping system China plans to build by 2030."
Ziyuan 3-2's cameras will collect high-resolution imagery in 3D and in color, with the ability to resolve objects on Earth's surface less than 3 meters (10 feet) in size. The satellite is designed for a five-year mission, according to information posted on the Satellite Surveying and Mapping Application Center website.
The two 35-kilogram (77-pound) microsatellites for Satellogic, named ÑuSat 1 and ÑuSat 2, are the first two members of a constellation the company hopes to number 25 spacecraft, and potentially hundreds more if Satellogic's ambition becomes reality.
Four more satellites are due to join the ÑuSat 1 and ÑuSat 2 orbiting surveillance platforms before the end of this year, according to Satellogic.
ÑuSat 1 and ÑuSat 2 are nicknamed Fresco and Batata after popular homemade Argentine desserts.
The satellites were built in Montevideo, Uruguay, by a Satellogic subsidiary company. Both spacecraft are healthy in orbit, according to Emiliano Kargieman, Satellogic's founder and chief executive.
"We have confirmation from the ground station in Bariloche: Fresco & Batata are healthy and sending strong signals," Kargieman tweeted Monday. "The launch is 100% success."
Satellogic is one of several entrepreneurial space firms eyeing large satellite constellations to tap into the Earth observation market, joining San Francisco-based Planet Labs, Seattle's BlackSky Global, Google's Terra Bella — formerly SkyBox — headquartered in Silicon Valley, and others pursuing quick turnaround, high-resolution imaging of the planet.
Each ÑuSat spacecraft hosts three cameras to capture imagery in color, infrared and in the hyperspectral regime, which gives analysts additional information about the makeup of objects, plants and terrain in Earth observation products.
The top resolution of the satellites is approximately 1 meter, or 3 feet, according to a report by Argentina's Clarín newspaper.
Satellogic officials say the company's planned satellite fleet will help customers monitor crops and fields, support the oil and gas industry, and aid governments in keeping track of critical infrastructure, Clarín reported.
Email the author.
Follow Stephen Clark on Twitter: @StephenClark1.