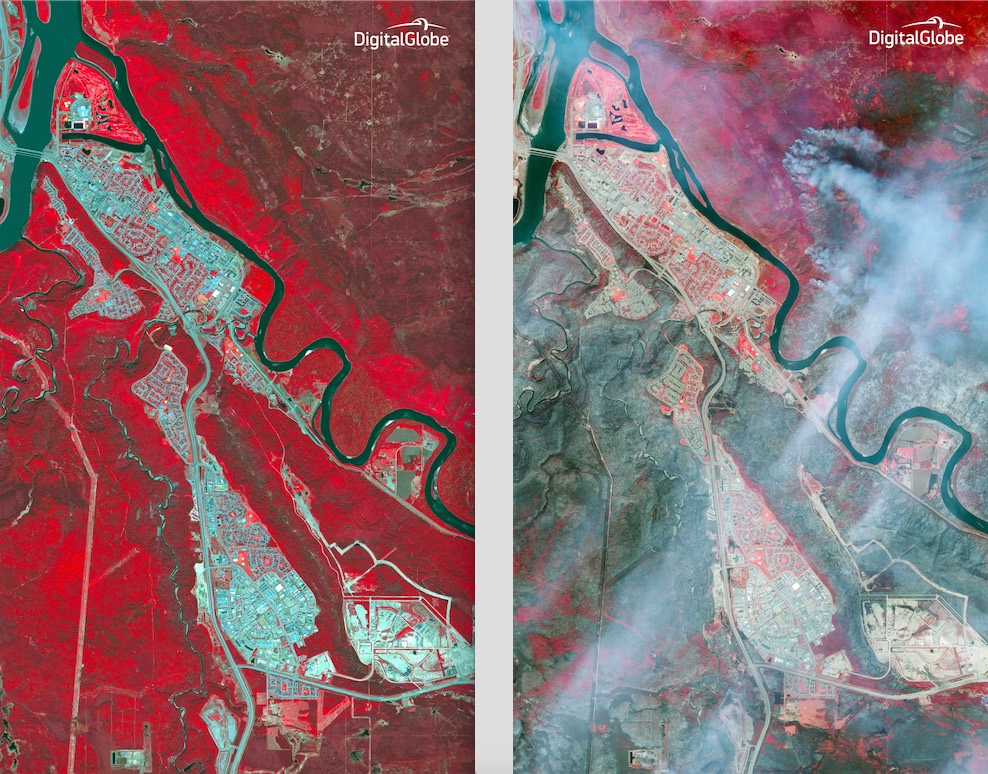 Satellites sailing hundreds of miles over a destructive wildfire ravaging the northern Alberta town of Fort McMurray have returning stunning images illustrating the extent of the blaze that has displaced tens of thousands of people.
As of Monday, the fire covered 787 square miles (2,040 square kilometers) and had destroyed about 2,400 homes and other buildings, according to Alberta's provincial government.
Hundreds of firefighters, and dozens of airplanes and helicopters, are battling the blaze around Fort McMurray, a now-abandoned city of more than 60,000 people.
High-resolution commercial mapping satellites operated by DigitalGlobe show the extent of the devastation in striking before and after photos of Fort McMurray neighborhoods leveled by the fire.

NASA's Terra and Aqua Earth observation satellites have tracked smoke plumes from the Canadian wildfires streaming across North America as far away as the mid-Atlantic coastline.
The Suomi-NPP weather satellite jointly developed by NOAA and NASA carries a sharp-eyed instrument that can see features on Earth at night. The satellite's Visible Infrared Imaging Radiometer Suite is sensitive to low light levels, allowing it to detect wildfires day and night, according to NASA.
The Earth observatory recorded a view of the wildfire in the predawn hours, local time, May 5.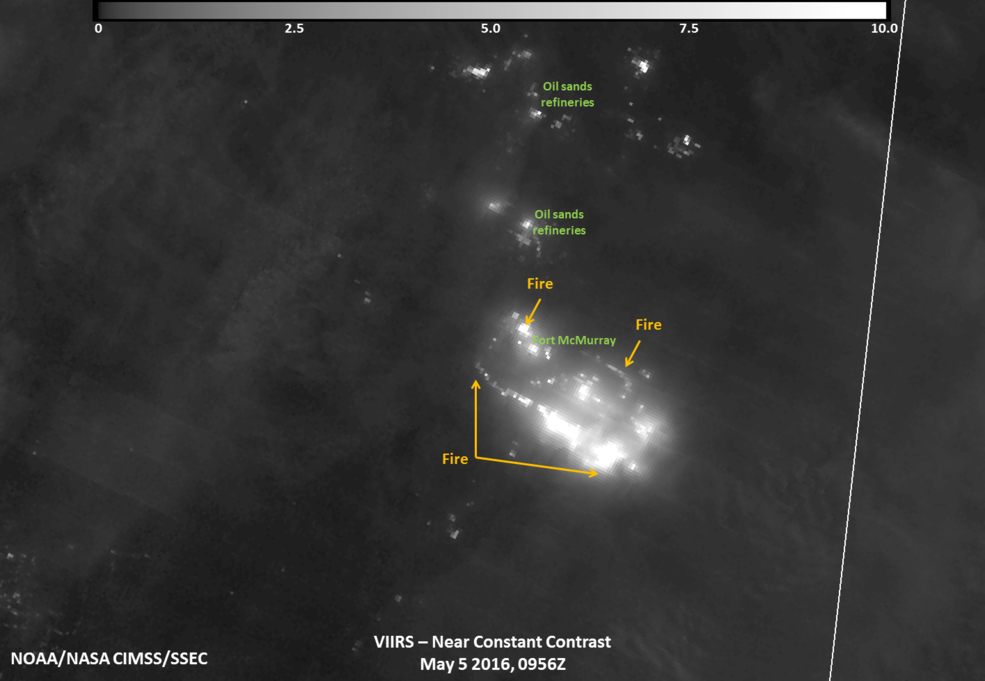 Another satellite in DigitalGlobe's fleet, WorldView 3, has newer imaging technology that can peer through smoke plumes and resolve what areas have been burned. The company says imagery analysts can even study how intense the flames are using the shortwave infrared imaging capability.
"In these false-color images, the yellow areas are those that have been burned by the fire, the purple areas are healthy vegetation, and the bright spots are where the fire is actively burning," DigitalGlobe said in a statement accompanying the release of the images.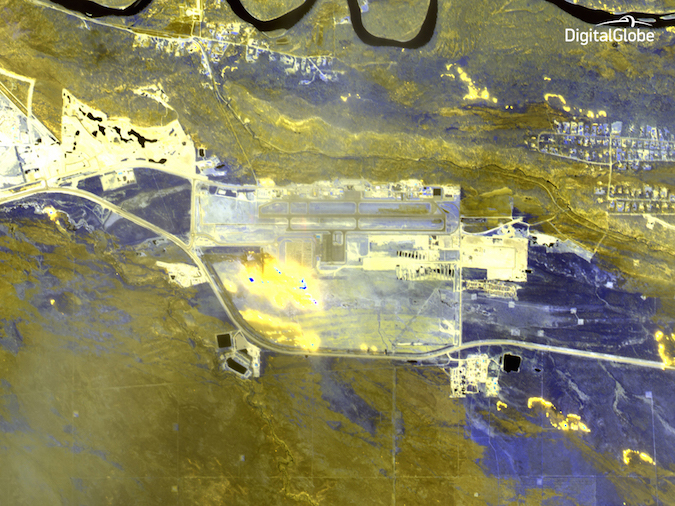 The fire is one of the largest in Canadian history, and it could be weeks before evacuees are allowed to return to their property and survey the damage.
The French Spot commercial Earth-viewing satellites also got a look at the Fort McMurray wildfire in natural color.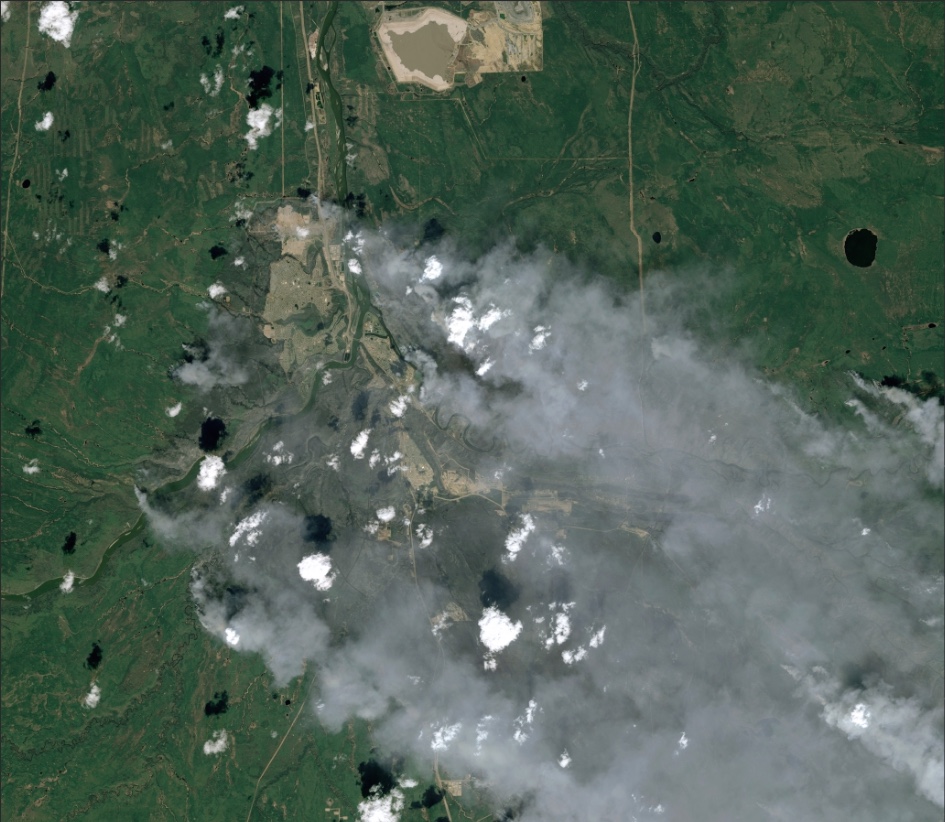 Email the author.
Follow Stephen Clark on Twitter: @StephenClark1.