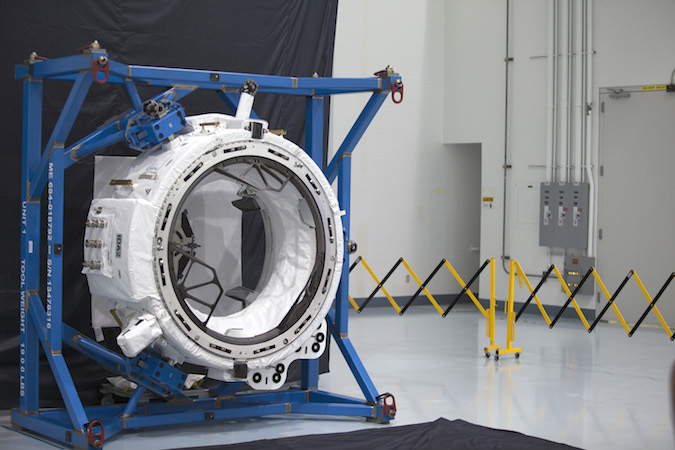 Spare parts warehoused in the the United States and Russia will help Boeing finish assembly of a third space station docking port to receive arriving astronauts aboard Boeing's CST-100 Starliner and SpaceX's Crew Dragon capsules, replacing a unit lost in a Falcon 9 launch failure last year.
Components left over from construction of the first two docking adapters will reduce the cost of fabricating an identical third unit, officials said.
NASA awarded Boeing a $9 million contract in March to assemble the third International Docking Adapter, or IDA 3, and deliver it to the space agency by March 2017.
IDA 3 replaces the first docking adapter lost in June 2015 aboard a SpaceX Falcon 9 rocket that broke apart about two minutes after liftoff from the Cape Canaveral, destroying a Dragon space station supply ship carrying the docking system in its unpressurized trunk.
Each docking adapter measures about 42 inches (1.1 meters) tall and 63 inches (1.6 meters) wide, and weighs approximately 1,159 pounds (526 kilograms).
Boeing had about 70 percent of the components — totaling 300 parts — for the replacement docking port in inventory, according to Kelly Kaplan, a Boeing spokesperson.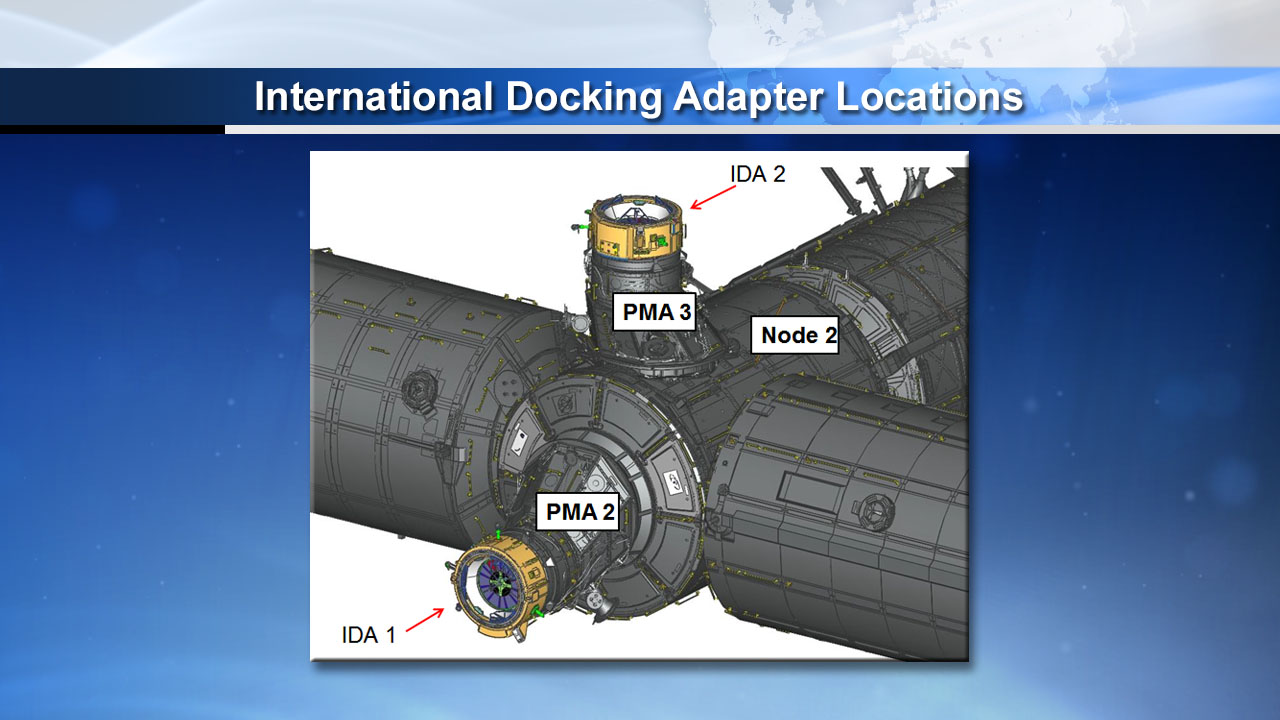 The docking adapter's primary structure is made by RSC Energia in Russia, and it arrived at Kennedy Space Center's Space Station Processing Facility in early April, Kaplan said.
Boeing is consolidating production of space station components like the IDAs at Kennedy Space Center. The first two docking adapters were manufactured at a Boeing facility in Houston that the company plans to shut down, according to Mark Mulqueen, Boeing's space station program manager.
Boeing is NASA's prime contractor for the space station.
The Boeing-built docking systems attach to pressurized mating adapters on the space station used to receive visiting space shuttles during the outpost's assembly. The shuttle's docking system and the station's pressurized mating adapters were based on the Androgynous Peripheral Attach System, or APAS, designed to accommodate U.S. spacecraft connecting in orbit with Russian vehicles.
"The APAS was the Russian system that the U.S. and Russia built a derivative for Apollo-Soyuz, and also used for Shuttle-Mir and the International Space Station," Mulqueen said. "We had to interface with that, so they had a lot of parts that we utilized."
---
Spaceflight Now members can read a transcript of our full interview with Mark Mulqueen. Become a member today and support our coverage.
---
The Boeing-built International Docking Adapters are designed to receive any spacecraft, including the commercial SpaceX Crew Dragon and Boeing CST-100 Starliner spacecraft, future cargo freighters, and other craft yet to be designed.
They are built to a public standard capable of connecting with docking interfaces Boeing is building to fly on Sierra Nevada's Dream Chaser cargo ship and the company's own CST-100 Starliner crew capsule.
"It's free for anyone to use," Mulqueen said. "Sierra Nevada is using it, and SpaceX is designing their own similar system. They took our requirements and were able to make their own system. We'll be using it for CST-100."
Mulqueen said the second International Docking Adapter, or IDA 2, is complete and ready for launch this summer on SpaceX's ninth operational Dragon supply mission to the space station.
NASA has tentatively planned to launch the third IDA on the SpaceX CRS 14 cargo mission in early 2018.
Two International Docking Adapters at the space station will allow Boeing and SpaceX commercial crew capsules to be attached to the complex at the same time.
Email the author.
Follow Stephen Clark on Twitter: @StephenClark1.