CAPE CANAVERAL — Rolling toward a mid-May deployment of a clandestine spy satellite, United Launch Alliance's triple-body Delta 4-Heavy rocket moved from its Cape Canaveral assembly building to pad 37B yesterday.
The 170-foot-long rocket, riding horizontal aboard a 36-wheel, diesel-powered transporter, emerged from the Horizontal Integration Facility hangar and took the brief trip down the road and up the pad's ramp, a distance of three-quarters of a mile.
Crews erected the bright orange and white rocket vertically onto the launch table this morning for the 26th Delta 4 launch from the same Cape Canaveral complex used for unmanned Apollo test flights in the 1960s.
Liftoff is planned for May 12 during an unclassified period of 1 to 5 p.m. EDT (1700-2100 GMT) atop 2.1 million pounds of thrust generated by the three Aerojet Rocketdyne RS-68A main engines.
The Heavy is America's biggest unmanned rocket currently in service, capable of lofting the largest and heftiest cargos for the nation, including eavesdropping surveillance satellites deposited directly into geosynchronous orbit 22,300 miles high and school bus-sized imaging observatories placed in polar orbits.
The mammoth vehicle is created by taking three Common Booster Cores — the liquid hydrogen-fueled motor that forms a Delta 4-Medium's first stage — and strapping them together to form a triple-barrel rocket, and then adding an upper stage.
The payload for the upcoming flight, known as NROL-37, will be brought to the pad and hoisted atop the rocket in the final weeks before launch, giving the launcher a total height of 235 feet.
The name, purpose and orbital destination for the spacecraft are not publicly announced by its owner — the National Reconnaissance Office. The NRO is the government agency responsible for the design and operation of the country's intelligence satellite fleet.
In addition to the ULA rocket production and launch teams, the Air Force is providing mission assurance oversight for the NROL-37 launch and the final "go" for liftoff will be given by the NRO mission director.
"Travel to and through space is unforgiving — whether it is the launch vehicle or the spacecraft," Dr. Walt Lauderdale, technical director of the EELV generation and operations division within the Air Force's Launch Systems Enterprise Directorate at the Space and Missile Systems Center in Los Angeles, told reporters last month.
"Past performance is no guarantee of future success. Despite our enviable string of successful launches, we never forget that we are only as good as our last mission."
The Air Force's role includes rigorous engineering discipline during the rocket's manufacturing, launch campaign and software development, pedigree reviews of the hardware, launch vehicle verification tasks and review boards to disposition issues from past flights.
"Space launch is an inherently risky enterprise and we must never become complacent. Many thousands of things have to go right during a launch and we don't get a second chance once the rocket lifts off," Lauderdale said.
Delta 4 rockets are in the midst of performing back-to-back missions for the NRO. A Delta 4-Medium+ booster successfully carried a radar-imaging spy satellite into a retrograde orbit from Vandenberg Air Force Base in California on Feb. 10.
"(An) incredibly dedicated team representing NRO and its industry partners launched a vital national security satellite into the Pacific sky," Col. Clint Hunt, director of the NRO's Office of Space Launch, said in a Feb. 10 press release.
"I stand in awe of their skill and dedication and express my profound gratitude to each individual who had a part in this achievement."
The Air Force is planning at least five additional flights on Delta 4-Heavy rockets through 2022, carrying NRO payloads from both Cape Canaveral and Vandenberg. NASA also intends to use the booster in 2018 for its Solar Probe Plus science mission to the Sun.
Despite intentions to phase out single-core Delta 4-Medium rockets in three years, ULA has pledged to the NRO it will keep the Heavy viable and flying as long as the government needs and wants the vehicle. The company will replace the rocket in its product offering by high-performance configurations of the future Vulcan launcher system.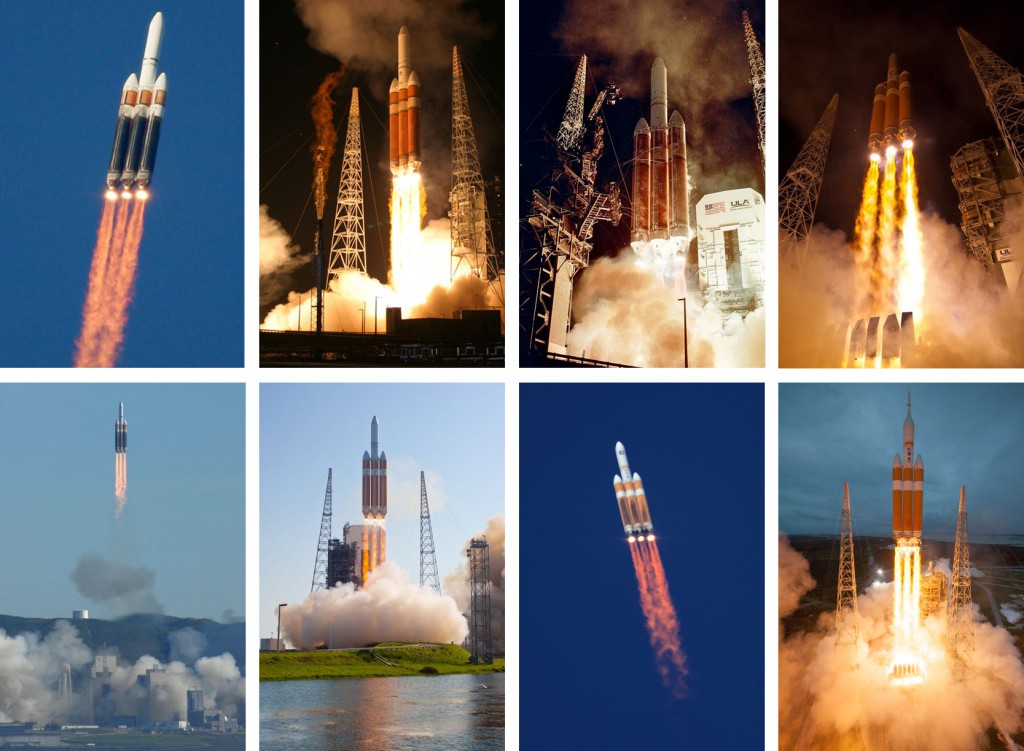 NROL-37 will be the ninth launch of a Delta 4-Heavy rocket and sixth carrying the largest NRO satellites.
Delta 310: Demo flight (Dec. 21, 2004) Cape
Delta 329: DSP 23 (Nov. 10, 2007) Cape
Delta 337: NROL-26 (Jan. 17, 2009) Cape
Delta 351: NROL-32 (Nov. 21, 2010) Cape
Delta 352: NROL-49 (Jan. 20, 2011) Vandenberg
Delta 360: NROL-15 (June 29, 2012) Cape
Delta 364: NROL-65 (Aug. 28, 2013) Vandenberg
Delta 369: Orion EFT 1 (Dec. 5, 2014) Cape
"For those members of our industry and government launch vehicle team, it is our collective responsibility to keep the rocket — which is the only known natural predator of a satellite — at bay," Lauderdale quipped.
Our Delta archive.