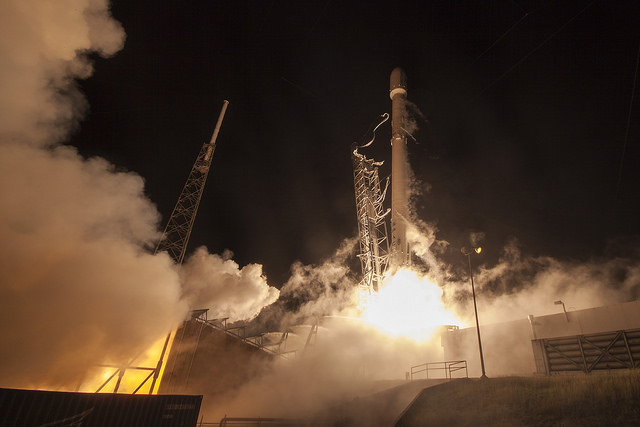 SpaceX's next launch from Cape Canaveral is set for Feb. 24, when a Falcon 9 rocket will carry a commercial television broadcasting satellite aloft for Luxembourg-based SES, the payload's owner announced Monday.
The flight from SpaceX's Complex 40 launch pad will be the first of more than a dozen missions the company plans from Cape Canaveral this year, and the second launch of an upgraded Falcon 9 rocket that debuted in December.
The Falcon 9's launch window Feb. 24 opens at 6:46 p.m. EST (2346 GMT).
The SES 9 satellite slated to fly aboard the 229-foot-tall rocket arrived at Cape Canaveral in early December after a cross-country trip from its Boeing factory in El Segundo, California.
With a launch mass of approximately 11,700 pounds, or 5,300 kilograms, the SES 9 satellite's mission is tailored for television broadcasting and mobile communications services across a swath of the planet from Africa and the Middle East to Southeast Asia.
It is designed for a 15-year service life, eventually settling into an operating position in geostationary orbit along the equator at 108.2 degrees east longitude.
In a statement released Monday, SES said it agreed with SpaceX on a modification to the Falcon 9's launch profile to put the communications satellite in an orbit closer to its final geostationary location nearly 22,300 miles (36,000 kilometers) above Earth.
Broadcasting satellites like SES 9 are typically deployed into an egg-shaped transfer orbit, with a high point near geostationary altitude and a low point much closer to Earth. In such cases, the satellite's on-board propulsion system is responsible for adjusting its orbit to reach the craft's ultimate operational post.
SES 9 carries a conventional liquid-fueled engine to complete major post-launch maneuvers, and an electric propulsion system to fine-tune its orbit and slide into position at 108.2 degrees east longitude.
The use of electric propulsion saves fuel aboard the satellite, but the low-impulse ion thrusters take longer to change the trajectory of the spacecraft, meaning SES 9 will take several months to reach geostationary orbit, instead of the usual few weeks.
SES said the modification to the launch will allow SES 9 to still enter service as soon as July, in roughly the same timeframe it expected to begin broadcasting television programming had the satellite launched late last year. Industry sources said the adjustment will place SES 9 in a higher orbit than originally planned, reducing the time the satellite needs to raise its own altitude.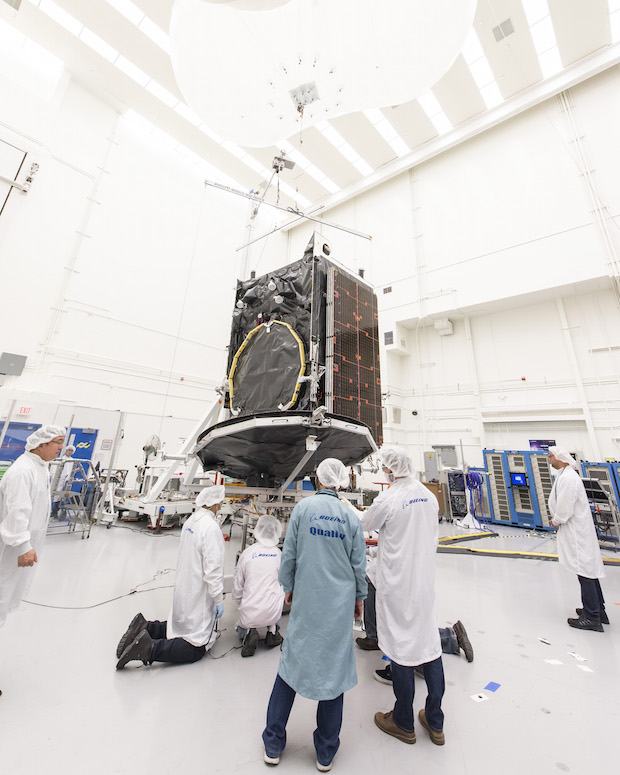 A spokesperson with SES referred questions on the specifics of the launch profile change to SpaceX, which aims to recover the first stage booster aboard an ocean-going barge in the Atlantic Ocean after liftoff from Cape Canaveral.
Because the Falcon 9 rocket will deploy SES 9 into a different orbit, the launcher will need to go higher and faster after liftoff.
A SpaceX official said the company still plans to attempt to land the first stage after the SES 9 launch, but profile change means there will be a lower chance of recovering it. SpaceX has tried landing Falcon 9 first stage boosters on football field-sized ships three times, but the rocket has not survived intact.
The last Falcon 9 launch from Florida in December carried a light payload, leaving enough leftover propellant to steer the first stage back to Cape Canaveral, where it completed a smooth touchdown a few miles from its launch pad. The landing experiments are geared toward demonstrating the Falcon 9's reusability, an objective long sought by SpaceX, which hopes to drastically reduce the cost of space transportation.
Five of seven satellites currently under procurement by SES are assigned to SpaceX launchers. Two others are contracted to lift off aboard Arianespace's Ariane 5 rocket.
SES planned to launch the satellite last year, but a Falcon 9 launch mishap in June grounded SpaceX's rocket, prompting months of delays for SES 9 and other telecom stations in the launch queue.
Besides work to return the Falcon 9 rocket to flight after last year's failure, SpaceX also finished development of an upgraded launcher designed to carry more fuel and generate higher thrust. The improvements allow the rocket to haul heavier cargo into orbit.
SpaceX targeted the Falcon 9's return-to-flight and the maiden launch of the upgraded rocket for December with 11 message relay satellites for Orbcomm. SES 9 was originally slated to be next in line for a Falcon 9 launch, but SpaceX preferred first flying the Orbcomm mission, which went into a relatively low orbit several hundred miles above Earth and required only one firing by the rocket's upper stage engine.
High-altitude deployments like the SES 9 flight need two burns of the upper stage Merlin engine.
In statements released late last year, SpaceX and SES hoped to launch SES 9 by the end of December, then by mid-January. The flight remained grounded as the launch company resolved unspecified concerns with the rocket's second stage, industry officials said.
Following the Feb. 24 launch of SES 9, SpaceX is scheduled to launch its next cargo flight to the International Space Station some time in April. A dual-satellite launch with communications payloads for Eutelsat and Asia Broadcast Satellite will follow no sooner than late April, industry officials said.
Israel's Amos 6 communications satellite has a reservation to launch aboard a Falcon 9 rocket in May, according to Spacecom Ltd., the spacecraft's owner.
Another satellite expected to launch aboard a Falcon 9 in the coming months is the JCSAT 14 spacecraft, a multipurpose telecom platform owned by Japan's Sky Perfect JSAT Corp. Where JCSAT 14's launch fits into the Falcon 9 manifest is less clear.
Email the author.
Follow Stephen Clark on Twitter: @StephenClark1.