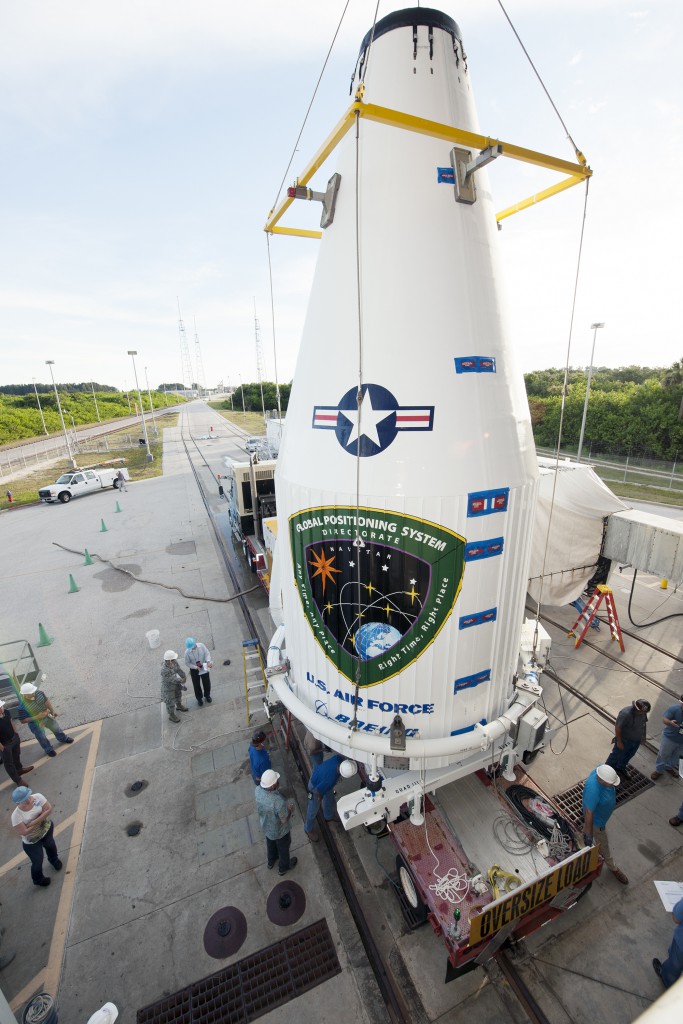 CAPE CANAVERAL — After a quarter-century readying Global Positioning System satellites for launch at a Cape Canaveral Air Force Station processing hub, the final bird rolled out today as the navigation program transitions to a new era.
"This GPS 2F-12 satellite represents the end of a legacy as it will be the last of the 61 GPS satellites processed here at CCAFS," Brig. Gen. Wayne Monteith, 45th Space Wing commander, said in a press release.
"This culminates an incredible 27-year legacy at our Area 59 Satellite Processing Facility. We are the nation's premier gateway to space and are humbled to be a part of the team that provides GPS and its capabilities to the world."
Beginning with the advanced GPS 3 series next year, preparing those satellites shifts off-base to nearby Titusville and the commercially-run Astrotech complex.
The GPS 2F-12 satellite, with its liftoff planned for next Friday, emerged from Area 59 early this morning to be hauled to the Atlas 5 rocket's assembly building for attachment.
The satellite had flown to Florida on Oct. 8 from Boeing's manufacturing facility in El Segundo, California. After arriving, it was taken to Area 59 for final testing, loading of hydrazine maneuvering propellant and encapsulation in the rocket's nose cone.
Then, today, a convoy moved the 3,400-pound satellite north through Cape Canaveral Air Force Station to United Launch Alliance's Vertical Integration Facility where the Atlas had been stacked.
Already shrouded in the launcher's 39-foot-tall, 14-foot-diameter aluminum nose cone, the spacecraft was hoisted atop the Centaur upper stage for mating.
The fully assembled rocket will be transported to the launch pad on Thursday in advance of the countdown and liftoff Friday. The morning launch window extends from 8:38 to 8:57 a.m. EST (1338-1357 GMT).
This will be the 12th and last Block 2F satellite sent into the GPS network since 2010. Boeing built the dozen spacecraft of this kind featuring greater accuracy, more signals, better anti-jamming and longer design lives than previous models.
It replaces the oldest GPS satellite still in operation, a craft originally launched 25 years ago.
GPS launch operations at Cape Canaveral began with the advent of the Delta 2 rocket by McDonnell Douglas to construct a navigation system in the sky.
It was part of the U.S. military's transition away from dependency on the space shuttle program for lifting satellites into space after Challenger. That accident in 1986 sparked development of small, medium and heavy-lift expendable launch vehicles for the Defense Department's needs.
The maiden Delta 2 launch occurred on Feb. 14, 1989, carrying the initial operational craft into orbit for the NAVSTAR GPS network.
Over the next few years, a constellation of GPS satellites was successfully launched to give the military — and civilans — precision location and timing services anywhere in the world.
And all of those satellites were being processed for launch at Area 59 before moving to Complex 17 for launch atop Delta 2s. That rocket and payload pairing lasted for 20 years, through 2009, and 49 launches.
The past six years saw a continued passage through the processing hub for 12 satellites before launches on more-powerful Delta 4 and Atlas 5 rockets, affording the satellites to ride the boosters directly into the navigation network instead of taking circuitous routes after separating from the Delta 2 launchers.
GPS 2: 9 satellites launched (1989-1990)
GPS 2A: 19 satellites launched (1990-1997)
GPS 2R: 13 satellites launched (1997-2004)
GPS 2R-M: 8 satellites launched (2005-2009)
GPS 2F: 11 satellites launched so far (2010- )
As times change with the introduction of GPS 3, a whole new generation of satellite, a commercial approach the readying the craft for flight will occur in a new setting, Astrotech, where most spacecraft now flow through.
"There are no customers scheduled to use Area 59 following the GPS 2F-12 mission. The 45th Space Wing is currently investigating options for future use of the campus," the Air Force tells Spaceflight Now.
A Delta 4 rocket is slated to launch GPS 3-01 in May 2017.
See earlier GPS 2F-12 coverage.
Our Atlas archive.
Our Delta archive.