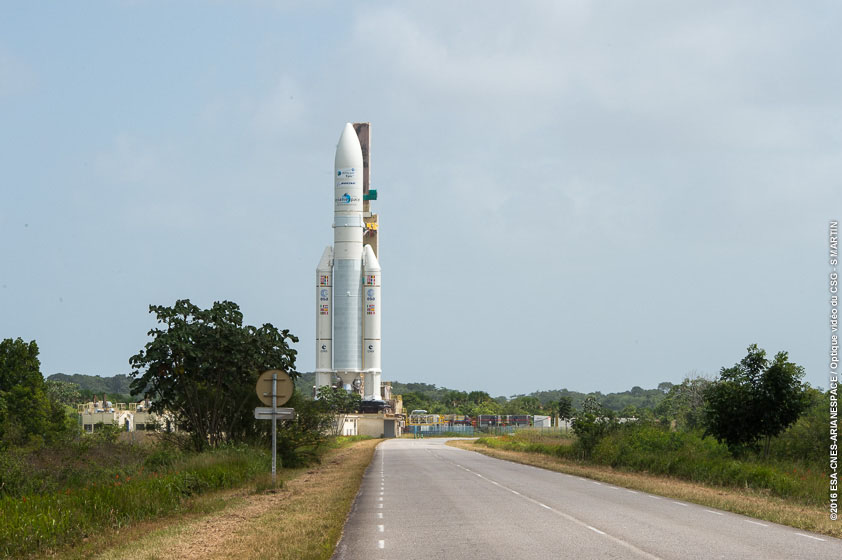 An Ariane 5 rocket journeyed from its assembly hangar to a nearby launch pad in French Guiana on Tuesday, a day before the heavy-duty launcher is scheduled for liftoff with the first in a new generation of high-capacity communications satellites for Intelsat.
The nearly 180-foot-tall (55-meter) rocket emerged Tuesday morning from the final assembly building at the European-run Guiana Space Center on the northern coast of South America for the 1.6-mile (2.6-kilometer) trip to the ELA-3 launch zone.
The Intelsat 29e communications satellite, the first member of Intelsat's new "Epic" series of modernized telecom platforms, is cocooned inside the Ariane 5's nose cone.
Once it arrived at the launch pad, the Ariane 5 and its mobile platform were to be connected to ground supplies of electricity, gases and propellants ahead of Wednesday's countdown.
A launch readiness review Monday cleared the Ariane 5 for rollout after confirming the status of the rocket, Intelsat 29e satellite and ground systems.
Liftoff is set for 2320 GMT (6:20 p.m. EST) Wednesday at the opening of an 80-minute launch window.
Wednesday's launch will be the first Ariane 5 flight to carry a single commercial payload since 2009. The Ariane 5 typically launches with two communications satellites at a time, allowing customers to share the cost of the rocket.
Arianespace, which manages Ariane 5 launch operations, said there was not another satellite available to pair with Intelsat 29e in early 2016. Intelsat officials said they elected to pay extra to launch their spacecraft as soon as possible, and not wait for a dual-launch opportunity in mid-2016.
Made by Boeing, the Intelsat 29e satellite weighs 14,444 pounds (6,552 kilograms) at launch, making it one of the heaviest commercial satellites ever flown.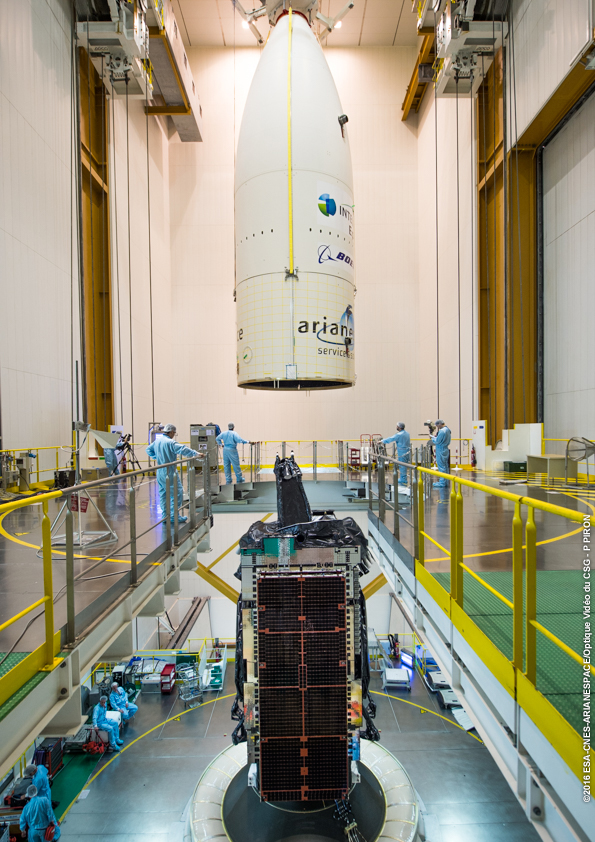 The Intelsat 29e satellite is the first of at least six Epic-series telecom craft planned for launch by Intelsat through 2020.
Intelsat 29e hosts high-throughput payloads broadcasting in Ku-band, Ka-band and C-band, with transmission capacity equivalent to 270 traditional transponders, three to five times more than conventional telecom satellites.
Intelsat officials said the improvements offered on Epic-class satellites will lower the cost per-bit to broadcast and network customers. The benefits of the Epic satellites are also available to Intelsat's existing clients through backward compatibility, Intelsat said.
The Epic-series satellites could also allow Intelsat to tap new markets, and give users greater ability to tailor their signals based on speed, geography and other parameters.
The Ariane 5 rocket's upper stage will release Intelsat 29e into an egg-shaped geostationary transfer orbit at T+plus 29 minutes, 52 seconds. The mission targets an orbit with a high point of 22,087 miles (35,546 kilometers), a low point of 154 miles (249 kilometers) and an inclination tilted 0.5 degrees to the equator.
Intelsat 29e's on-board propulsion system will drive the satellite to its final operating post in geostationary orbit nearly 22,300 miles (36,000 kilometers) over the equator a few weeks after launch.
The relay station is heading for a parking slot at 50 degrees west longitude, where its orbital velocity will match the rate of Earth's rotation, hovering over a coverage zone stretching across North and South America. Intelsat 29e will also serve the airborne market on busy transatlantic air routes between North America and Western Europe.
Intelsat 29e will eventually replace the Intelsat 1R satellite launched aboard an Ariane 5 rocket in 2000. The new satellite will also take over capacity from Intelsat 805, an aging spacecraft lofted in 1998 that Intelsat plans to reposition to another part of the globe.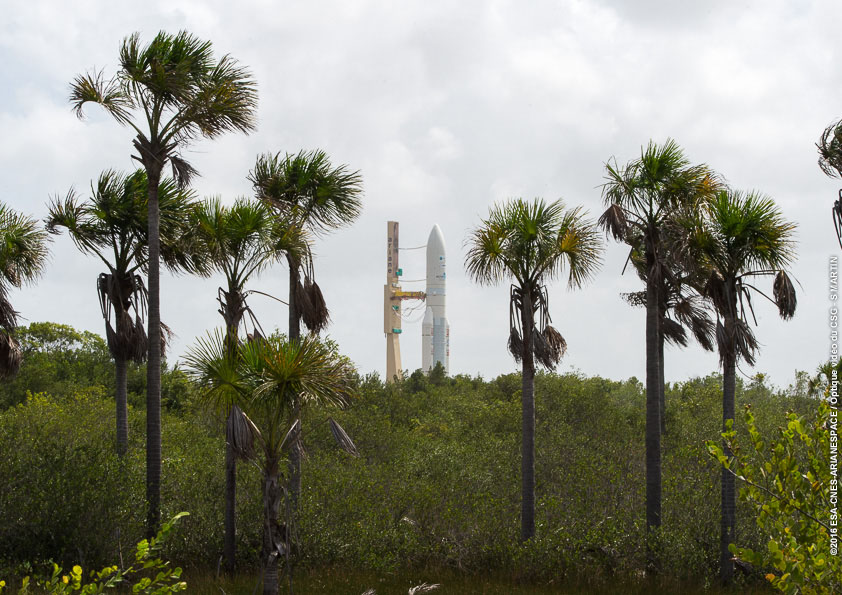 The countdown for Wednesday's launch is set to begin at 1150 GMT (6:50 a.m. EST). A check of electrical systems is scheduled to occur around 1550 GMT (10:50 a.m. EST).
Workers will also put finishing touches on the launch pad, including the closure of doors, removal of safety barriers and configuring fluid lines for fueling. The flight program will also be loaded into the Ariane 5's computer.
The launch team will begin the process to fuel the rocket with super-cold liquid hydrogen and liquid oxygen propellants around 1820 GMT (1:20 p.m. EST). First, ground reservoirs will be pressurized, then the fuel lines will be chilled down to condition the plumbing for the flow of super-cold liquid hydrogen and liquid oxygen.
A similar procedure for the Ariane 5's cryogenic upper stage will commence at 1920 GMT (2:20 p.m. EST).
Chilldown conditioning of the Vulcain 2 first stage engine will occur at 2020 GMT (3:20 p.m. EST), and a communications check between the rocket and ground telemetry, tracking and command systems is scheduled for 2210 GMT (5:10 p.m. EST).
The computer-controlled synchronized countdown sequence will begin seven minutes before launch to pressurize propellant tanks, switch to on-board power and take the rocket's guidance system to flight mode.
The Vulcain 2 engine will ignite as the countdown clock reaches zero, followed by a health check and ignition of the Ariane 5's solid rocket boosters seven seconds later to send the 1.7 million-pound launcher skyward.
Five seconds after blastoff, the rocket will begin pitching east from the ELA-3 launch pad, surpassing the speed of sound less than a minute into the mission. The Ariane 5's twin solid rocket boosters will jettison 2 minutes, 24 seconds after liftoff.
Once above the dense atmosphere, the launcher's payload fairing will fall away at an altitude of about 76 miles (123 kilometers). The Ariane 5's first stage will shut down 8 minutes, 46 seconds after liftoff, followed moments later by stage separation and ignition of the hydrogen-fueled cryogenic HM7B upper stage engine.
The rocket's upper stage will fire for nearly 16 minutes, accelerating to a velocity of 21,000 mph, or more than 9.4 kilometers per second, to reach the flight's planned orbit.
The launcher's upper stage will re-orient itself after the end of its main engine burn for deployment of Intelsat 29e just before the flight's 30-minute mark.
Wednesday's flight will be the 84th launch of an Ariane 5 rocket, and the 228th Ariane launch overall since the rocket family debuted in 1979. It is the first of up to eight Ariane 5 flights scheduled this year.
Email the author.
Follow Stephen Clark on Twitter: @StephenClark1.