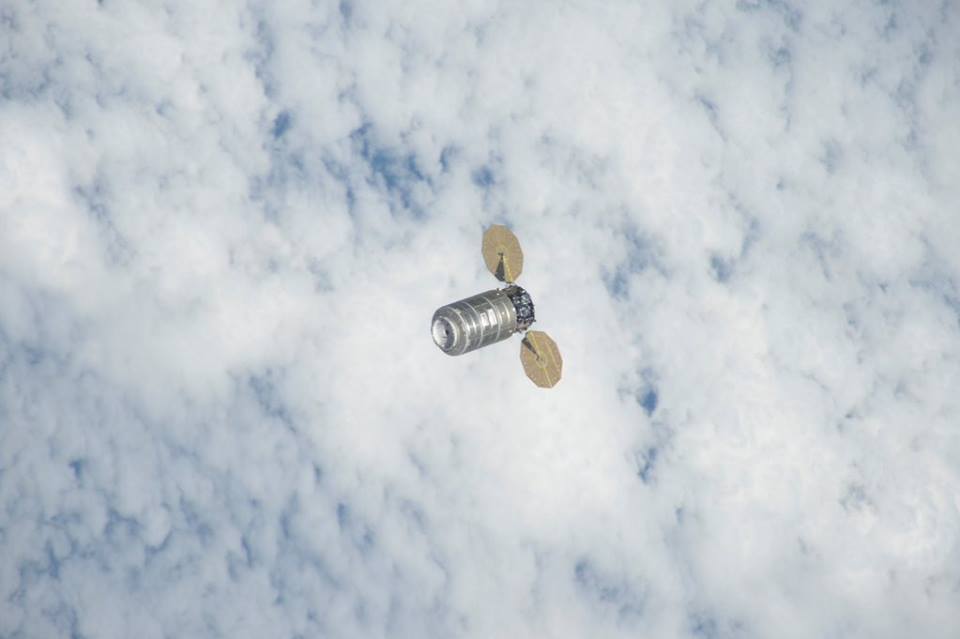 CAPE CANAVERAL — The astronauts living aboard the International Space Station snagged a free-flying commercial cargo ship filled with a bounty of supplies and new science this morning, pulling the vessel aboard as the two craft flew in formation 252 miles above the world.
The Orbital ATK's private Cygnus freighter, dubbed the SS Deke Slayton II for the late Mercury 7 astronaut, successfully completed its two-and-a-half day trip from the launch pad at Cape Canaveral to the delight and relief of flight controllers.
It is the first U.S. cargo craft to reach the station since April, the result of two launch failures for Orbital ATK and SpaceX that has grounded the private delivery services for the outpost and its resident crew.
A United Launch Alliance Atlas 5 rocket was purchased to restart Orbital ATK's supply-delivery contract with NASA, blasting off Sunday from Cape Canaveral. The company plans to use another Atlas to deploy another Cygnus in March.
SpaceX hopes to resume its Dragon capsule flights early next year and Orbital ATK with its own Antares booster by May.
The station's robotic arm, operated by station astronaut and NASA flight engineer Kjell Lindgren, captured the 21-foot-long Cygnus spacecraft at 6:19 a.m. EST (1119 GMT) some 252 miles over the Arabian Sea.
"Outstanding! There's much rejoicing on the ground," CAPCOM astronaut David Saint-Jacques radioed from Houston.
"Thank you, and our thanks and congratulations on a phenomenal team effort in delivering the Cygnus vehicle and its precious cargo to the International Space Station," Lindgren replied.
"And welcome aboard, Deke Slayton."
"It went flawlessly," CAPCOM said, "textbook perfect."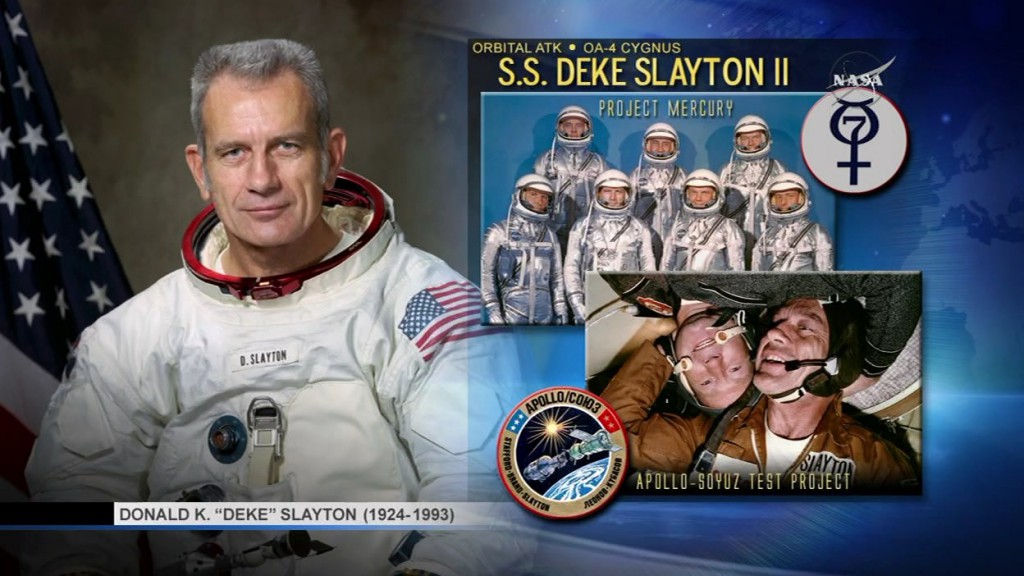 The rendezvous went problem-free as Cygnus slowly approached the station from beneath the complex, stopping at a series of waypoints to verify all was normal. The craft eventually arrived 40 feet below, allowing the robot arm to capture a grapple fixture on Cygnus.
The Canadian-made arm, under remote-operation via Mission Control, maneuvered the freighter to the underside of Unity, the connecting module near the center of the station. Cygnus was delicately seated in the berthing mechanism, triggering the four "ready-to-latch" indicators at 9:14 a.m. EST (1414 GMT).
Sixteen electrically-driven bolts in the Earth-facing port, commanded via laptop computer in the Destiny laboratory module by Lindgren, then engaged to firmly and officially install Cygnus at 9:26 a.m. EST (1426 GMT).
Cygnus became the 164th mission to reach the station since operations began in 1998, NASA said.
The station's crew, specifically NASA astronaut Scott Kelly, plans to open the hatchway and enter the new vessel on Thursday morning, that coming on the eve of departure and landing for Lindgren, Soyuz Commander Oleg Kononenko and Japanese astronaut Kimiya Yui on Friday after 141 days in space.
"Anytime a vehicle approaches the space station, it's something different to look out at from the window, it's a new procedure to run and it's really exciting to be able to reach out and capture something flying in space and attach it to the space station," said Dan Tani, a former astronaut who spent 120 days living and working aboard the station on Expedition 16 and now serves as Orbital ATK's manager of mission and cargo operations.
"It's a real morale boost. It's like coming home from the store and unpacking all the stuff you bought, a lot of stuff you didn't know you needed, but a lot of stuff like notes from home, things that are really meaningful."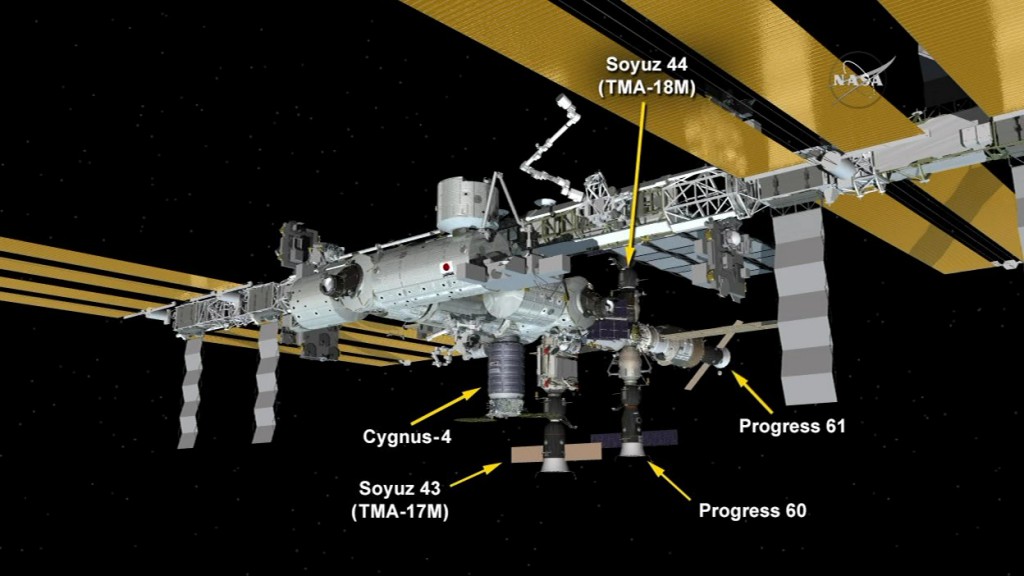 This Cygnus is loaded with 7,383 pounds of provisions, not counting packing materials, for the station and its resident crews. The total mass with packing is 7,745 pounds.
Crew supplies: 2,604 pounds
* Clothing for Scott Kelly, Tim Kopra, Tim Peake and Jeff Williams
* 144 Bulk Overwrap Bags of food
Vehicle hardware: 2,220 pounds
* Cycle ergometer, control panel and seat cushion
* Air, water, surface sampling kits
* Acoustic dosimeter
* Carbon dioxide monitor
* C2V2 communications gear
Science utilization: 1,867 pounds
* Canadian Space Agency: Vascular echo exercise band
* European Space Agency: Biolab
* Japan Aerospace Exploration Agency: Cassette, valve, disk drive and cables
* NASA: Gases and liquids behavior experiment, a flame suppression test, a new space life science facility and the first NanoRacks microsatellite to be deployed from the station
EVA gear: 500 pounds
* New SAFER spacewalk jetpack
* Legs and gloves for spacesuit
* Tethers, filters, batteries, velcro and tool bags
* Airlock Cooling Loop Recovery Kit
Computer resources: 192 pounds
* New T61P laptop, hard drives and USB cables
* Canon XH G1 and XF305, Nikon D4 cameras
#Cygnus, AKA #SSDekeSlayton has arrived just in time for #Christmas! #YearInSpace pic.twitter.com/ueaJhkFvXl

— Scott Kelly (@StationCDRKelly) December 9, 2015
The cargo container is a smaller diameter version of the Italian-made Multi-Purpose Logistics Modules that flew up and down on space shuttles to outfit the station.
"Sort of like the iPad and the iPad mini. They are pretty indistinguishable," said Tani.
This Cygnus, the OA-4, will remain attached to the station through the end of January, getting completely unloaded and then filled with at least 3,000 pounds of trash and disposables that the ship will take away.
See earlier Cygnus OA-4 coverage.
Our Atlas archive.