A Russian satellite reportedly designed to demonstrate sensors to track enemy submarines and a passive secondary spacecraft to help calibrate ground-based military radars lifted off Saturday aboard a modified Soyuz rocket, but one of the payloads apparently failed to deploy from the launcher's upper stage, according to Russian media.
The Soyuz 2-1v rocket launched at 1409 GMT (9:09 a.m. EST) Saturday from the Plesetsk Cosmodrome in northern Russia, heading north from the snow-covered space base for an orbit circling over Earth's poles.
The mission hauled the Kanopus ST Earth observing satellite reportedly on a mission to bolster the Russian military's anti-submarine capabilities and the KYuA 1 payload, a reflective, spherical satellite built as a target for tests of defense radar systems.
The Russian Ministry of Defense said Saturday the launch went normally, with a smooth separation of both payloads into their targeted orbits. Military authorities announced the satellites would be named Kosmos 2511 and Kosmos 2512, keeping with Russia's nomenclature for defense-related spacecraft.
But Russia's RIA Novosti news agency reported Sunday that telemetry data indicated one of the two spacecraft did not deploy from the Soyuz rocket's upper stage, citing a source in the space industry. The other satellite is not having any problems, the source told RIA Novosti.
Russian military officials have not confirmed the report, and RIA Novosti did not identify which satellite remained stuck to the Soyuz launcher's Volga upper stage.
U.S. military tracking data showed two objects — presumably the Volga upper stage and the deployed spacecraft if the Novosti report is accurate — in a nearly circular orbit 685 kilometers (425 miles) above Earth at an inclination of 98.2 degrees.
A third object attributed Saturday's launch was detected in an egg-shaped orbit with a perigee, or low point, of around 200 kilometers (124 miles). It is possibly the Soyuz booster's second stage.
The Soyuz 2-1v rocket is a highly altered version of Russia's venerable Soyuz launcher family sized to take smaller satellites into orbit.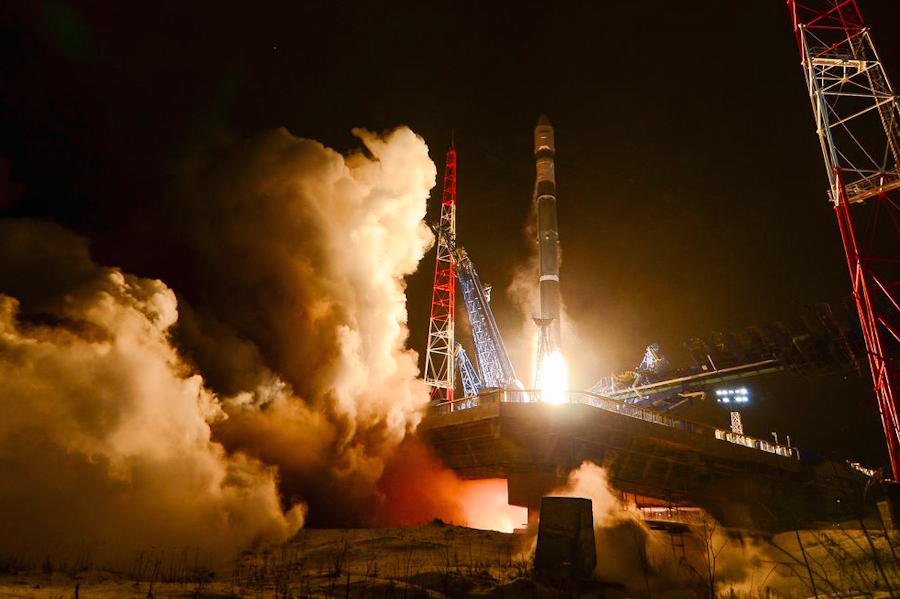 Instead of carrying four first liquid-fueled strap-on boosters clustered around a core stage, Russian engineers did away with that design for the Soyuz 2-1v, which is powered by a single-nozzle NK-33 engine to replace the four-nozzle RD-108 engine on the Soyuz main stage.
Saturday's launch marked the first flight of an NK-33 type engine since an explosion in one of the engine's liquid oxygen turbopumps caused last year's Antares rocket failure. The Orbital ATK Antares launcher, which was carrying a supply ship to the International Space Station, was boosted by two AJ26 main engines — "Americanized" versions of the NK-33 with U.S.-built electronics and steering mechanisms.
The engines have a mixed reliability record after the Antares launch failure, along with mishaps during NK-33 and AJ26 ground tests.
Russia's Kuznetsov Design Bureau originally manufactured the NK-33 engines more than 40 years ago for the huge Soviet-era N1 moon rocket. The Antares and Soyuz 2-1v rockets took NK-33 engines from stockpiles left over from the moon program.
Orbital ATK purchased newly-manufactured RD-181 engines from Russia to replace the AJ26s its engineers blamed for the October 2014 Antares failure.
The United Engine Corporation announced in October it completed a successful acceptance test of the NK-33 engine for the Soyuz 2-1v rocket with an upgraded combustion chamber and a new igniter chamber.
The Soyuz 2-1v's second stage is similar to the third stage of the Soyuz 2-1b rocket often used for launching Russian military satellites, plus international commercial payloads from French Guiana.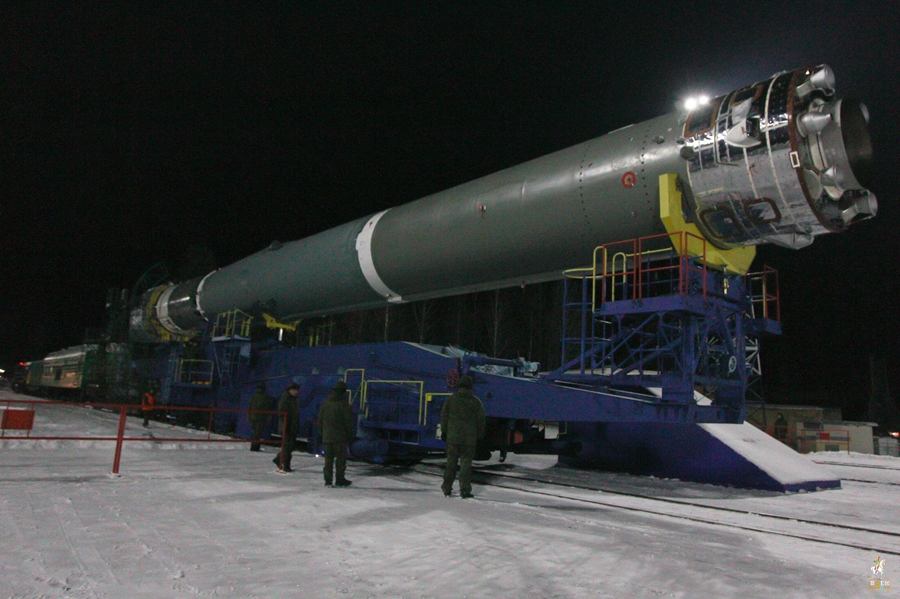 A Volga upper stage, flying on its second launch Saturday, was supposed to release the mission's two payloads into orbit.
The prime passenger on Saturday's launch was Kanopus ST, which carries instruments to help track movements of enemy submarines from space, according to RussianSpaceWeb.com, a website that specializes in Russian space programs.
The website reported that Kanopus ST carries a UHF sensor based on technology originally developed for research into ocean salinity and climate, but the Russian military plans to repurpose the radiometer instrument to peer underwater to monitor subsurface naval activity.
Russian officials declared the first launch of the Soyuz 2-1v rocket and Volga upper stage successful in December 2013.
Email the author.
Follow Stephen Clark on Twitter: @StephenClark1.