STORY WRITTEN FOR CBS NEWS & USED WITH PERMISSION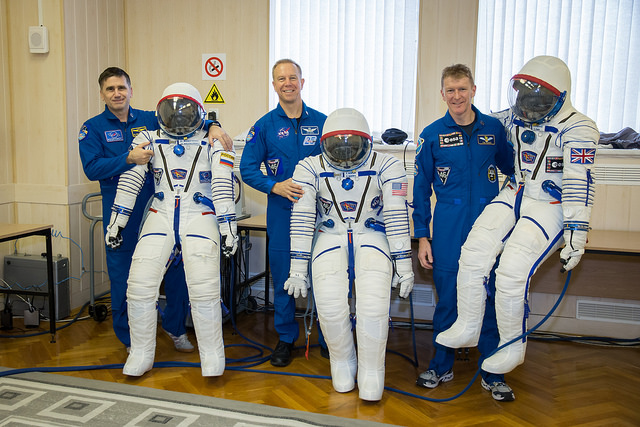 Four days after a Soyuz ferry craft brought three space station fliers down to a frigid landing in Kazakhstan, three fresh crew members are poised for launch early Tuesday from the Baikonur Cosmodrome to boost the lab's crew back to six.
Soyuz TMA-19M commander Yuri Malenchenko, NASA flight engineer and co-pilot Timothy Kopra and European Space Agency astronaut Timothy Peake are set to blast off from Baikonur at 6:03 a.m. on Dec. 15 (5:03 p.m. local time in Kazakhstan).
It will be the sixth flight for Malenchenko, one of Russian's most experienced cosmonauts, the first for Kopra since a station visit in 2009 and the first for Peake, the first British citizen to be assigned to a long-duration space flight.
As always with space station rendezvous missions, the launching is timed for roughly the moment Earth's rotation carries the launch pad — the same one used by Yuri Gagarin at the dawn of the space age — into the plane of the station's orbit. An on-time liftoff will set up a docking at the station's Rassvet port six hours after launch, around 12:24 p.m.
A detailed launch-to-docking timeline is available here/.
Standing by to welcome their new crewmates aboard will be Expedition 46 commander Scott Kelly, Mikhail Kornienko and Sergey Volkov. Kelly and Kornienko are in the home stretch of a nearly one-year stay aboard the station and plan to return to Earth with Volkov, aboard the Soyuz TMA-18M spacecraft, on March 1.
Four days ago, Kelly, Kornienko and Volkov bid farewell to three other crewmates — Oleg Kononenko, Kimiya Yui and Kjell Lindgren — who returned to Earth Friday aboard the Soyuz TMA-17M spacecraft to close out a 141-day mission.
With the arrival of Malenchenko and his crewmates Tuesday, Kelly's Expedition 46 crew will face a busy few days before Christmas carrying out the usual load of research, unpacking an ATK Cygnus cargo ship that arrived last Wednesday and preparing for the arrival of a Russian Progress freighter on Dec. 23.
But the crew will enjoy time off for the holidays. Gifts and other personal items from friends and family, along with several tons of supplies, spare parts, science gear and other equipment, were carried up to the station aboard the Cygnus.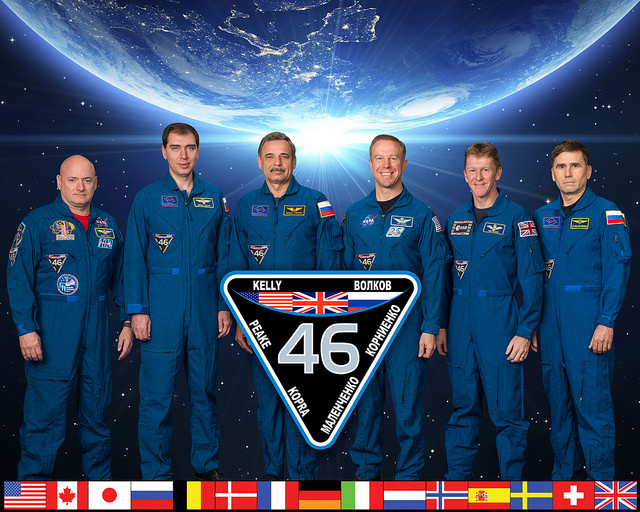 "For me, Thanksgiving, Christmas, are really about spending time with your family and friends," Kopra, a father of two, said before launch. "My direct family won't be on board with me, but when you spend enough time with your crew they really become like an extended family. So from that standpoint, it's going to feel a lot like Christmas."
But Kopra said his primary objective is participating in research, maintaining the space station and, as time is available, enjoying the view from 250 miles up.
"The mission of space station is so important right now," he said in an interview with CBS News. "Now we have a complete orbiting laboratory, and we're doing very important science on board. But in large measure, space station itself is an experiment, because we're learning about the equipment that's necessary for us to live in space and to work in space, and it's a great testbed for that.
"And then secondarily, it is a tremendous achievement from an international cooperation standpoint. We get along famously with all the international partners, and I hope the next step in our exploration, be it the moon or Mars, involves international partners."
Malenchenko has logged 641 days in space across five flights, including a stint as commander of the Russian Mir station, a shuttle flight and three tours as commander of the International Space Station.
"It's going to be my sixth spaceflight, and I'm really looking forward to it," he said during a pre-launch news conference in Houston. "It's going to be a very interesting mission, we're going to have several EVAs (spacewalks) and it's going to be a very intense science research program."
Kopra, serving as the Soyuz co-pilot, is a veteran Army helicopter pilot who spent two months aboard the space station in 2009. He was assigned to a February 2011 shuttle mission, but was injured in a bicycle crash a few weeks before launch and was bumped from the crew. The shuttle program ended two flights after that.
"It's really hard to imagine getting that close to flight and then losing it for just sort of a random accident," he said in an interview. "It was a tough time, to be quite frank. In retrospect, I can look back on it and say although I wasn't taking my job for granted, I now have a very strong appreciation for what our job entails and probably a level of gratitude that's a direct consequence of having gone through that."
Asked if he planned to ride his bike before takeoff this time around, Kopra quickly said: "Nope. I'm trying to live in bubble wrap until we launch."
"I'm just thankful that I get to go back to space," he said. "I didn't think that was going to happen, so I'm really appreciative of that alone."
Kopra, flanking Malenchenko on the left side of the Soyuz, will serve as the primary flight engineer during launch and landing, taking on the role of co-pilot. Kopra said the Russian training program made sure he was well prepared for anything that might happen during the climb to space, the station rendezvous and the eventual return to Earth.
"The vocabulary and the words you need in order to be an effective left seater is not the same as being a Russian linguist," he said. "But at the same time, the vast majority of the folks who fly in the left seat, in fact the vast majority of astronauts in general, have really strong Russian language skills."
He said he had complete confidence in the Soyuz spacecraft, which he believes is safer than NASA's now-retired space shuttle. During a shuttle launch, there were periods in which there were no survivable abort options. Not so with the Soyuz, which has not suffered a fatal accident since 1971.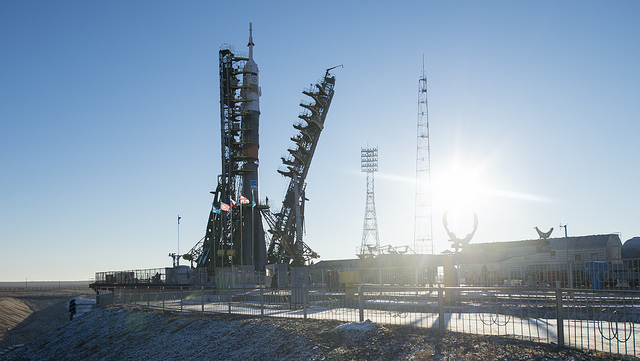 "I have tremendous confidence in the Soyuz," Kopra said. "There are lots of things that are unpredictable in human spaceflight, (but) the one thing you can gain comfort from is the number of flights. And if you have a strong safety record based upon that number of flights, then you know that they've worked out any sort of reliability and safety issues over time.
"The thing I like about the Soyuz is the fact that we don't have any black zones like we had in the shuttle days. If there's a contingency during launch, we have a mechanism that helps separate the capsule from the rocket so that we can land. You obviously won't complete your mission, but you'll be able to land safely."
Peake, like Kopra a veteran military helicopter pilot, will be the second British citizen to fly in space and the first to serve in a long-duration crew. A former test pilot who lists skiing, mountaineering, SCUBA diving and quantum physics among his hobbies and interests, Peake plans to run the London Marathon on one of the station's treadmills in April.
"For me, it's very important that we've taken this step," he said of Britain's role in human space flight. "Of course, the UK has always been part of the European Space Agency but only recently has it been part of the human space flight program. And that really opens the door for Great Britain, it opens the door in terms of the scientific community that can
"It also opens the door for UK industry to become involved in some of the engineering and technological work that's being done aboard the space station. And… there's the element of educational outreach and inspiration, which hopefully will have a big impact in the UK and pave the way for our continued involvement in human spaceflight and exploration into the next few decades."
But as a rookie space flier, Peake said spending time in the station's multi-window cupola compartment is high on his list of priorities.
"I doubt that that experience will ever leave you, and it's probably something these guys are equally looking forward to as well," he said of his crewmates.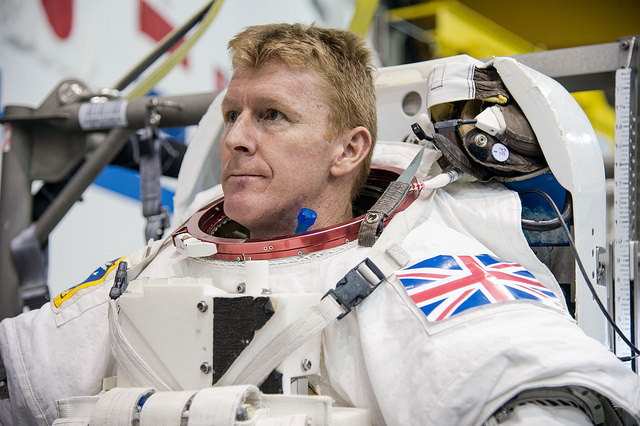 "Living and working in weightlessness is going to be incredibly exciting. I've only experienced it very briefly when we do our parabolic flight training in the back of an aircraft. But to actually let your entire body adapt to this new environment and to experience sleeping and eating and working, that's just going to be amazing."
The back-to-back crew rotation flights come in the midst of a flurry of space station resupply flights, all of them critically important in the wake of three launch failures over the past year or so.
An Orbital Cygnus supply ship was destroyed in spectacular fashion Oct. 28, 2014, when its Antares booster exploded, a Progress was lost in April due to an upper stage malfunction and a SpaceX Dragon cargo craft was destroyed in a June when its second stage ruptured during the climb to space. The failures reduced the station's supply margins from around six months to less than four in some areas.
But since the most recent failure in June, the Russians have successfully launched two Progress cargo ships, the Japanese launched a large HTV freighter and Orbital's enhanced Cygnus capsule reached the station last week.
The next Progress launches Dec. 21 and will dock two days later. SpaceX plans to resume station cargo flights in early February and three cargo ships are expected to arrive in March: a SpaceX Dragon, another Cygnus and another Progress.
While those flights will further improve the station's margins, space station Program Manager Kirk Shireman said it likely will take most of next year to build back up to pre-failure levels.
During their stay aboard the station, Malenchenko, Kopra and Peake will deal with up to five visiting supply ships, at least one Russian spacewalk and possibly two NASA EVAs, probably by Kopra and Peake, to continue work preparing the station for installation of new docking adapters needed by Boeing and SpaceX crew ferry craft.
A wild card in the mix is a potential unplanned spacewalk in mid January to replace a solar array electrical component that suffered a short circuit earlier this fall, taking down one of the station's eight power channels.
When Kelly, Kornienko and Volkov depart March 1, Kopra will take over as commander of the Expedition 47 crew. Three fresh crew members — Oleg Skripochka, Alexey Ovchinin and NASA veteran Jeffrey Williams, commander of Expedition 48 — are expected to arrive March 19. Malenchenko, Kopra and Peake are scheduled to return to Earth on June 5.
"We'll spend about (six) months on board space station," Kopra said. "We'll have a plethora of resupply vehicles now that we're getting on track again with the supply chain as well as potentially a couple of EVAs.
"But the primary job we have is for the utilization of space station. Because now we have this orbiting laboratory and we intend to do our job and produce good science."
Email the author.
Follow Stephen Clark on Twitter: @StephenClark1.