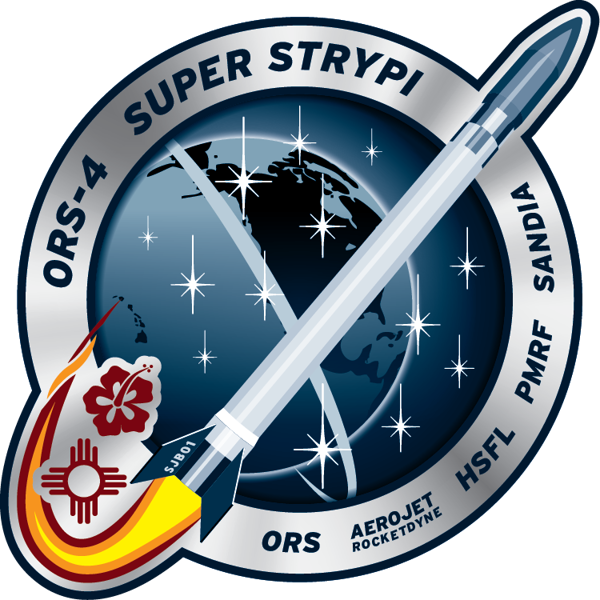 The maiden test flight of a new rail-guided launcher from the U.S. Navy's Pacific Missile Range Facility in Hawaii, which was scheduled for Thursday, has been delayed while engineers resolve issues encountered in pre-launch preparations, a U.S. Air Force spokesperson said.
The mission, managed by the Air Force's Operationally Responsive Space office, will carry 13 spacecraft into orbit after blasting off from Kauai, Hawaii, aboard a Super Strypi launcher, a three-stage vehicle based on a sounding rocket design and sized as a dedicated ride for small satellites.
When it lifts off, the flight will mark the first satellite launch from Hawaii. A new launch date has not been established, according to the Air Force, but the liftoff has been postponed beyond Friday.
"The ORS-4 Super Strypi mission is the first launch of this type of launch vehicle," an Air Force official said Thursday. " As such, and not unexpected, we are working through a few launch processing issues.  Once these are resolved, we will finalize a new launch date."
Spaceflight Now expects to provide live video of the launch.
Established in 2007 to explore technologies and methods to reduce the cost and time of preparing for space launches, the ORS office has launched a series of satellite research missions, many of which have found tactical utility among military combat units.
"The ORS-4 mission is a first flight demonstration of the experimental, low-cost Super Strypi small launch system," the ORS office says in an overview of the mission. "The ORS office is managing development of Super Strypi in partnership with the University of Hawaii, Sandia National Laboratories, the Pacific Missile Range Facility and the Aerojet Rocketdyne Corp."
The Super Strypi was designed by engineers at Sandia National Laboratories, building on the Strypi sounding rocket developed in the 1960s for nuclear weapons tests in space. Aerojet Rocketdyne is supplying the Super Strypi rocket's three rocket motors.
The first stage motor, called the LEO-46, generates nearly 300,000 pounds of thrust. The LEO-46 motor measures 52 inches in diameter and 40 feet long.
The rocket stands approximately 67 feet tall and measures 5 feet in diameter, and its first stage is spin-stabilized unlike other modern satellite launchers. It carries fins for aerodynamic stability, while a cold gas attitude control system will govern pointing for the second and third stages.

Deployment of the satellites in orbit is timed for about 12 minutes after liftoff, according to NASA, which has experimental satellites on the mission. The mission is aiming for a polar orbit with an apogee, or high point, of 304 miles (490 kilometers) and a perigee, or low point, of 257 miles (415 kilometers), according to a University of Hawaii website.
The intended orbital inclination is 94.7 degrees.
ORS officials said earlier this year the mission's partners accepted an "elevated risk" for the ORS 4 launch, which is bill as strictly a test flight.
The University of Hawaii built the mission's primary satellite payload, nicknamed HiakaSat, a 110-pound (55-kilogram) spacecraft that carries a hyperspectral infrared imaging system for Earth observation sensitive enough to identify building materials and natural minerals, with applications in military reconnaissance and geologic studies.
Mission managers tout HiakaSat, also called HawaiiSat 1, as a dual mission for technology demonstration and education. It was jointly funded by the University of Hawaii, NASA and the Defense Department.
The Super Strypi booster will also haul up 12 small CubeSats, including 10 payloads for NASA.
A swarm of eight NASA CubeSats developed by the Ames Research Center in California will test technologies that could be used on future missions to build networks of small satellites to do the job a large spacecraft can do today.
The Edison Demonstration of Smallsat Networks mission will establish cross-link communications between the eight CubeSats — each about the size of a tissue box — demonstrating that the satellites can transmit and receive data between each other in orbit. NASA says such a capability to enrich science data returns, simplify spacecraft operations and allow satellite networks to be reconfigured via software updates.
NASA is sponsoring the launch of two additional CubeSats on the ORS-4 mission: PrintSat from Montana State University and Argus developed by St. Louis University and Vanderbilt University.
PrintSat has primary and secondary structures manufactured through additive manufacturing, while Argus will validate the radiation tolerances of modern electronics in space.
A shoebox-sized CubeSat named STACEM, sponsored by the National Reconnaissance office and made by Utah State University's Space Dynamics Laboratory, hosts an optical sensor engineers want to test in orbit for environmental monitoring.
A testbed for a new six-unit CubeSat design by San Francisco-based Pumpkin Inc. is also launching from Hawaii. Pumpkin's Supernova test satellite is about the size of a small handheld toolbox.
Email the author.
Follow Stephen Clark on Twitter: @StephenClark1.