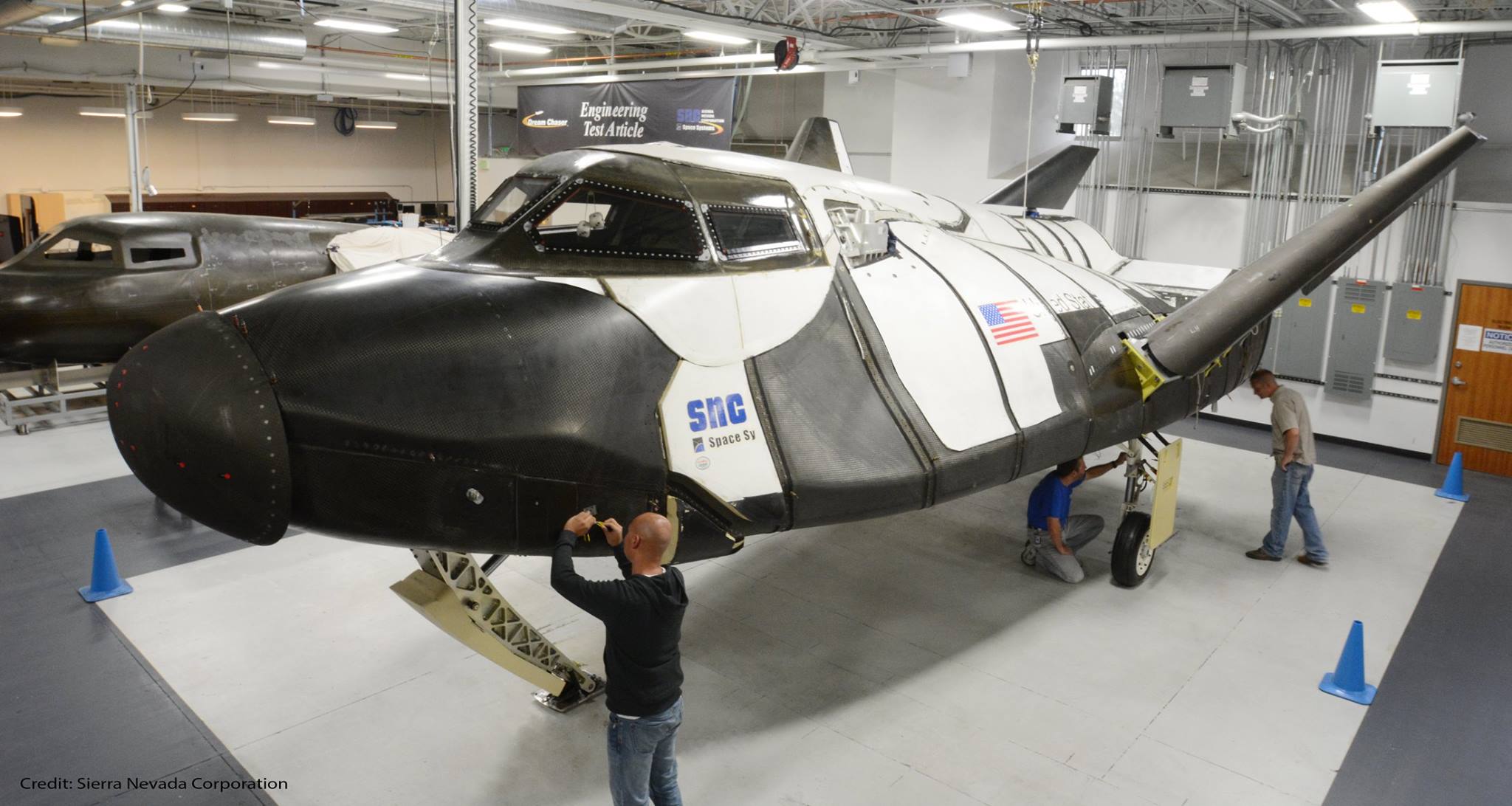 A prototype of Sierra Nevada's Dream Chaser space plane is nearing shipment to California's Mojave Desert to resume runway landing tests as officials wait for word from NASA whether the company will win a competition to ferry cargo to the International Space Station.
The announcement from NASA, expected in early November, bears additional significance for Sierra Nevada after the space agency bypassed the Dream Chaser last year with its selection of Boeing and SpaceX to ferry crews between Earth and the space station.
With design roots in NASA's HL-20 lifting body testbed, the Dream Chaser was conceived by SpaceDev, a space firm founded in 1997 by entrepreneur Jim Benson. The spaceship's survival story has weathered the death of Benson, its founding father, and SpaceDev's acquisition by privately-held Sierra Nevada in 2008.
"We as an industry, and we certainly as a company and Dream Chaser, have been predicted to die every year in the 11 years since I've been doing this, and so far, I'm still standing up here and talking," said Mark Sirangelo, head of Sierra Nevada's space systems division, at the International Symposium for Personal and Commercial Spaceflight in Las Cruces, New Mexico.
But Sierra Nevada put the Dream Chaser's primary purpose — as a human-rated crew-carrying spaceship — on hold after the company lost last year's commercial crew contract competition.
Sierra Nevada has agreements with the European Space Agency, Japan's space agency and the German space agency to study how the Dream Chaser could fare in the international marketplace.
But the scope of that work is a sliver of the value of a NASA cargo award.
Sierra Nevada is up against NASA's incumbent space station cargo transportation providers, SpaceX and Orbital ATK, and Boeing, which has proposed using its CST-100 crew capsule for supply runs. NASA originally envisioned selecting multiple winners in May, but now the award is slated for around Nov. 5, according to the agency's website.
Asked what he would change about the NASA cargo program, Sirangelo lamented the award's delay, which has forced space station program managers to extend existing contracts with SpaceX and Orbital ATK to buy more cargo flights in 2018 to cover the orbiting research lab's needs. The follow-on contract, which NASA is staging to ensure competition and access to the market for new entrants, is supposed to run from 2018 through 2024.
"Not having delays in the award would be a good thing," Sirangelo said Thursday. "It's a rough thing, and we all know it's a complicated process. The original award was scheduled for May or June, and now it's November, and in doing that it not only delays the ability for all of us to move forward, but … this is a people industry. We've got lots and lots of people who are waiting to see what happens, and they've got lives and families. That's the most important thing from our perspective."
---
Spaceflight Now members can read a transcript of our discussion with Mark Sirangelo. Become a member today and support our coverage.
---
Engineers adapted the design of the Dream Chaser crew vehicle for exclusively cargo over the last 12 months, introducing a new concept with more autonomy, an expendable cargo module with solar arrays, and foldable wings to fit inside the nose cones of multiple types of boosters.
Sierra Nevada intended the crew version of Dream Chaser to launch without an aerodynamic fairing.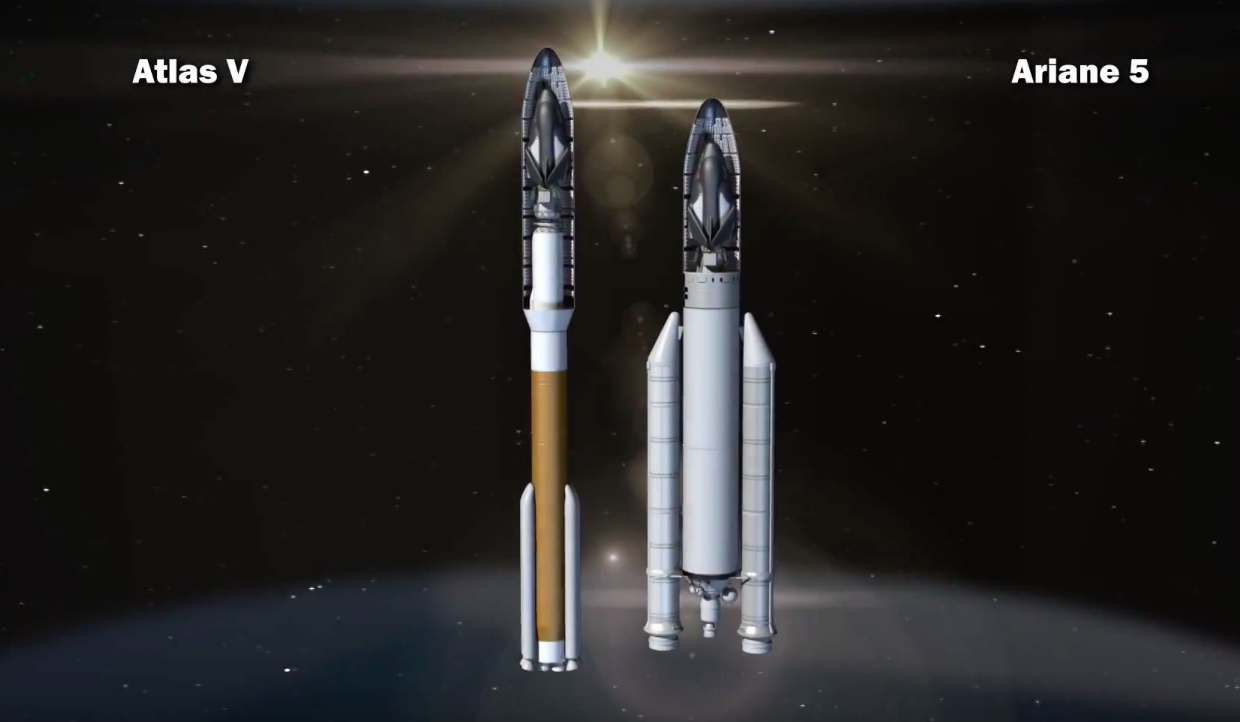 While acknowledging the importance of the cargo contract, Sirangelo said the Dream Chaser is closer to becoming a real spaceship than ever before.
"What's really different about it now from a few years ago is we already have real vehicles," Sirangelo said. "We're well into development. We have, through our partnerships with NASA and many other people, and have invested ourselves in our group, a considerable amount of money."
Sirangelo updated reporters Wednesday on preps for approach and landing tests of a Dream Chaser engineering article at NASA's Armstrong Flight Research Center at Edwards Air Force Base, California. The descent demos come after the prototype Dream Chaser was damaged during an unpowered glide test in October 2013, when one of the ship's two main landing gears did not deploy.
The test craft has been repaired and is being outfitted for flight at Sierra Nevada's space headquarters in Louisville, Colorado, then it will be transported to California's Mojave Desert.
He said the upcoming test series, expected to begin in the first quarter of 2016, will use the Dream Chaser's flight software program and include drop and tow tests at NASA Armstrong. The earlier tests featured a temporary landing gear configuration borrowed from the F-5 fighter jet, and engineers have added redundancy for the coming flights.
The cabin shell for the first space-worthy Dream Chaser has also rolled off the assembly line at Lockheed Martin's aerospace plant in Fort Worth, Texas, Sirangelo said.
"The vehicle is highly mature and is in flight tests," Sirangelo said. "The idea of taking and moving it to the next level should we not win the cargo program is far more viable than it ever was … People thought perhaps we weren't going do this last year when we weren't selected for the crew competition. We actually, in my view, have moved somewhat faster and have developed a whole new second variant of the vehicle in that time."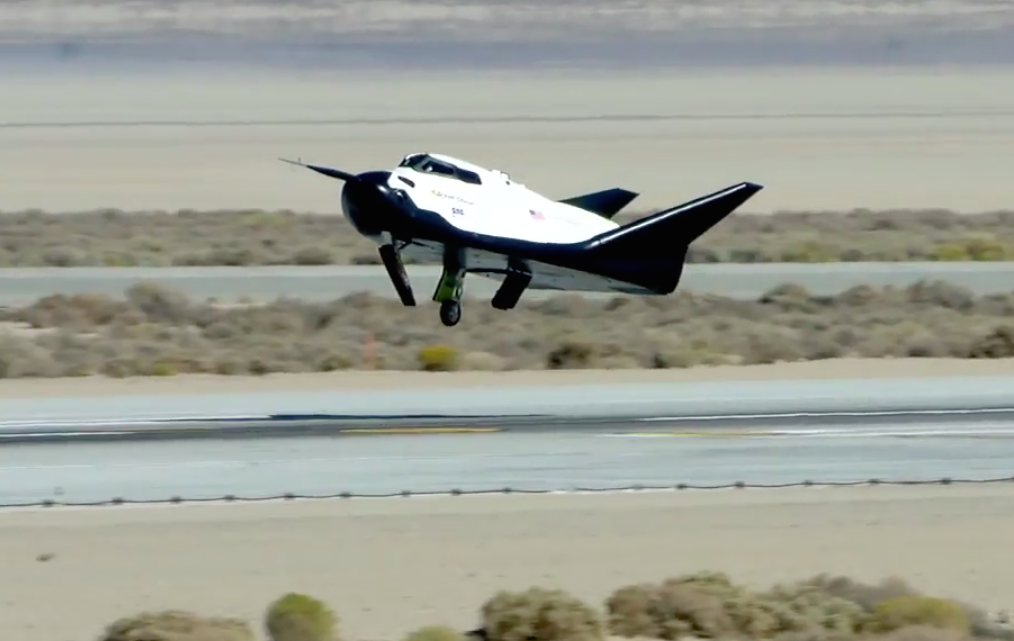 With stubby wings and a 30-foot length, the Dream Chaser is about one-fourth the size of a space shuttle orbiter. Its cargo variant could haul up more than 12,000 pounds — 5,500 kilograms — of equipment and experiments to the space station, according to Sierra Nevada.
The spaceship could dock or berth with the space station, and it would be outfitted to deliver pressurized supplies and external cargo. At the end of each mission, the Dream Chaser space plane would return to Earth with research specimens and other items designated for recovery, while the detachable cargo module would burn up in Earth's atmosphere, disposing of the space station's rubbish.
The upcoming landing tests are part of a still-active funding agreement Sierra Nevada signed with NASA's crew transportation program in 2012. Under the terms of the arrangement, the federal government pays Sierra Nevada as the company achieves pre-agreed milestones, and the atmospheric demo sequence is the final step in the agreement.
NASA has committed approximately $350 million since 2010 to Sierra Nevada supporting the Dream Chaser space plane's development. Sierra Nevada has not disclosed how much internal funding it has routed toward the program.
Sirangelo said Dream Chaser's atmospheric test article will be shipped from Sierra Nevada's Colorado facility to NASA Armstrong in California by the end of the year or early next year.
A Sikorsky Skycrane helicopter will hoist the prototype spaceship — which weighs about three tons in its current test configuration — over a runway at Edwards Air Force Base, then drop the craft for a computer-guided approach.
"We're thinking three to six (flights)," Sirangelo said. "That's the glide tests from different altitudes. What we're looking to do is exceed the goals that we set out, and when we do that, we'll be done with the flight tests."
The series will include tow tests that will pull the Dream Chaser along the ground and lift it airborne for further demonstrations, Sirangelo said.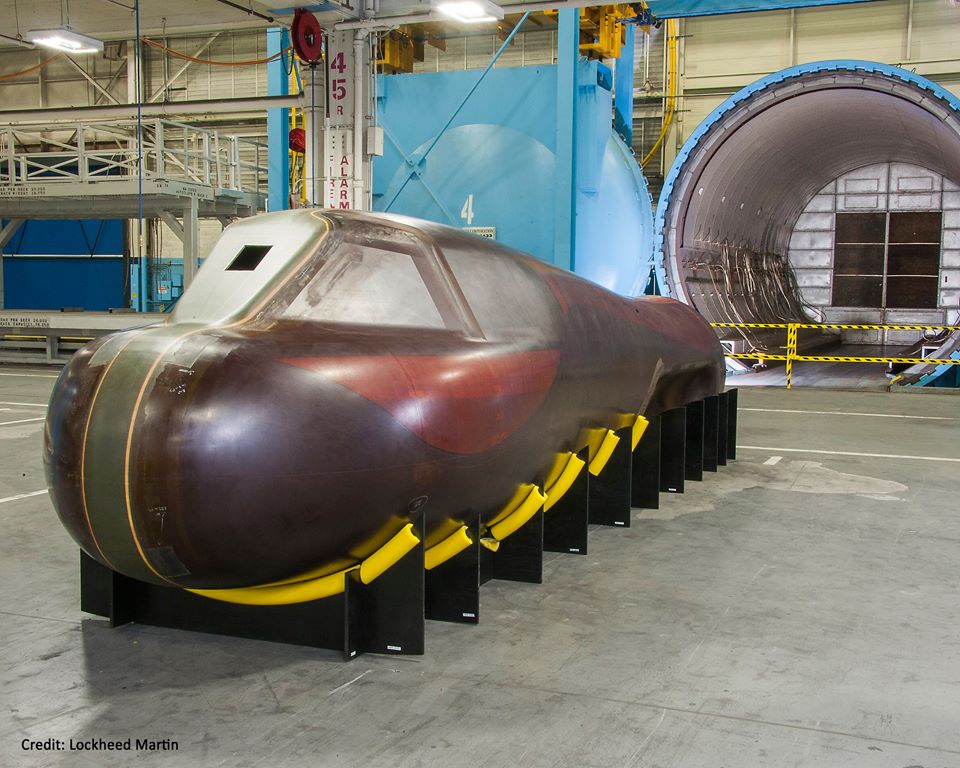 As for resolving the landing gear glitch that prematurely ended the 2013 test flights, Sirangelo said engineers have added mechanical actuators to the hydraulic undercarriage deployment system.
"We're expecting to have the vehicle completed and moved out, depending on the NASA and Air Force regulations, within the next three to four months, and flight testing will start in the first quarter of 2016," Sirangelo said.
"The idea is to do three things," he told reporters Wednesday. "We're going to be going higher, so we can get a longer approach in. We'll be going faster, so we can test the vehicle in its full form, and we'll be using the software to do maneuvers. In our world, when you're doing airplane development or space plane development, you really want to understand how to land before you take off."
Sierra Nevada also announced Wednesday the completion of the composite "cabin assembly" for the Dream Chaser's first orbital test vehicle at a U.S. Air Force-owned, Lockheed Martin-operated airplane factory in Fort Worth, Texas.
In a familiar refrain to industry insiders recalling the space shuttle program, Sirangelo promoted Dream Chaser's links to the winged orbiters, calling for NASA to select a mix of capsules and space planes for cargo services.
Boeing, Orbital ATK and SpaceX are offering capsules. Orbital ATK's Cygnus spaceship is geared toward carrying up large loads of pressurized cargo inside a voluminous supply module, while SpaceX's Dragon offers unpressurized cargo accommodations and the ability to return equipment to Earth intact.
The Cygnus spacecraft is "focused on high-volume, high-mass pressurized cargo," said Frank DeMauro, Orbital ATK's vice president of human spaceflight and Cygnus program director. "Looking at it, you can see the big (pressurized) can. We load that as full as we can with pressurized cargo, and I think we've demonstrated that's gone very well."
"The fact that we have a slightly smaller up pressurized volume capability, but with unpressurized capability and the down-mass capability, I think makes our two solutions very, very (complementary) to supply ISS," said Joshua Brost, a manager in SpaceX's business development office.
As for Dream Chaser, Sirangelo pitched the spacecraft's all-in-one cargo capacity, with pressurized and unpressurized delivery, return and disposal. He said the ship's ability to land on a runway, giving scientists nearly immediate access to experiments, is also a plus.
"We think having a balance between capsules and flying lifting body vehicles is a good thing for NASA and the country," Sirangelo said.
The Dream Chaser cargo carrier could be ready for space missions by late 2018 or early 2019, he said.
Email the author.
Follow Stephen Clark on Twitter: @StephenClark1.