STORY WRITTEN FOR CBS NEWS & USED WITH PERMISSION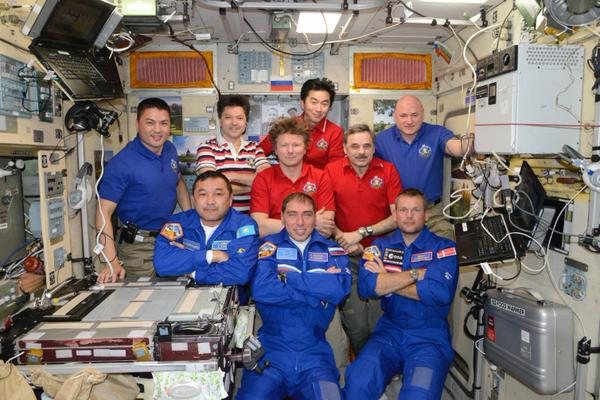 In a brief ceremony Saturday, veteran cosmonaut Gennadi Padalka, the most experienced spaceman on or off the planet, turned over command of the International Space Station to NASA astronaut Scott Kelly, who along with cosmonaut Mikhail Kornienko is midway through a nearly yearlong stay in orbit.
Padalka served as commander of the Soyuz TMA-16M spacecraft that carried Kelly and Kornienko into orbit last March 27 and he plans to return to Earth aboard the same ferry ship Sept. 11 to close out his fifth space mission.
When he lands next Friday, his total time aloft will stand at 878.6 days over five missions dating back to his first launch in 1998, more than two months longer than the previous record.
"To my deep regret, in (a few) days I will leave space station and my crewmates with whom I launched and started to work together in March," Padalka said, speaking in English. "Thank you very much, guys, for supporting each other and for working together."
Kelly, who served as station commander during a previous visit, praised Padalka, saying "I am fortunate now to have had the wisdom and experience in a leader like Gennadi to learn from and to see how I could do this job better the second time."
"It's really been a privilege and an honor to serve as one of his crew members," Kelly said. "I just want to say he's done a fantastic job, I've learned a lot from him and we'll miss him when he leaves at the end of next week."
Because Kelly and Kornienko are spending nearly a full year aboard the station, Russia launched a fresh Soyuz spacecraft Sept. 2 to bring them home early next year. On board for the spacecraft delivery mission were Soyuz TMA-18M commander Sergey Volkov, European Space agency astronaut Andreas Mogensen and Kazakh cosmonaut Aidyn Aimbetov.
Mogensen and Aimbetov will join Padalka aboard the Soyuz TMA-16 spacecraft and return to Earth next Friday, officially bringing Expedition 44 to a close. Volkov will remain behind aboard the station as part of Kelly's Expedition 45 crew and come home with Kelly and Kornienko next March aboard the Soyuz TMA-18M spacecraft.
The station's other three long-duration crew members — Soyuz TMA-17M commander Oleg Kononenko, Japanese astronaut Kimiya Yui and NASA astronaut Kjell Lindgren — were launched July 22. They plan to return to Earth Dec. 22, ending Expedition 45. Kelly will remain in command of what will become the Expedition 46 crew.
The station's entire nine-member crew gathered in the Japanese Kibo module Saturday for the change-of-command ceremony, with Kelly and Padalka floating in the center of the roomy laboratory.
Padalka noted that not everything went well during his stay aboard the station, mentioning the April 28 failure of a Russian Progress supply ship and the June 28 loss of a SpaceX resupply mission.
"But we did our best and tried to keep space station in great operational condition for the next crew," he said. "Thank you very much to all MCCs (mission control centers). We worked as one team and thank you for your support. I'll be looking forward to seeing you on the ground, I'll be looking forward to seeing my crewmates on the ground, some of them earlier, some of them later."