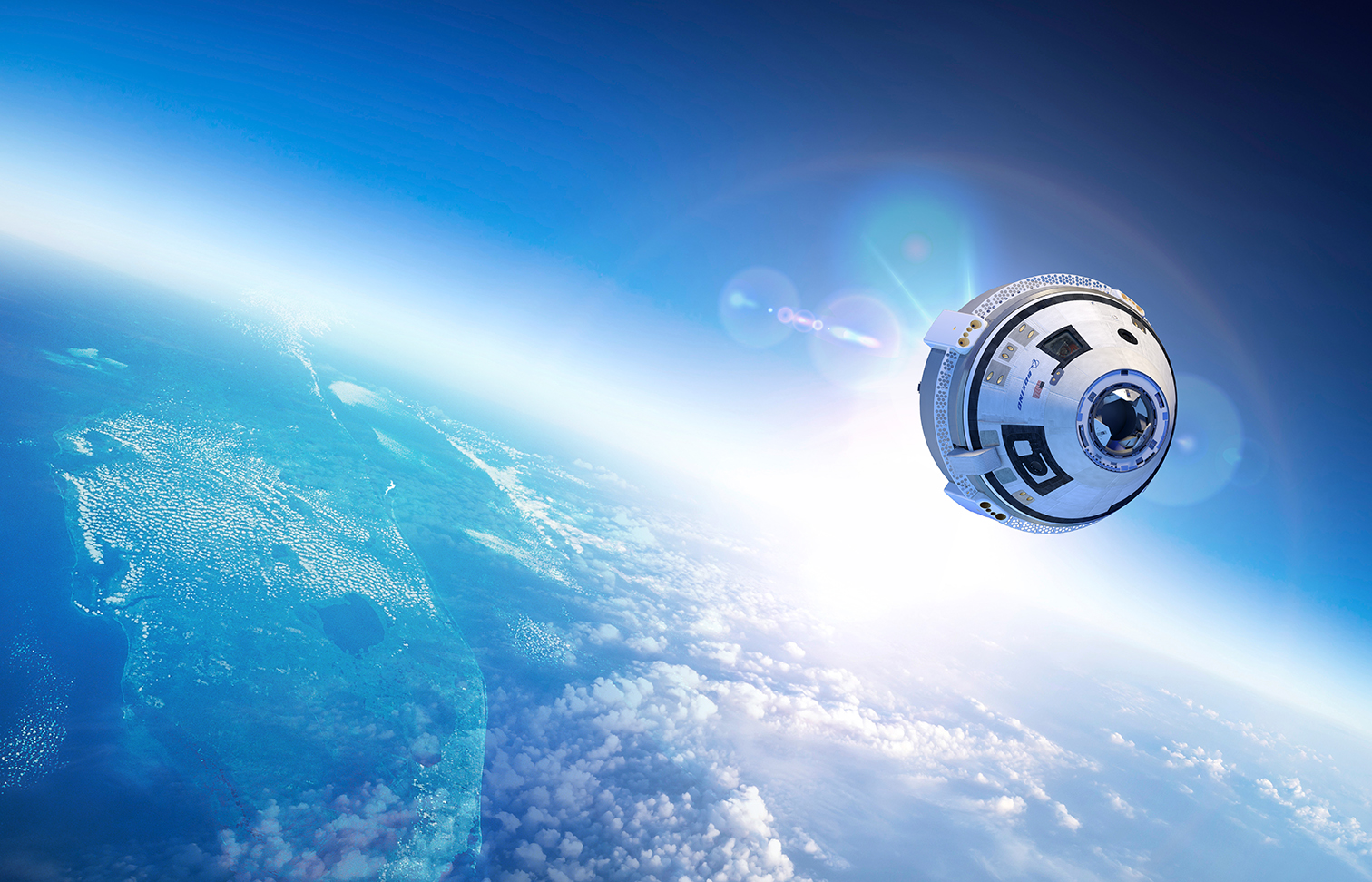 Boeing's commercial human-rated spaceship designed to ferry NASA astronauts to and from the International Space Station will be named the CST-100 Starliner, extending the company's naming theme to the final frontier, officials announced Friday.
The Boeing-operated crew capsule was known as simply the CST-100 before Friday, and managers said the craft will be ready to launch with human passengers by the end of 2017.
"Please welcome the CST-100 Starliner," announced Chris Ferguson, former NASA astronaut and Boeing's deputy manager of the CST-100 program.
The Starliner name puts the CST-100 in company with the Model 307 Stratoliner and 787 Dreamliner, Boeing products which ushered in new eras in passenger transport.
Boeing and SpaceX won contracts worth a combined $6.8 billion last year to develop commercially-owned spacecraft to take astronauts to orbit, ending NASA's sole reliance on Russia to rotate crews on the massive orbiting research complex.
"Boeing's innovation and dedication have brought us to the cusp of the next great victory in our commercial space program," said NASA Administrator Charles Bolden. "This is the time and place for which we've all been working long and hard … It speaks especially to Boeing's energy, excitement and belief in the new system that they have been perfecting to take our astronauts, and really our hopes and dreams for the future, into space."
Boeing officials revealed the new name in a ceremony at the Kennedy Space Center. Technicians are assembling a structural test article for the Starliner spacecraft inside a former space shuttle hangar at the Florida spaceport, and construction of flight-ready versions of the capsule will begin next year.
"There's nothing that we do that's more insipring to the next generation of scientists, engineers and aerospace workers than what we do in human spaceflight," said Dennis Muilenburg, Boeing's president and CEO. "It is arguably the most challenging thing we do as well."
An uncrewed test flight of the CST-100 Starliner capsule is planned for May 2017 to the space station, followed by a test of the craft's emergency launch abort system in August 2017 and a piloted demonstration mission in September 2017, according to John Mulholland, vice president of commercial programs at Boeing.
Boeing's contract, like SpaceX's, has options for NASA to order up to six "post-certification" crew rotation flights to the space station after the demo mission in September 2017. The space agency has ordered its first post-certification commercial crew flight from Boeing, a launch Mulholland said is expected in December 2017.
NASA officials said it gave the green light to purchase the operational crew flight after Boeing completed the Starliner spacecraft's critical design review earlier this year. SpaceX has a similar design milestone planned at the end of 2015.
"I know we have a bright future ahead, and I can't wait to see our astronauts boarding a Boeing spacecraft bound for space," Bolden said.
The 2017 goal for commercial crew missions depends on how much funding NASA receives for the commercial spaceflight initiative in fiscal year 2016, which begins Oct. 1. Agency managers say they need more than $1.2 billion for the program to meet its financial commitments to Boeing and SpaceX next year.
But draft budgets passed by the Senate and the House would provide $900 million or $1 billion to the program, funding levels NASA says would create inevitable delays and put the 2017 schedule in jeopardy. A final budget bill has not been passed by both chambers, and lawmakers could vote on a temporary spending bill while they negotiate a budget plan for the rest of 2016.
"Right now, we've got a fight in Congress over funding," said Sen. Bill Nelson, D-Florida. "We'll get the money that it needs to make sure that we can get our American astronauts flying on American vehicles, and that's what we come together today to celebrate."
Boeing has relocated the CST-100 Starliner program office to KSC from Houston, bringing up to 550 jobs to Florida's Space Coast when the spacecraft ramps up to flight operations in 2017.
Engineers will put together  Starliner crew capsules inside the former Orbiter Processing Facility bay No. 3 at the space center. The shuttle hangar, located to the northwest of KSC's iconic Vehicle Assembly Building, is now named the Commercial Crew and Cargo Processing Facility.
Space Florida lured Boeing to put its program headquarters and factory at KSC with a state-backed incentives package. Florida Gov. Rick Scott touted the deal in remarks at Friday's ceremony.
Starliner missions will carry four astronauts to the space station, and potentially cargo, on each trip. A fifth seat may be available for paying space tourists, Mulholland told reporters.
United Launch Alliance's Atlas 5 rocket launched from Cape Canaveral will haul the capsules into orbit on the way to the space station.
"You get a sense that at this point we are witnessing something we're all going to remember decades from now," Muilenburg said. "This is a point in history that reflects a new era in human spaceflight, and I'm excited about that."
Email the author.
Follow Stephen Clark on Twitter: @StephenClark1.