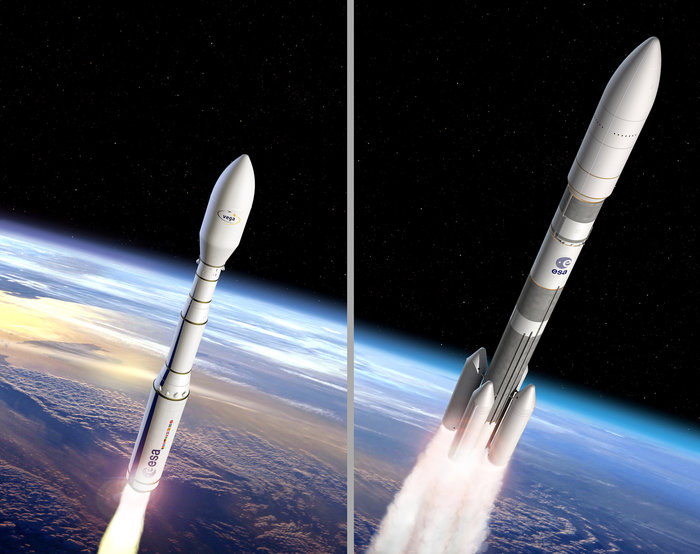 Europe's next-generation launcher family has moved a step closer to reality with the signature of nearly $3.8 billion in contracts for development of the Ariane 6 rocket and an upgraded version of the lightweight Vega booster.
The contracts, signed Aug. 12 in Paris, mark a new chapter in the shake-up of Europe's launcher industry.
With design of a European rocket under industrial management for the first time, the Ariane 6 is set for a maiden flight from Europe's spaceport in Kourou, French Guiana, in 2020. The debut of a souped-up version of the lightweight Vega launcher — called the Vega C — is on track for 2018, officials said.
"These contracts will allow the development of a family of European launchers, highly competitive in the world market and ensuring autonomous access to space at fully competitive prices for ESA's member states," said Jan Woerner, ESA's director general.
The last 12 months saw consolidation of the European launcher sector, with rocket-builder Airbus Defense and Space and engine-maker Safran forming a 50/50 joint venture to manage development and production of the Ariane rocket family.
Airbus Safran Launchers opened for business in January with control over Ariane rocket production and 39 percent ownership of Arianespace, which oversees launch operations and is responsible for commercial sales of the Ariane 5, Soyuz, Vega rockets flown from French Guiana. Ariane 6 will soon be added to that list, and Arianespace says it has already inked its first contract options for Ariane 6 flights with OneWeb, which is working on a huge fleet of orbiting satellites to beam broadband Internet around the world.
The French government signaled in June its intention to sell its shares in Arianespace to Airbus Safran Launchers, giving the company control of 74 percent of Arianespace.
"They are an important change of governance in the European launcher sector, with industry being the design authority and taking full responsibility in the development and exploitation of the launchers, and committing to deliver them to ESA and the European institutional actors at specified competitive prices," Woerner said.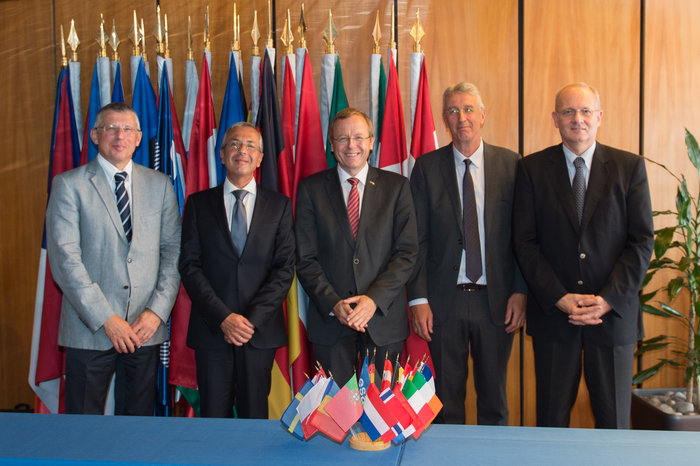 Earlier incarnations of Europe's storied Ariane rocket family were designed by engineers working for government space agencies. This time around, industry took charge after initial Ariane 6 concepts relying primarily on solid-fueled rocket stages failed to capture the confidence of potential customers.
The Ariane 6 program "will see industry taking on the leading role in its design and marketing," said Alain Charmeau, CEO of Airbus Safran Launchers. "Both our and our European industrial partners' commitment is a sign of our determination to provide our customers, whether they be institutional or commercial, with a launcher that is as reliable as ever while being increasingly competitive and adapted to the rapidly evolving space market."
In another paradigm shift for Europe, the Ariane 6 will be assembled on its side instead of in a vertical configuration like previous Ariane launchers. Horizontal integration is expected to simplify ground infrastructure at the Ariane 6 launch pad, which will be located at an abandoned quarry site a few miles north of the existing Ariane 5 launch complex in French Guiana.
The launch pad will be named ELA-4 — a French acronym for Ensemble Lancement Ariane — keeping with the naming conventions for previous Ariane launch zones. Excavation of the site is already underway.
The contracts signed Aug. 12 include a deal worth 2.4 billion euros ($2.6 billion) with Airbus Safran Launchers for Ariane 6 development. ESA also awarded a 600 million euro ($662 million) contract to the French space agency CNES, which runs the Guiana Space Center, for construction and installation of the launch pad and ground support equipment.
The Vega rocket's prime contractor, Rome-based ELV, received a 395 million euro ($435 million) contract for Vega C development.
ESA member states approved the Ariane 6 and Vega C programs in December 2014 at a ministerial-level conclave in Luxembourg.
Airbus Safran Launchers says its contract contains a firm commitment of 680 million euros ($750 million) to carry the Ariane 6 to a preliminary design review in mid-2016. ESA member states plan to review progress on the Ariane 6 program in 2016 before assenting to further expenditures.
The Vega C and Ariane 6 programs share a common element. The first stage of the Italian-led Vega C rocket and the Ariane 6's solid rocket boosters will use the same solid-fueled motor design.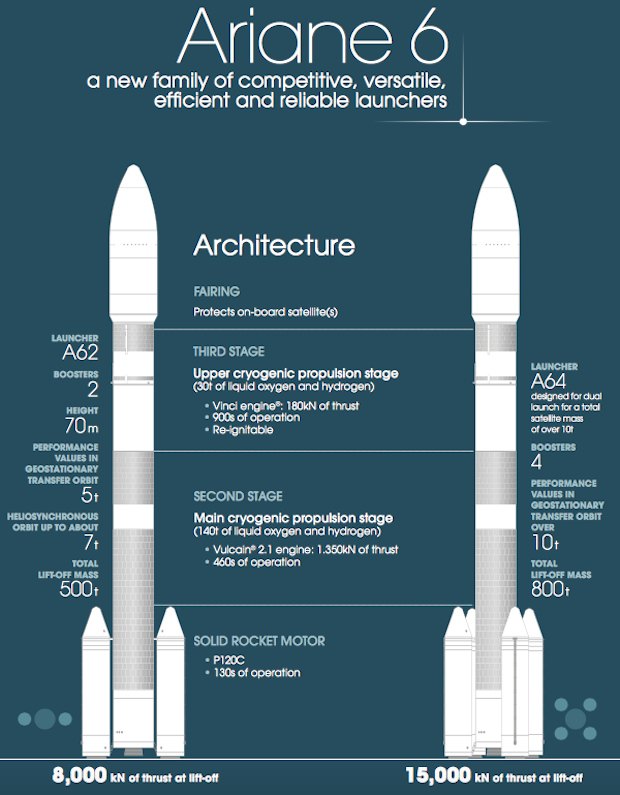 Called the P120C motor, the rocket will be packed with more than 120 metric tons — 264,000 pounds — of solid propellant in a composite case measuring nearly 11.5 meters (37.7 feet) long and 3.3 meters (10.8 feet) in diameter. The motors will burn for about 130 seconds during a typical launch, according to Airbus Safran Launchers, generating nearly 800,000 pounds of thrust each.
The new motor carries more propellant than the Vega's current first stage booster. Engineers are also working on an enlarged second stage Zefiro 40 motor to improve performance on the Vega C.
"With the signing of these contracts we are on track on building a new family of launchers featuring common building blocks, in line with the decisions and schedule set at the ministerial meeting in 2014," said Gaele Winters, ESA's director of launchers.
The Ariane 6 will come in two configurations: Ariane 62 and Ariane 64.
Tailored for satellite deployments in low Earth orbit and medium-altitude orbits, the Ariane 62 features two of the P120C strap-on motors. The more powerful Ariane 64 configuration has four of the boosters to carry more than 10 metric tons (22,000 pounds) into geostationary transfer orbit, eclipsing the capacity of the Ariane 5.
ESA and its industrial partners have set 91 million euros ($100 million) as the target unit cost for the Ariane 64 version. If the rocket is sold at cost, two satellite customers could split the price for a launch at about $50 million each, a figure Arianespace expects will be competitive on the global market.
Both versions will employ a hydrogen-fueled Vulcain 2 engine similar to the engine powering the Ariane 5 core stage. A newly-developed re-ignitable Vinci cryogenic engine will fly on the second stage.
After an initial Ariane 6 test launch planned for 2020, Arianespace officials expect several years of overlap between Ariane 5 and Ariane 6 operations before the new rocket is declared fully operational in 2023.
Officials peg the cost of the Ariane 6's development at 3 billion euros ($3.3 billion), after accounting for shared costs on the P120C solid booster with the Vega program and a 400 million euro ($441 million) investment from commercial partners.
Email the author.
Follow Stephen Clark on Twitter: @StephenClark1.