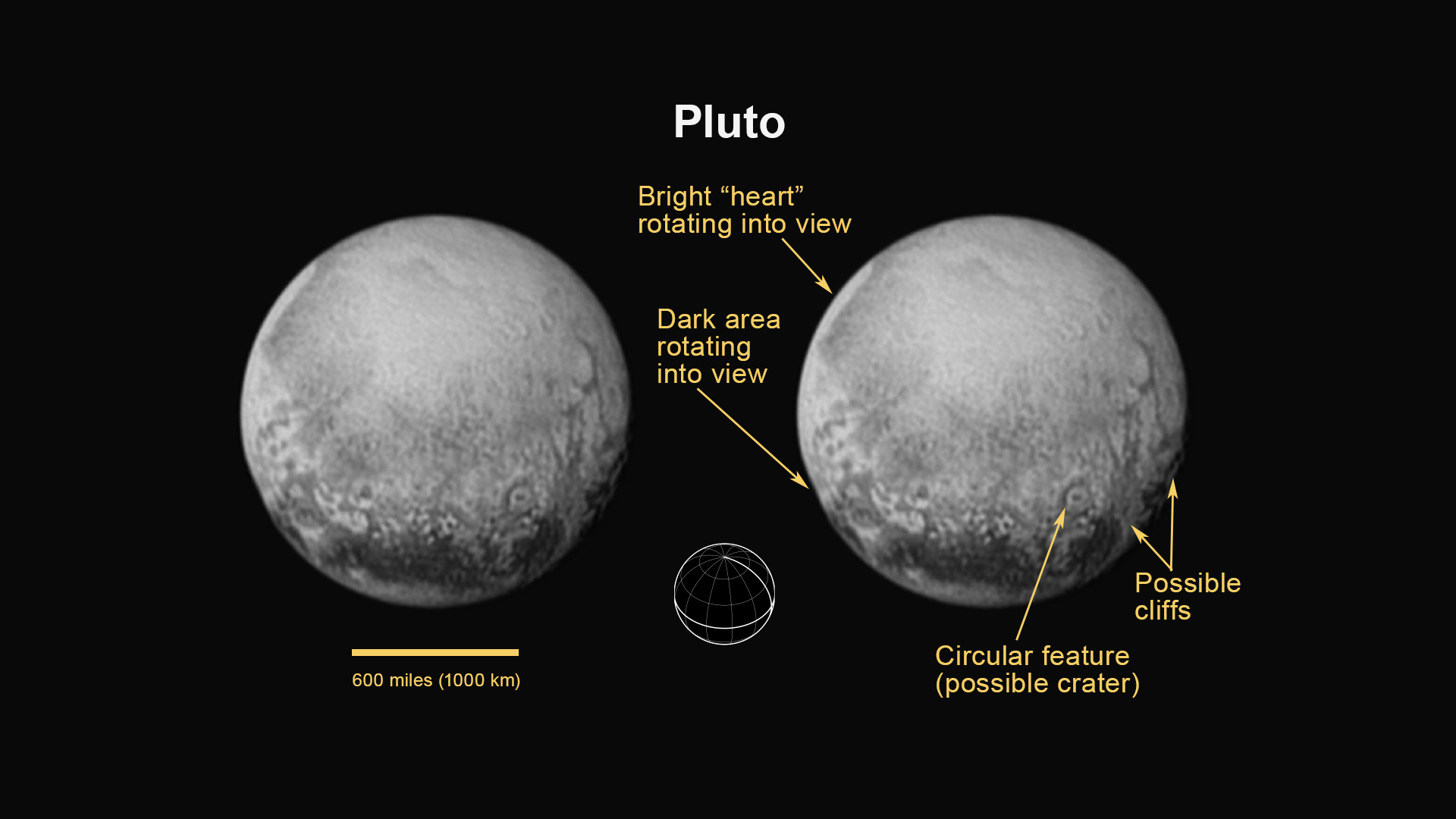 The first hints of dramatic cliffs, chasms and craters are showing up in new imagery of Pluto and its Texas-sized moon Charon as NASA's New Horizons spacecraft prepares to bolt by the icy worlds Tuesday.
New Horizons' team released fresh pictures of Pluto and Charon late Sunday, showing sharp terrain drops and surface details with refining resolution. The spacecraft — powered by plutonium and with dimensions the size of a baby grand piano — took the images Saturday with its long-range telescopic camera as it traveled nearly 3 billion miles from Earth.
The sharp-eyed imager shows linear features that might be cliffs on Pluto, plus a circular marking that could be an impact crater, according to a NASA statement accompanying the image release.
A bright heart-shaped region spotted earlier in the mission is visible rotating into view on the left side of Pluto. That site will be near where Pluto passes closest to Pluto on Tuesday when it zooms 7,800 miles above the icy dwarf's surface at 7:49:57 a.m. EDT (1149:57 GMT).
Pluto's moon Charon, the largest of its five known satellites, is also becoming a spectacle.
Charon appeared gray and featureless from Earth-based observations, but New Horizons is revealing it to be a complex place covered with craters and deep chasms, one of which is longer and miles deeper than Earth's Grand Canyon, according to scientists.
"This is the first clear evidence of faulting and surface disruption on Charon," said William McKinnon, deputy lead scientist on New Horizons' geology and geophysics investigation team based at the Washington University in St. Louis. "New Horizons has transformed our view of this distant moon from a nearly featureless ball of ice to a world displaying all kinds of geologic activity."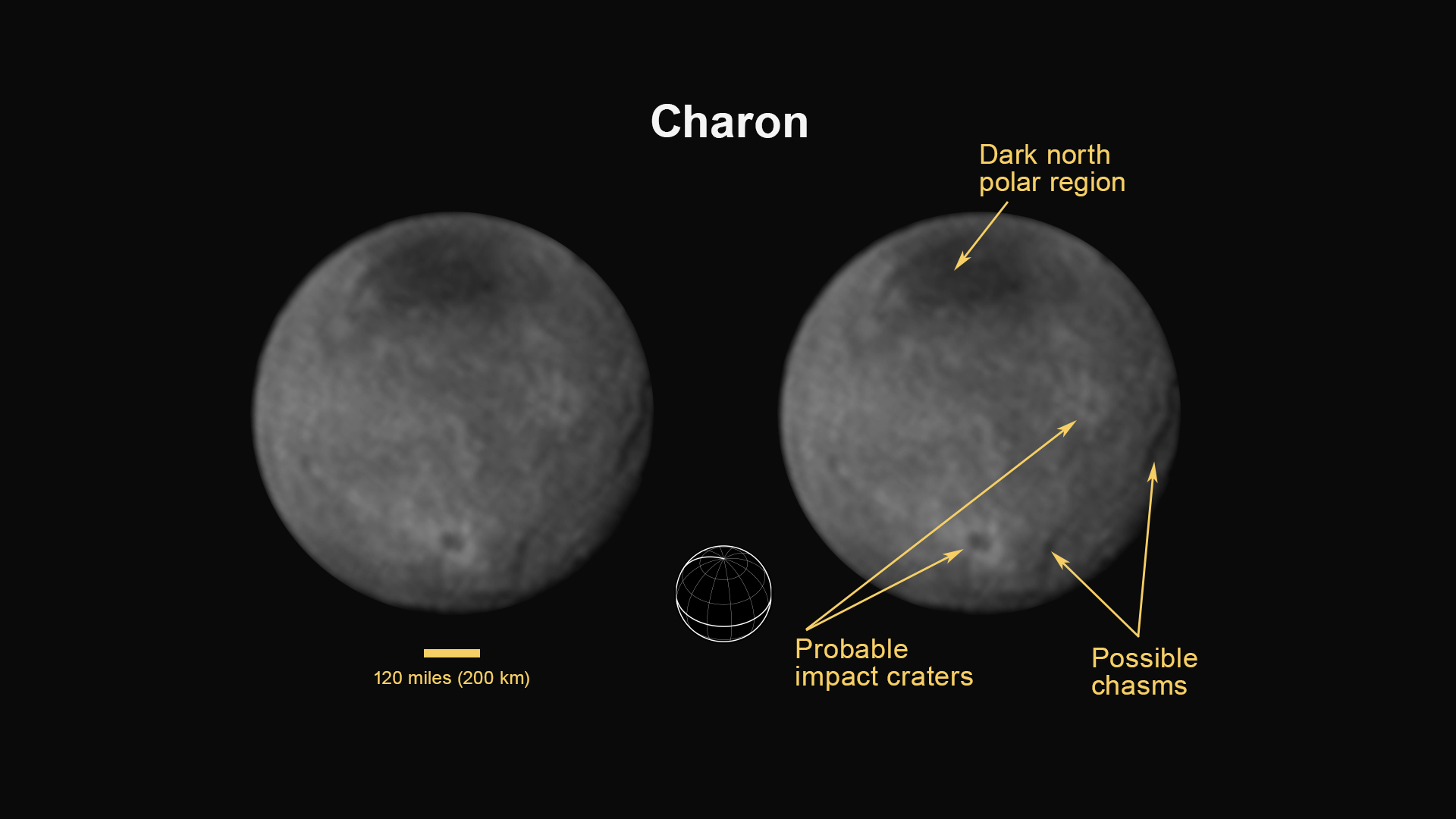 The crater pictured near Charon's equator — at the bottom center of the moon as seen in the July 11 image — measures about 60 miles across and exhibits bright rays reaching out from a dark center. The crater's appearance suggests it formed some time in the last billion years during Charon's relatively recent history.
The dark color at its center could be evidence that the impactor that excavated the crater exposed a different type of ice, or icy material with larger grain sizes, according to scientists.
Alan Stern, New Horizons' principal investigator from the Southwest Research Institute, said Sunday that the mission's data confirms previous discoveries that Charon is covered in water ice.
Charon is dominated by bright gray colors indicative of exposed ice, but a dark patch near the moon's north pole continues to defy explanation. New Horizons will pass about 18,000 miles from the moon at its closest approach, when the spacecraft will scan its cameras and instruments across Pluto and Charon, looking for clues to each body's surface composition, Pluto's atmospheric makeup and searching for traces of a tenuous atmosphere on Charon.
New Horizons will pass by Pluto at a relative speed of about 30,800 mph, and it moved within a million miles of the icy dwarf planet at 11:23 p.m. EDT Sunday (0323 GMT Monday).
Email the author.
Follow Stephen Clark on Twitter: @StephenClark1.