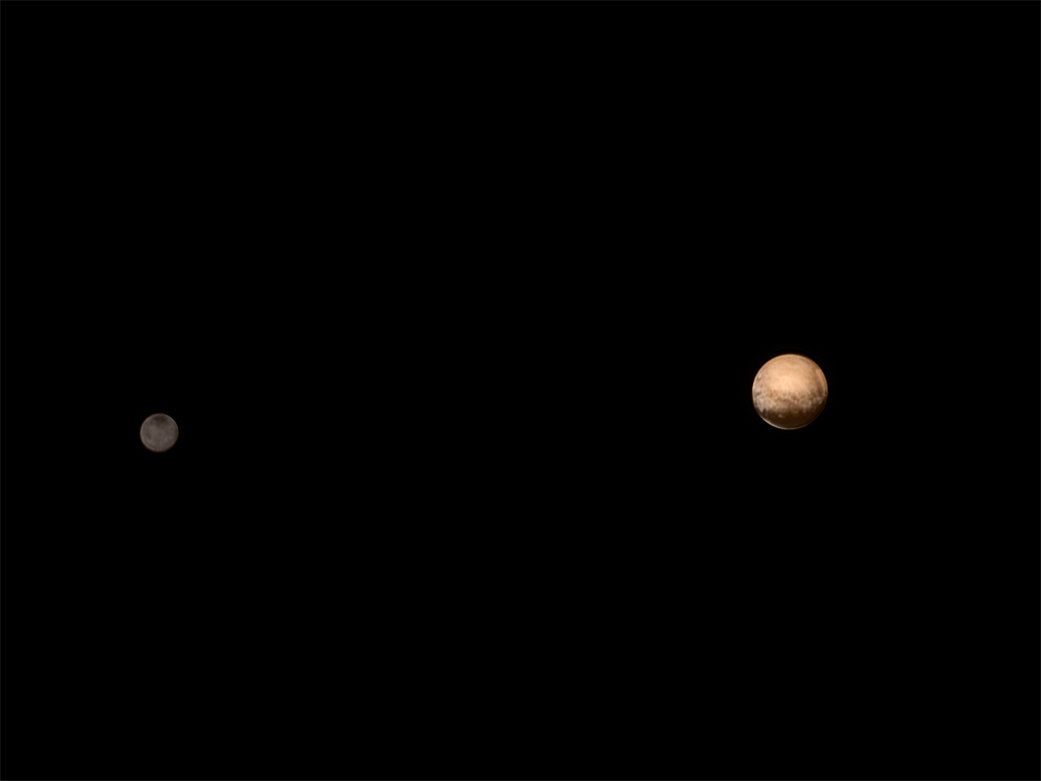 Living up to promises that the view from New Horizons will only get better, the Pluto-bound spacecraft has again bested itself with a dazzling color view of Pluto and Charon released Thursday.
Scientists believe Charon, the largest of Pluto's five known moons, formed in an ancient collision between Pluto and another large body. Material from Pluto and the other object eventually coalesced to create Charon, according to the leading theory.
The image released Thursday was captured in black-and-white late Wednesday by New Horizons' Long Range Reconnaissance Imager, or LORRI, telescopic camera. Image analysts added color to the image using data gathered by the spacecraft's Ralph instrument earlier in the approach to Pluto.
"Charon is now emerging as its own world," said John Spencer, a New Horizons scientist from the Southwest Research Institute. "Its personality is beginning to really reveal itself."
Before New Horizons, researchers knew Pluto and Charon were very different.
"As early as the early 1990s we knew that Pluto and Charon were very different," Alan Stern, New Horizons' principal investigator, told reporters earlier this week. "In the early 1990s, we used to talk a lot about something called the Pluto-Charon dichotomy — that they are such different objects.
"We knew that they had different reflectivities," Stern said. "Charon is about half as reflective as Pluto. We knew that Pluto had an atmosphere and volatile ices like nitrogen and carbon monoxide on the surface, that can move from place to place. We knew that Charon had none of that, and instead it was covered in water ice like a typical airless satellite of Uranus or Neptune or most of the satellites of Saturn, for example."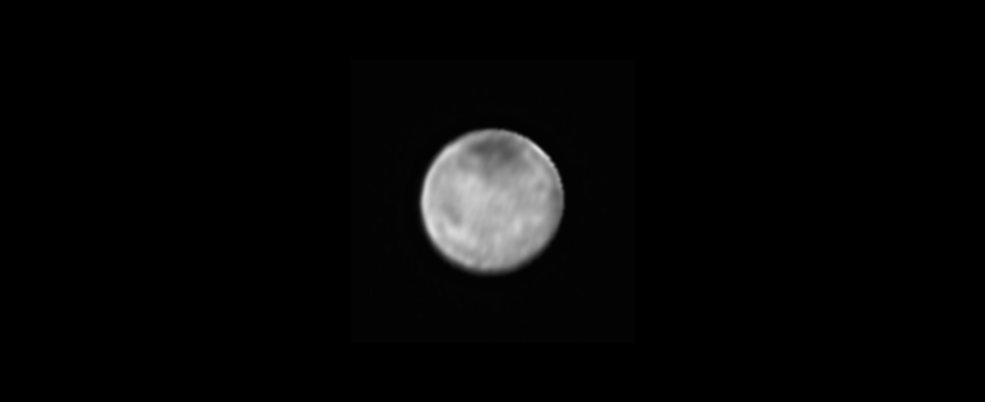 Scientists have seen surface details on Pluto, which is reddish in color with higher contrast, come into focus in recent weeks. Charon's gray surface appeared featureless until now, and researchers now see what they believe to be craters on the 750-mile (1,200-kilometer) diameter moon.
Charon is the largest moon in the solar system relative to its parent body, and it and Pluto tug at each other in a wobbly orbit with a center of mass between the two icy worlds.
"If we see impact craters on Charon, it will help us see what's hidden beneath the surface," said Jeff Moore, the mission's Geology, Geophysics and Imaging team leader from NASA's Ames Research Center. "Large craters can excavate material from several miles down and reveal the composition of the interior."
Before New Horizons, "We could infer that Pluto had a much more complicated surface appearance than Charon at large scales," Stern said. "We knew all of that 20 or 25 years ago, so we went into the system expecting that, and in fact, the Hubble (Space Telescope) images that were obtained over the years proved that all to be true."
Now New Horizons, speeding toward a flyby Tuesday just 7,800 miles from Pluto's surface, is poised to revolutionize how scientists think of it.
Email the author.
Follow Stephen Clark on Twitter: @StephenClark1.