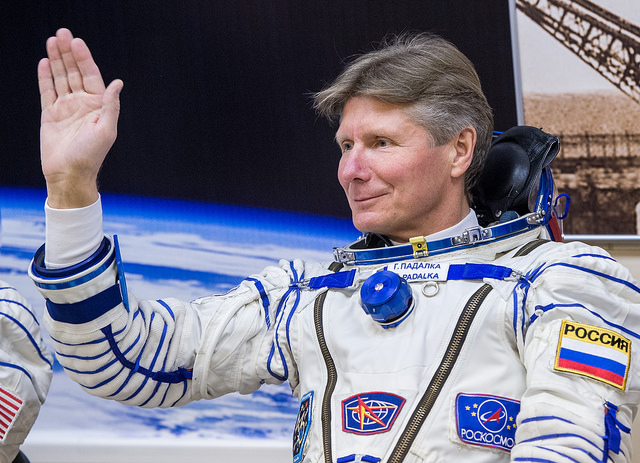 Veteran Russian cosmonaut Gennady Padalka, more than three months into his fifth trip into orbit, has passed countryman Sergey Krikalev's mark of 803 days of cumulative time in space.
That is equivalent to more than 12,000 laps around Earth at the speeds of the International Space Station and Russia's space station Mir, the two massive orbiting outposts Padalka has crewed in his cosmonaut career.
Padalka, who turned 57 last week, passed Krikalev's spaceflight record of 803 days, 9 hours and 39 minutes Monday, Moscow time. Padalka is currently commander of the space station's Expedition 44 crew, and he will have logged 878 days in orbit by the time he returns to Earth in September.
He doesn't plan to stop there.
Padalka told interviewers before launching in March that he hopes to pass 1,000 days in space on his next mission.
Selected as a cosmonaut in 1989, Padalka first flew in space aboard the Mir space station in 1998 and 1999, spending 198 days there as commander. Before his current mission, Padalka lived on the International Space Station during three stints in 2004, 2009 and 2012, leading the Expedition 9, Expedition 19 and Expedition 32 crews.
Padalka is now part of a record-setting mission on the space station. Besides his passage of Krikalev's spaceflight endurance mark, two other members of the Expedition 44 mission — NASA astronaut Scott Kelly and cosmonaut Mikhail Kornienko — are on a nearly year-long residency on the complex.
Kelly will become the most-experienced U.S. astronaut by the end of the flight, establishing new records for cumulative time in space by an American and the longest single spaceflight by a NASA crew member. Scientists will study how Kelly and Kornienko respond to prolonged exposure to microgravity to help prepare for future voyages into the solar system.
Krikalev, now deputy head of the Russian Central Research Institute of Machine Building, told Russian media he planned to congratulate Padalka on his achievement. The former cosmonaut is a veteran of six spaceflights, including a 311-day rotation on Mir in 1991 and 1992. Krikalev was also the first Russian to fly on the space shuttle in 1994 and was a member of the International Space Station's first crew in 2000.
Email the author.
Follow Stephen Clark on Twitter: @StephenClark1.