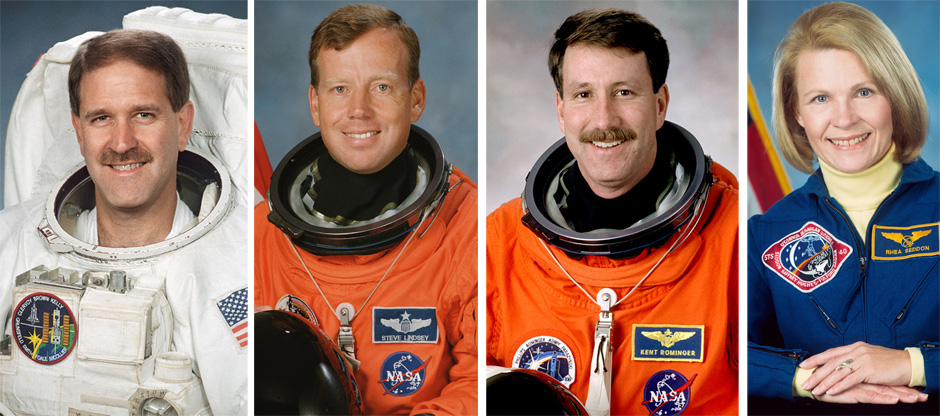 CAPE CANAVERAL — A proud "Hubble Hugger," the final commander of shuttle Discovery, the first person to fly a docking to the International Space Station and one of the first U.S. women to join the astronaut ranks were inducted into the Astronaut Hall of Fame on Saturday.
Veteran space shuttle astronauts John Grunsfeld, Steve Lindsey, Kent Rominger and Rhea Seddon were honored in a ceremony held at the Kennedy Space Center's Atlantis attraction.
It is the 25th anniversary of the Astronaut Hall of Fame. The foursome brings the total number of inductees to 91, joining the likes of Alan Shepard, John Glenn, John Young, Neil Armstrong and Sally Ride.
Grunsfeld completed eight spacewalks over the course of his five space shuttle missions (STS-67, STS-81, STS-103, STS-109 and STS-125), including serving on three of the five missions that serviced the Hubble Space Telescope. He is currently the agency Associate Administrator of the Science Mission Directorate at NASA Headquarters in Washington.
Lindsey was pilot and commander of five space shuttle missions (STS-87, STS-95, STS-104, STS-121 and STS-133). During his last flight, he commanded the 39th and final flight of space shuttle Discovery. Lindsey retired from NASA and joined Sierra Nevada Corp. to lead the Dream Chaser spacecraft flight operations.
Rominger flew aboard five space shuttle missions (STS-73, STS-80, STS-85, STS-96 and STS-100) and was commander of STS-96 Discovery, the first docking of the space shuttle to the International Space Station. He retired from NASA in 2006 to accept a position with ATK Launch Systems.
Seddon was selected by NASA in 1978 as part of the first U.S. astronaut class to include women. A veteran of three space flights (STS-51D, STS-40 and STS-58), Seddon served on both Spacelab Life Sciences flights. Now with LifeWings Partners, LLC, she acts as a consultant to healthcare institutions across the United States.
On Friday, a groundbreaking ceremony was held at the Kennedy Space Center Visitor Complex for the "Heroes and Legends" attraction opening in 2016. It will see the Astronaut Hall of Fame relocated to the main KSCVC museum property from its current location across the river.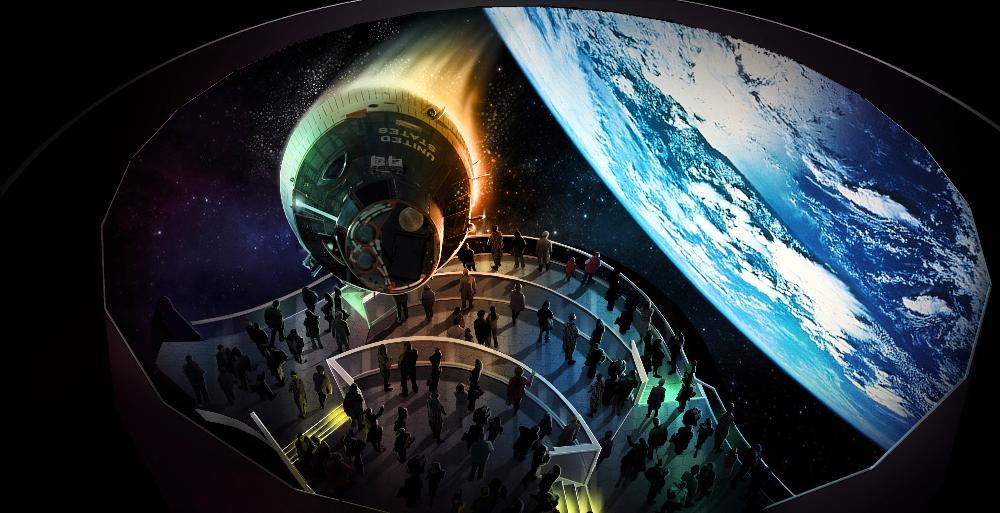 Heroes and Legends will feature a 3D omnidirectional theater, designed to make guests feel as though they are floating in the vastness of space.
"Heroes and Legends promises to speak to the hearts and minds of all generations, from those who bore witness to some of America's first space launches, to those who dream of someday being among the first to set foot on Mars," said Bob Cabana, KSC center director and former astronaut.
"Today, we take the dream that was first conceived by America's space pioneers, and give it a new life, a new incarnation, befitting the service and sacrifice of all those who dared to follow in their footsteps – many of whom are in the room with us today," said Therrin Protze, chief operating officer, Kennedy Space Center Visitor Complex. "I know I speak for all of those involved when I say, we could not be more proud to create this attraction in your honor."