Ground controllers powered up the International Space Station's robotic arm and repositioned a storage module Wednesday to give visiting cargo delivery vehicles a second parking port at the complex.
The reconfiguration is another step in preparing the space station to receive commercial crew vehicles owned by Boeing and SpaceX.
When the changes are complete later this year, the space station will have two ports for unpiloted resupply vehicles from the United States and Japan, plus a pair of docking locations for Boeing and SpaceX crew capsules.
Engineers at the Johnson Space Center in Houston and the Canadian Space Agency in St. Hubert, Quebec, remotely commanded the space station's 58-foot robotic arm to move the Permanent Multipurpose Module from the Earth-facing port of the Unity module to the forward port of the nearby Tranquility compartment.
Astronauts Terry Virts and Scott Kelly aboard the station monitored the move and bolted the module to its new home. The crew opened hatches to the PMM at its new berthing port Thursday.
Delivered to the space station by the space shuttle Discovery in February 2011, the 22-foot-long module is used as a storage room for the research laboratory. Engineers modified the Italian-built module — originally built to ferry up supplies in the payload bay of the space shuttle — to become a permanent fixture on the space station.
Wednesday's operation was the first time one of the space station's pressurized modules was relocated or installed since space shuttles stopped flying in 2011.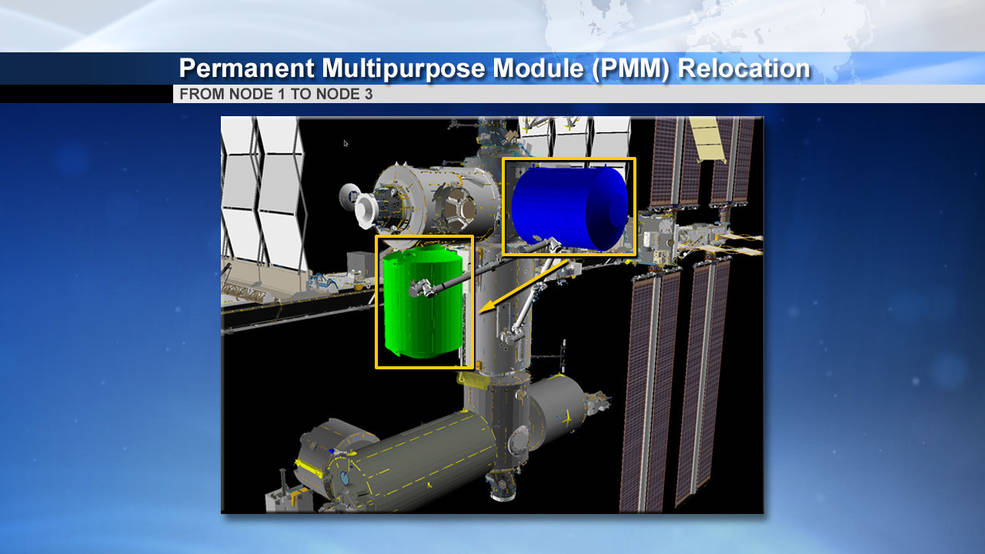 The move cleared Unity's lower port for use as a backup berthing site for visiting cargo vehicles, such as SpaceX's Dragon capsule, Orbital ATK's Cygnus supply ship and Japan's HTV logistics freighter.
Before Wednesday's relocation, the Earth-facing port on the Harmony module was the only site outfitted to receive the cargo craft, limiting the U.S. segment of the space station to visits by one supply mission at a time.
Russian Progress cargo vehicles dock on the Russian section of the outpost.
The next step in reconfiguring the space station will come with the arrival of the first of two fresh docking adapters aboard a SpaceX Dragon supply ship set for launch June 26.
Astronauts will head outside the space station on spacewalks to set up the new IDA, which will be installed on the forward docking port of the Harmony module once used by arriving space shuttles.
A second adapter will launch on a SpaceX supply mission in December for attachment to the upper port on Harmony.
The remodeling will give the space station primary and backup parking spots for commercial crew and cargo vessels.
The crew vehicles are designed to approach the space station on their own for dockings, while the unmanned supply ships are captured by the lab's robot arm for manual berthings.
Email the author.
Follow Stephen Clark on Twitter: @StephenClark1.