STORY WRITTEN FOR CBS NEWS & USED WITH PERMISSION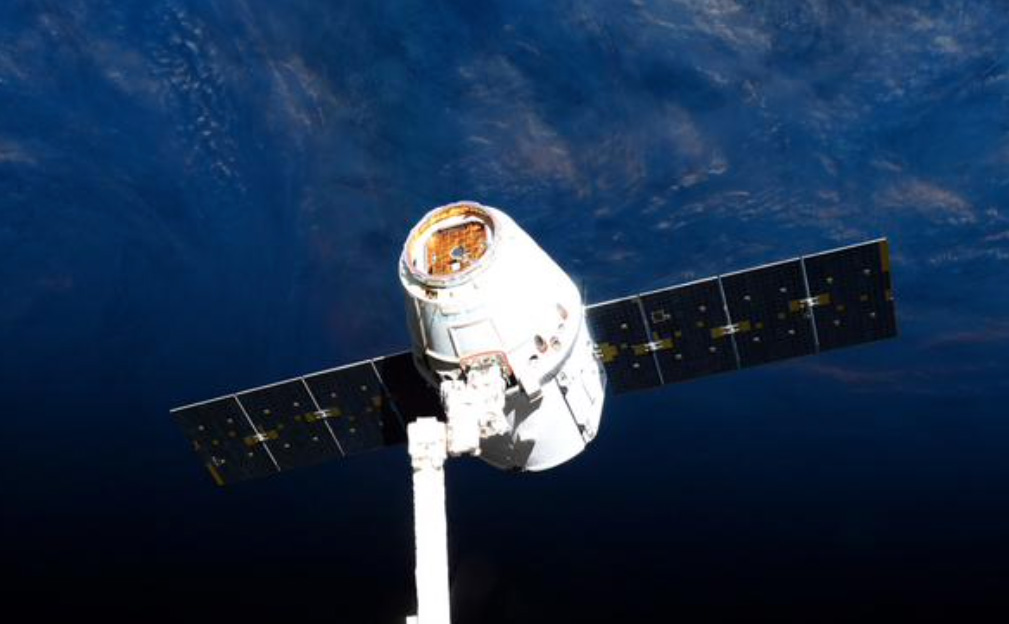 A SpaceX cargo capsule loaded with 3,100 pounds of research samples, no-longer-needed equipment and trash returned to Earth Thursday after a month-long stay at the International Space Station, splashing down in the Pacific Ocean southwest of Long Beach, Calif., after a fiery descent from orbit.
Astronaut Scott Kelly, operating the station's 58-foot-long robot arm, released the cargo ship at 7:04 a.m. EDT (GMT-4) as the two spacecraft sailed 250 miles above the southern coast of Australia. The computer-controlled capsule then moved a safe distance away and fired its braking rockets at 11:49 a.m., dropping the far side of its orbit deep into the atmosphere over the Pacific Ocean.
After enduring the blazing heat of re-entry, the Dragon's three braking parachutes unfurled and the spacecraft settled to a splashdown within sight of SpaceX recovery crews. After pulling it aboard a recovery ship, the team planned to haul the capsule back to Long Beach where high-priority research samples were to be handed off to NASA.
The spacecraft then will be shipped to SpaceX's McGregor, Texas, test facility for full unloading and detailed inspections.
SpaceX holds a $1.6 billion contract with NASA for 12 Dragon flights to deliver some 40,000 pounds of cargo and supplies to the space station. Three additional flights were added earlier this year to help bridge the gap between the end of the current contract and the implementation of new contracts expected to be awarded this fall.
SpaceX's seventh space station resupply mission under the company's original contract currently is targeted for takeoff from the Cape Canaveral Air Force Station at 11:09 a.m. on June 26.
Russian engineers, meanwhile, have not yet determined the cause of an apparent third stage booster failure that sent a Progress space station supply ship loaded with 3 tons of equipment and supplies spinning out of control April 28. The spacecraft burned up in the atmosphere May 8.
In the wake of the failure, Russian mission managers delayed the return-to-Earth of three station crew members and the launch of their replacements pending results of the ongoing Progress failure investigation.
They also announced tentative plans to move up the launch of the next Progress in the sequence, from early August to early July. But until the cause of the April failure is determined, it's not clear what sort of corrective actions might be needed or how that might affect the eventual launch date.