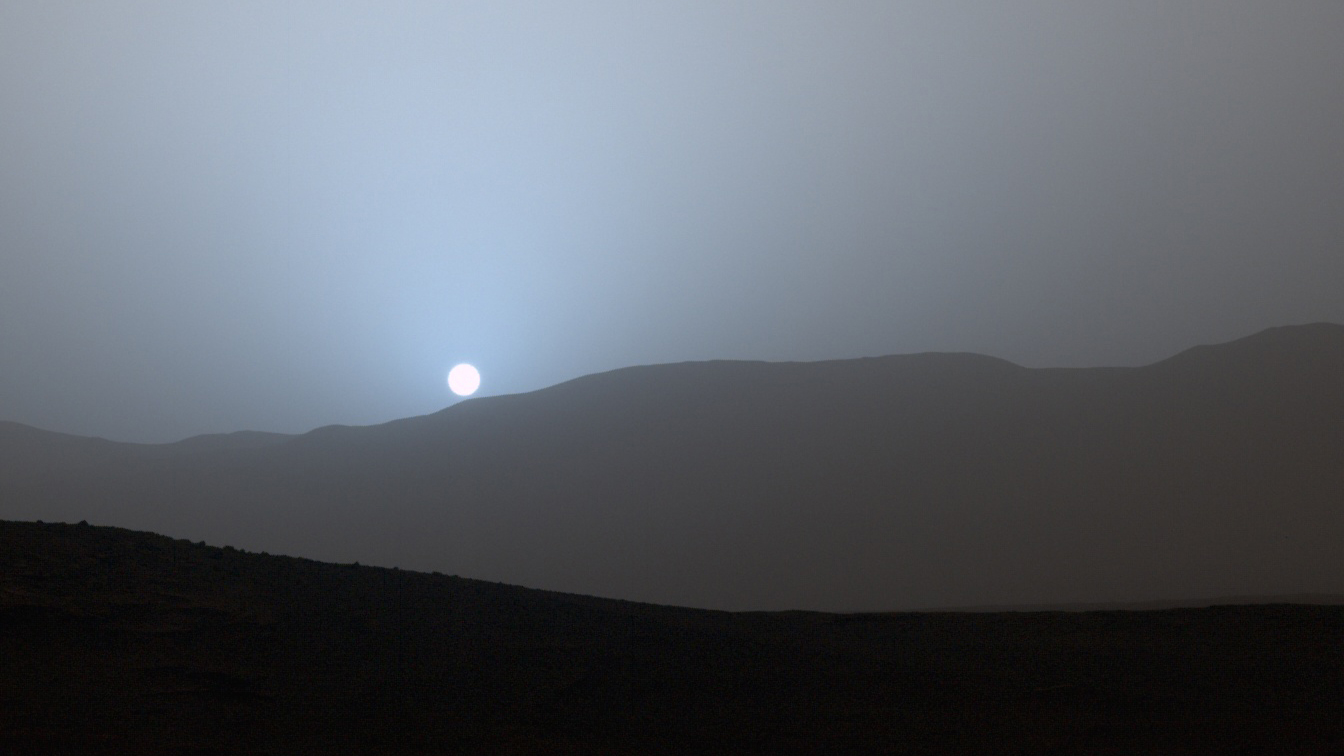 NASA's Curiosity rover has returned a stunning image of the sun dipping behind a distant ridge from a vista inside Mars's Gale Crater, only the Martian sunset spectacle appears blue instead of the reddish hues seen at dusk on Earth.
A color camera mounted on the rover's mast captured the image April 15 after a dust storm swept over Curiosity's operations site near the Martian equator.
Dust in the Martian atmosphere makes the sunset appear blue, similar to the way particles in Earth's atmosphere cause orange glows at dawn and dusk, according to Mark Lemmon, a member of Curiosity's science team based at Texas A&M University.
"The colors come from the fact that the very fine dust is the right size so that blue light penetrates the atmosphere slightly more efficiently," Lemmon said in a press release issued by NASA's Jet Propulsion Laboratory, which manages the Curiosity mission. "When the blue light scatters off the dust, it stays closer to the direction of the sun than light of other colors does. The rest of the sky is yellow to orange, as yellow and red light scatter all over the sky instead of being absorbed or staying close to the sun."
The six-wheeled Curiosity rover landed on Mars in August 2012 and is exploring the foothills of a three-mile-high mountain named Mount Sharp lying at the center of Gale Crater, an ancient impact basin. Curiosity is climbing higher on Mount Sharp with plans to stop as the robot reaches new layers of rock that could hold clues on how Mars evolved billions of years ago, when the planet was warmer, wetter, and harbored the ingredients for life.
Email the author.
Follow Stephen Clark on Twitter: @StephenClark1.