STORY WRITTEN FOR CBS NEWS & USED WITH PERMISSION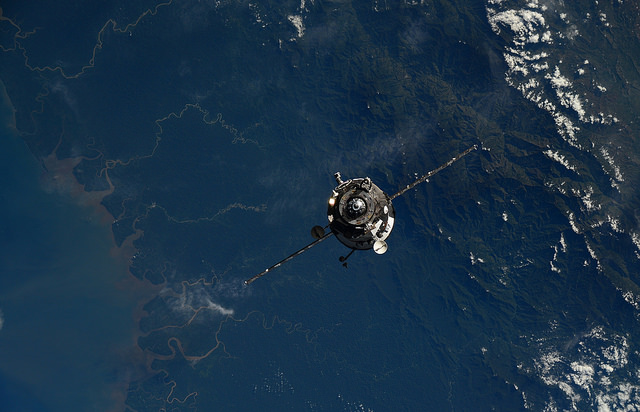 Russian flight controllers have given up attempting to salvage a Progress cargo ship loaded with 3 tons of supplies and equipment intended for the International Space Station. Astronaut Scott Kelly, on board the lab for a year-long mission, said Wednesday the Progress will not be docking and instead will plunge back into the atmosphere.
In an interview with The Associated Press, Kelly said the crew was told the Russian federal space agency Roscosmos had determined "the Progress will not be docking and will re-enter the Earth's atmosphere here some days in the future, to be determined. But this Progress is not coming to the space station."
NASA confirmed no docking attempt would be made, adding that "Russian flight controllers are continuing to assess the vehicle and what the plan going forward will be." One major question is whether the Russians can regain enough control to guide the spacecraft to a targeted re-entry, ensuring any surviving debris falls harmlessly at sea.
During a morning call to the station, a Russian flight director did not address re-entry, telling the crew only that no docking attempt would be made.
"All the resources have been used up," he said, presumably referring to propellant, gas used for propulsion system pressurization, or both. "We are in the middle of the closeout operations with respect to that Progress, but there will be no Progress docking for this vehicle. That's all I've got for you guys."
The Progress M-27M/59P spacecraft blasted off from the Baikonur Cosmodrome in Kazakhstan at 3:09 a.m. EDT Tuesday. The climb to space appeared normal, and NASA's mission control commentator in Houston confirmed spacecraft separation from the booster's upper stage, along with deployment of the craft's two solar panels.
But there was no confirmation its rendezvous antennas had deployed or whether its propulsion system pressurized for upcoming rendezvous rocket firings. Telemetry indicating solar array deployment apparently was the last reliable data received from the spacecraft.
On-board television views later showed the Progress was rapidly spinning, with indications of a variety of malfunctions in its navigation system.
Despite repeated attempts after launch and overnight Tuesday to uplink commands to the spacecraft during passes over Russian ground stations, flight controllers were unable to regain control and the errant supply ship is expected to plunge back into the atmosphere in the next two weeks or so. Some media reports put re-entry between May 7 and 11, but that could not be confirmed.
Whenever it re-enters, most of the spacecraft will burn up. But at least a few pieces of debris could make it all the way to impact on the surface somewhere along the spacecraft's flight path, which carries it 51.6 degrees to either side of the equator. De-orbiting Progress spacecraft typically are guided to entry points that ensure surviving debris falls into the Pacific Ocean.
But even if the entry is uncontrolled, the odds of property damage or personal injury are low given the expected size of any surviving debris, vast areas with a low population density and the fact that three quarters of the planet is covered by oceans.
The Progress mishap posed no danger to the space station's six-member crew and officials said nothing critical to lab operations was on board. But the loss of more than 6,000 pounds of supplies will cut into the station's on-board reserves, already an issue of sorts because of the failure of a U.S. cargo ship last October.
According to a recent tally of on-board space station supplies, the lab has enough food, water, air and other crew supplies for normal operations through early August even if no additional supply ships show up. But a SpaceX Dragon cargo capsule is scheduled for launch June 19 and a Japanese HTV cargo carrier is scheduled for takeoff Aug. 16.
"We have a lot of redundancy on board the space station," Kelly said. "The program plans for these kinds of things to happen, they're very unfortunate when they do, but we do have supplies on board. One of the great things about this international partnership is that we do have other vehicles that can resupply the space station."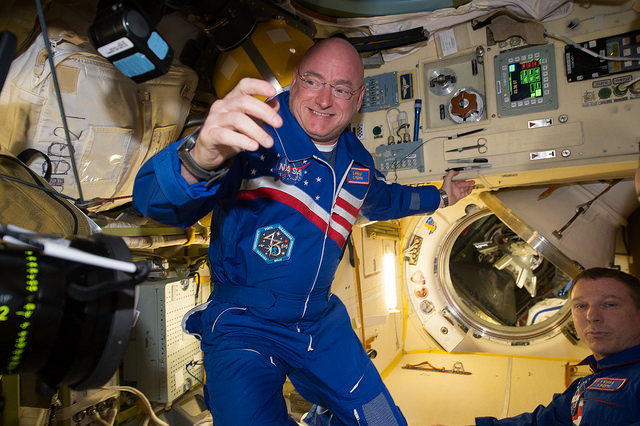 While U.S. and Russian mission managers continue to assess the schedule and the impact of the Progress mishap, Kelly said "I think we're going to be in good shape."
The next Progress flight is targeted for launch Aug. 6, but that mission could be delayed depending on the results of an investigation into Tuesday's mishap. Likewise, plans to launch a Soyuz spacecraft carrying three fresh station crew members to the outpost May 26 could be impacted if investigators find any commonality.
The Progress cargo ships and their Soyuz boosters are among the most reliable spacecraft in the world. The only outright failure of a Progress in the space station's 16-year lifetime came on Aug. 24, 2011, when a third stage propulsion system failure prevented a freighter from reaching orbit.
Supplies also are delivered to the station aboard Japanese HTV cargo ships and U.S. supply capsules built by SpaceX and Orbital Sciences Corp. SpaceX has a flawless launch record, but an Orbital Sciences Antares booster exploded seconds after liftoff last October, destroying a Cygnus supply capsule making the company's third operational resupply flight.
The Antares/Cygnus system was grounded and is not expected to resume flights until next year. In the interim, Orbital plans to launch a Cygnus cargo ship atop a United Launch Alliance Atlas 5 rocket in November.
In the wake of the Orbital failure, NASA modified its resupply strategy, reducing the amount of food and other critical consumables held in reserve as a hedge against launch problems from six months to four.
But that reserve does not include Russian supplies and propellant needed to keep the space station at the proper altitude. How the Progress failure will affect Russia's resupply plans remains to be seen.