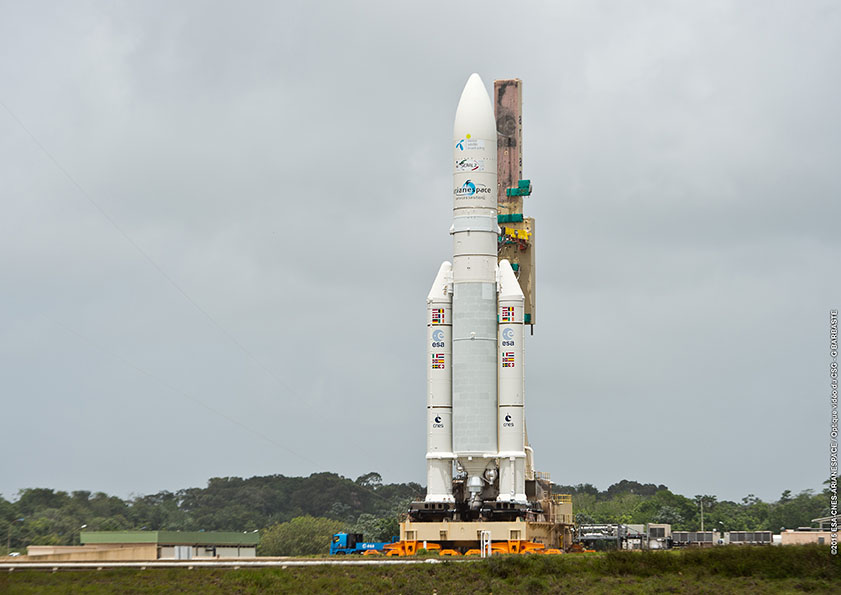 Arianespace plans to launch an Ariane 5 rocket from French Guiana on Sunday after fixing a disconnected helium vent line that required the launcher be returned to a hangar for repairs.
The flight with two European communications satellites was supposed to take off Friday, but Arianespace announced the liftoff would be postponed to resolve the problem. The rocket was already positioned on its launch pad when the vent line issue was discovered.
Ground crews returned the Ariane 5 to the final assembly building at the European-run Guiana Space Center and completed repairs late Friday, according to an Arianespace press release.
The rocket is set to return to the spaceport's ELA-3 launch pad early Saturday.
Sunday's launch window opens at 1937 GMT (3:37 p.m. EDT; 4:37 p.m. French Guiana time) and extends an hour and 54 minutes.
The launch will mark the first of up to seven flights this year for Europe's workhorse Ariane 5 rocket, which is tailored to deliver two large communications satellites into orbit on one mission.
The payloads attached atop the launcher for this mission are the Thor 7 and Sicral 2 telecom satellites, which the Ariane 5's upper stage will deploy into a geostationary transfer orbit with a high point of about 22,300 miles, a low point of 155 miles and an inclination of 6 degrees.
Thor 7 will link mobile users across Europe, with emphasis on beaming broadband services to the offshore maritime, energy and aeronautical markets in the North Sea, the Norwegian Sea, the Baltic Sea, the Red Sea, the Persian Gulf and the Mediterranean. The spacecraft — built in California by Space Systems/Loral — is owned by Telenor Satellite Broadcasting of Norway.
Thor 7's Ku-band payload will offer additional coverage to Telenor's direct-to-home broadcast programming across Central and Eastern Europe, and the satellite will help relay data from polar stations in Antarctica.
The Sicral 2 satellite is a joint mission for the Italian and French armed forces, supplying super-high frequency and ultra-high frequency communications to each country's defense authorities and offering backup capacity for all NATO allies.
The mission was previously delayed from April 15 fix a broken cryogenic umbilical connector between the Ariane 5 and its mobile launch platform.
Follow Stephen Clark on Twitter: @StephenClark1.