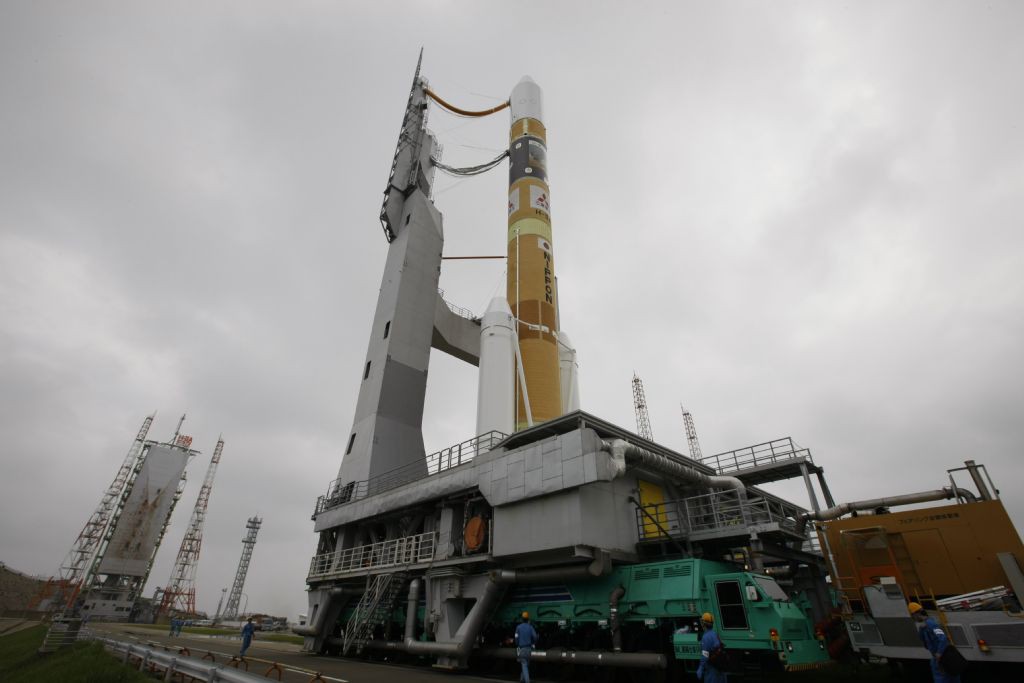 A Japanese H-2A rocket is set for launch Thursday with a high-resolution imaging satellite to record views of strategic sites for the country's intelligence agencies.
The two-stage hydrogen-fueled rocket has a 13-minute window to blast off opening at 0121 GMT Thursday (9:21 p.m. EDT Wednesday). The H-2A will launch from the Tanegashima Space Center in southwestern Japan, where liftoff is set for 10:21 a.m. local time.
The launcher is scheduled to roll out from the space center's Vehicle Assembly Building to the launch pad about 12 hours before liftoff.
The mission will place a spy satellite into polar orbit for the Japanese government, adding to a fleet of spacecraft operated by Japan to spy on North Korea and other sites as requested by the country's leadership.
The satellite prepared to lift off Thursday will obtain high-resolution images with a telescopic optical camera. Other satellites, including a payload launched Feb. 1, carry radar instruments to peer through clouds and darkness as an all-weather surveillance platform.
Thursday's launch will be the 28th flight of Japan's H-2A rocket since it debuted in August 2001, and the H-2A's fourth launch in less than six months. The launch cadence marks the quickest clip of flights in the rocket's history.
The rocket will fly in the basic "202" configuration with two strap-on solid rocket boosters. Heavier satellites launching on the H-2A sometimes need four boosters to reach orbit.
The boosters will consume their pre-packed solid propellant in less than two minutes, and the rocket's hydrogen-fueled LE-7A main engine will fire for six-and-a-half minutes. An upper stage LE-5B engine, also fed by super-cold liquid hydrogen and liquid oxygen propellants, will ignite to accelerate the reconnaissance satellite into orbit about 300 miles above Earth.
Japanese officials have not released the exact sequence of events planned for Thursday's launch, or the precise parameters of the target orbit.
The launch will be conducted by Mitsubishi Heavy Industries, the builder and commercial operator of Japan's H-2A and H-2B rocket fleet.
The Information Gathering Satellite poised for liftoff Thursday will join a network of surveillance craft run by the Cabinet Satellite Intelligence Center, which reports directly to the Japanese government's executive leadership.
Japan established the space-based reconnaissance program in the wake of a North Korean missile test over Japanese territory in 1998. Although the program was initially aimed at monitoring North Korea, the satellites can take pictures of nearly any place on Earth each day.
Thursday's launch will be the 10th flight of an H-2A rocket with an IGS spy payload.
Up to three more launches from Tanegashima are planned before the end of 2015.
Japan's H-2B rocket, featuring four boosters and an enlarged twin-engine first stage, is set for liftoff Aug. 17 with a cargo ship for the International Space Station.
Later this year, two more H-2A rocket launches are planned with the Astro-H X-ray observatory and the Telstar 12V communications satellite, the H-2A's first dedicated commercial mission.
Follow Stephen Clark on Twitter: @StephenClark1.