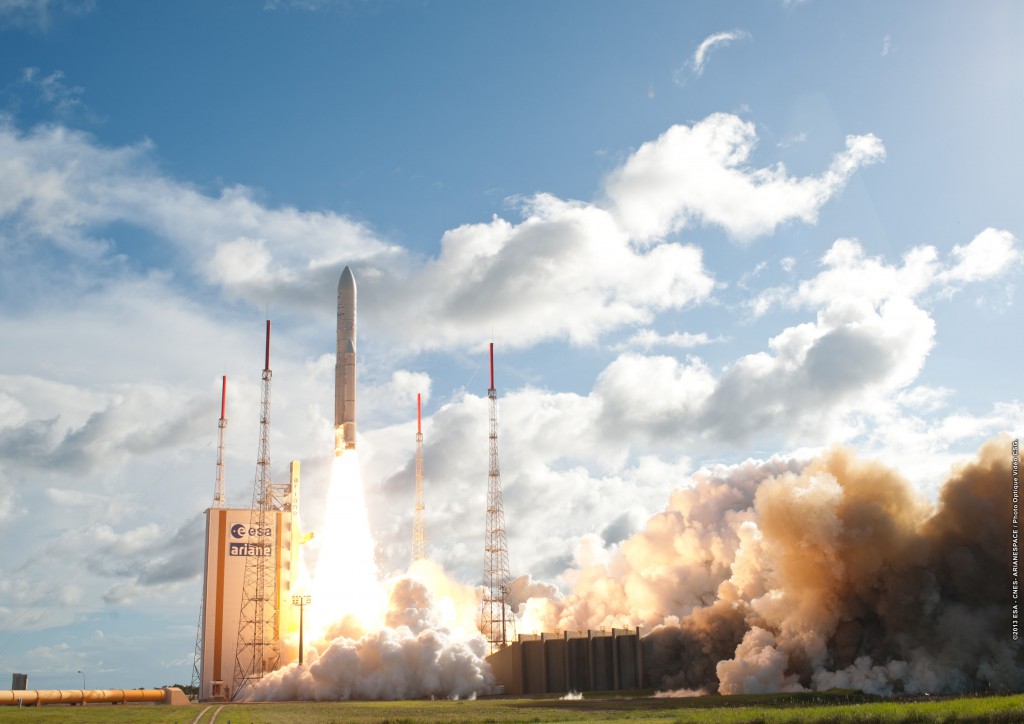 SES has selected Arianespace to launch a communications satellite ordered as part of a three-spacecraft procurement announced last month, after assigning the other two payloads for launches aboard SpaceX Falcon 9 rockets.
The SES 15 communications platform will blast off on an Ariane 5 rocket from French Guiana in the second quarter of 2017, officials said Friday.
"For more than 25 years, Arianespace and SES have developed an exceptional partnership," said Martin Halliwell, chief technology officer for Luxembourg-based SES. "Not only is SES 15 the 41st launch service contract signed with Arianespace, but it is also the second all-electrical satellite to be launched by Arianespace, following the announcement of the award of the launch contract of SES 12 in January 2015."
SES 15 will be built by Boeing Satellite Systems of El Segundo, California. Based on the Boeing 702SP satellite platform, SES 15 will carry an electrically-powered propulsion system — instead of conventional liquid propellants — to raise its orbit after deployment from the Ariane 5 launcher to reach a final operating position 22,300 miles over the equator.
Boeing's first two communications satellites with all-electric propulsion launched on a SpaceX Falcon 9 rocket March 1. SES 15 will be based on the same Boeing 702SP spacecraft bus, but the craft will be the first satellite of its type to launch with Arianespace.
Another SES satellite — SES 12 — was contracted in January to launch on an Ariane 5 rocket. SES 12 is an all-electric satellite built by Airbus Defense and Space, which came out with its own ion-powered spacecraft design after Boeing unveiled its Boeing 702SP platform in 2012.
"For the second time since the beginning of 2015, SES has chosen Arianespace to launch their satellites, both for the renewal and expansion of its fleet, with SES 12 and SES 15," said Stephane Israel, Arianespace's chairman and CEO. "These two all-electric satellites, the first in the SES fleet, confirm the technological developments underway in the communication satellite sector. The trust placed in Arianespace by SES demonstrates that Ariane 5 meets all resulting needs."
Arianespace and SES signed the launch contract at SES headquarters in Luxembourg. French President Francois Hollande and Grand Duke Henri of Luxembourg attended the signing ceremony.
"Many thanks to SES for the new impetus that this 41st contract has injected into the partnership which has united us for more than 25 years," Israel said. "We are particularly proud to announce this contract in the presence of the highest authorities in both our countries."
SES announced orders for three new communications satellites in February.
The SES 14 and SES 16/GovSat satellites — built by Airbus Defense and Space and Orbital ATK — will launch on Falcon 9 rockets, perhaps becoming the first payloads to lift off from SpaceX's new commercial spaceport near Brownsville, Texas.
SES continued its pattern of spreading out its spacecraft and launch contracts with the selection of Arianespace to deliver the Boeing-built SES 15 satellite in orbit.
SES 15 will weigh about 2,300 kilograms, or about 5,070 pounds, at liftoff. It is sized to ride in the lower berth of the Ariane 5 rocket's Sylda dual-payload adapter system.
The satellite will operate from a position in geostationary orbit at 129 degrees west longitude to cover North America with Ku-band and Ka-band transponders. SES 15 will beam in-flight WiFi and entertainment services to airliners traveling across North America, and serve other government, maritime and mobile users.
Follow Stephen Clark on Twitter: @StephenClark1.