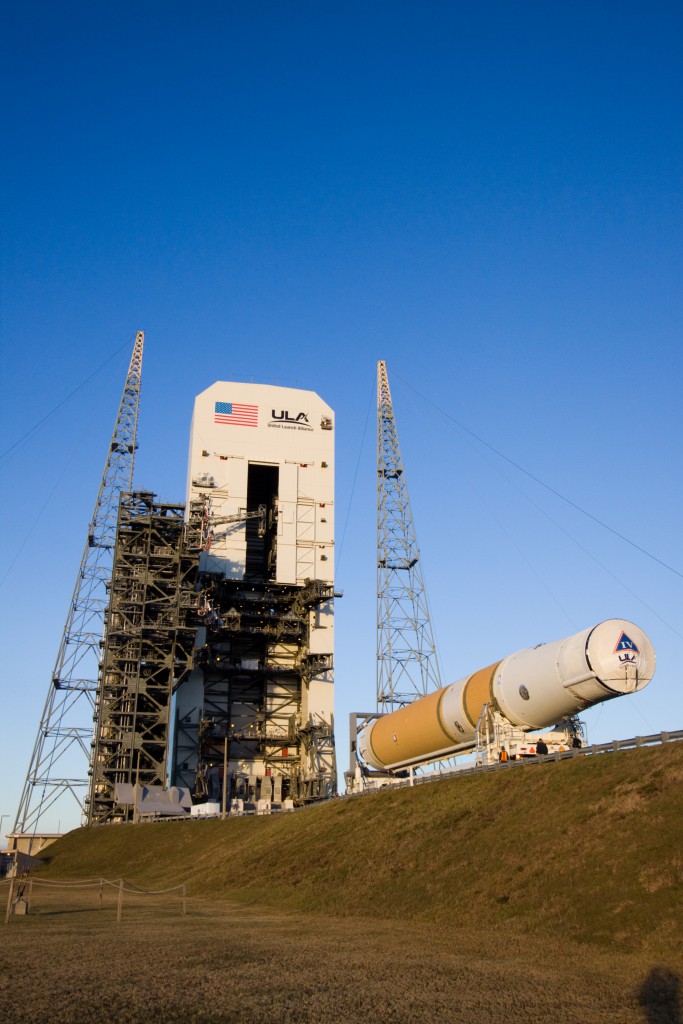 CAPE CANAVERAL — The Delta 4 rocket to launch the next Global Positioning System satellite to sustain the orbiting navigation network has been rolled out to the launch pad.
The United Launch Alliance vehicle is scheduled for launch March 25.
The rocket is created by taking a Common Booster Core — the liquid hydrogen-fueled motor that forms the first stage — and adding two solid-fuel strap-on motors, then adding a hydrogen-fueled upper stage.
Riding horizontal aboard a 36-wheel, diesel-powered transporter, the bright orange and white rocket emerged from the Horizontal Integration Facility hangar recently and took the brief trip down the road and up the pad's ramp to the Florida spaceport's Complex 37.
Technicians then prepared the rocket to be raised vertically. The cradle-like pallets upon which the rocket was resting was tied down to the Fixed Pad Erector on the pad's surface. The diesel-powered transporter used to drive the rocket to the pad then disengaged from the pallets and pulled away.
The erector system, with its two hydraulic pistons, lifted the rocket upright, putting the vehicle on the pad's launch table. After the rocket was set, technicians unhooked the booster from the pallets.
The erector, along with the pallets, was lowered back to the ground. The transporter then returned to the erector to retrieve the pallets for reuse on another mission.
The GPS 2F-9 spacecraft will be attached to the rocket later, in March.
It will be the 371st Delta rocket since 1960 and the 29th Delta 4 since 2002. It also marks the 69th GPS satellite launch and the 55th to use a Delta rocket.