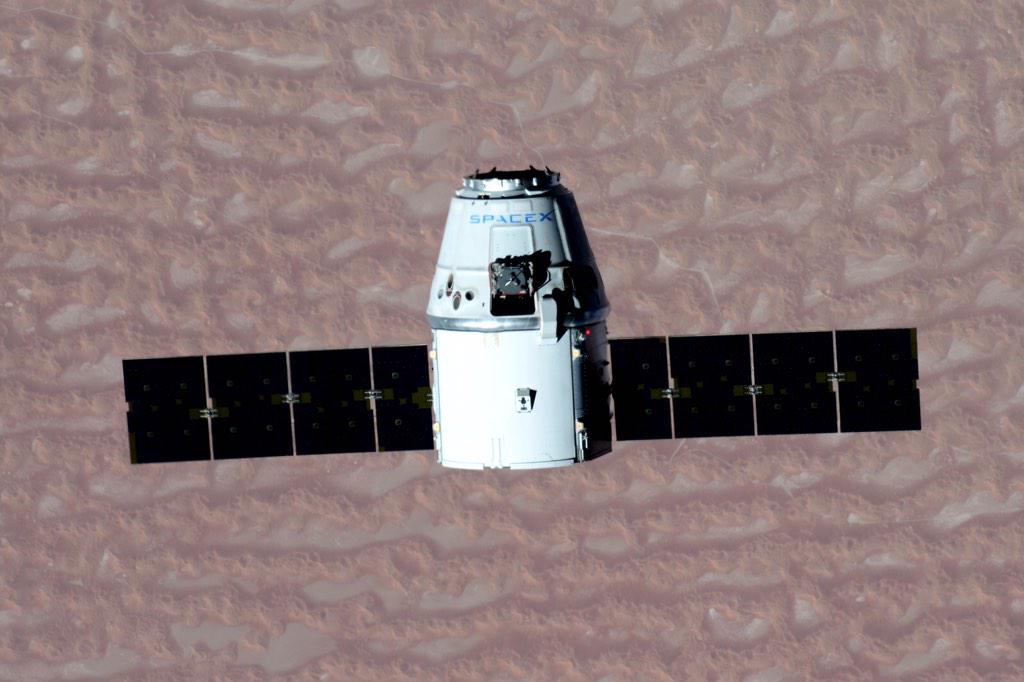 Astronauts on the International Space Station are eager to begin unpacking 2.6 tons of supplies and experiments — including a package of belated Christmas gifts — after delivery aboard a SpaceX Dragon cargo capsule Monday.
Commander Butch Wilmore maneuvered the space station's 58-foot robotic arm to snare the free-flying cargo craft at 5:54 a.m. EST (1054 GMT) after the Dragon freighter's two-day pursuit of the outpost following liftoff from Cape Canaveral on Saturday.
The grapple occurred at an altitude of 262 miles over the Mediterranean Sea just southeast of Barcelona.
Three hours later, the spaceship was bolted to the space station's Harmony module, and astronauts and ground crews equalized pressure between the vehicles later Monday, setting the stage for the opening of Dragon's pressurized cargo module.
The Dragon spacecraft is packed with 5,108 pounds of scientific experiments, provisions and maintenance equipment, plus personal items for the space station's six-person crew, such as Christmas gifts.
The Dragon spaceship was supposed to arrive in mid-December, but SpaceX delayed the launch
"We apologize for Santa and his Dragon sleigh to be a little more on the Eastern Orthodox schedule and calendar," said astronaut Randy Bresnik from mission control in Houston, referring to the Orthodox celebration of Christmas on Jan. 7. "But definitely a huge congratulations and thanks to our friends at SpaceX for bringing to ISS such a beautiful vehicle."
"We concur," Wilmore replied from the space station. "Congratulations also and nice job. It's been a couple of days getting here, and it's nice to have it on-board, and we'll be digging in soon."
Among the supplies packed inside are spacewalk tools and equipment to help prepare the space station to receive commercial crew vehicles, an IMAX camera for filming during four space station increments, and science payloads that will enable model organism research using fruit flies and will study flatworms to better understand wound healing in space.
The Dragon's total internal payload includes 1,272 pounds of science and research gear, 1,080 pounds of crew provisions, 1,495 pounds of vehicle hardware, 35 pounds of computer tools, 51 pounds of spacesuit equipment, and 86 pounds of Russian hardware.
NASA's Cloud-Aerosol Transport System is bolted inside Dragon's unpressurized trunk. The space station's robotics system will unpack the CATS instrument Friday and mount it outside the station to monitor cloud and aerosol coverage which directly impacts global climate.
The mission marks SpaceX's fifth operational resupply run to the space station under a 12-mission, $1.6 billion contract with NASA covering cargo services through 2016.
NASA is counting on SpaceX for reliable — and on-time — cargo deliveries until Orbital Sciences Corp., the space agency's other resupply provider, can resume flights to the space station after an explosive launch failure in October that destroyed an Antares rocket, a Cygnus cargo craft and damaged a launch pad in Virginia.
Mike Suffredini, NASA's space station program manager, said officials shuffled the Dragon spaceship's cargo manifest to accommodate items that needed to launch in the wake of the Antares launch failure. The changes included the removal of a high-pressure oxygen tank from the Dragon's supply load to make room for more urgent cargo.
"That's been with the help of the SpaceX folks who have used quite a bit of ingenuity to put items into all the little cracks and crevasses as we kind of lean on the Dragon vehicle to supply ISS here for the next little while until the Orbital folks are flying again," Suffredini said.
Before the Antares failure, space station managers tried to keep the outpost provisioned with food, water, spare parts and other "consumables" at least six months ahead of time. The cushion allowed the station to keep functioning in case the outpost's fleet of cargo supply vehicles faced delays or other problems.
Suffredini said Jan. 5 that the six-month protection will now be reduced to around four months in order to keep a steady flow of research experiments going up to the space station.
With the grounding of Orbital's logistics vehicles and the retirement of the European Space Agency's Automated Transfer Vehicle — the station's largest cargo carrier in the post-shuttle era — SpaceX's Dragon capsule and Russia's Progress refueling and resupply freighter are the two main supply lines between Earth and the orbiting laboratory.
Japan's automated H-2 Transfer Vehicle also flies to the space station with supplies, but it only launches about once per year.
After its arrival Monday, the Dragon supply ship will remain at the space station for more than four weeks.
Astronauts will place a mix of research specimens, excess equipment, and items in need of repairs inside the spaceship's cargo module. It will be released from the space station's robot arm Feb. 10 for re-entry and splashdown in the Pacific Ocean a few hundred miles west of Baja California.
The splashdown will occur in the late afternoon, local time, with recovery operations expected to continue after sunset. SpaceX's previous Dragon recoveries have occurred in daylight.
SpaceX and NASA teams have approved a nighttime Dragon recovery for Feb. 10. SpaceX teams will hoist the Dragon capsule on to the deck of a recovery ship for a trip to a port near Los Angeles, where SpaceX will begin handing over its contents to NASA.
Follow Stephen Clark on Twitter: @StephenClark1.