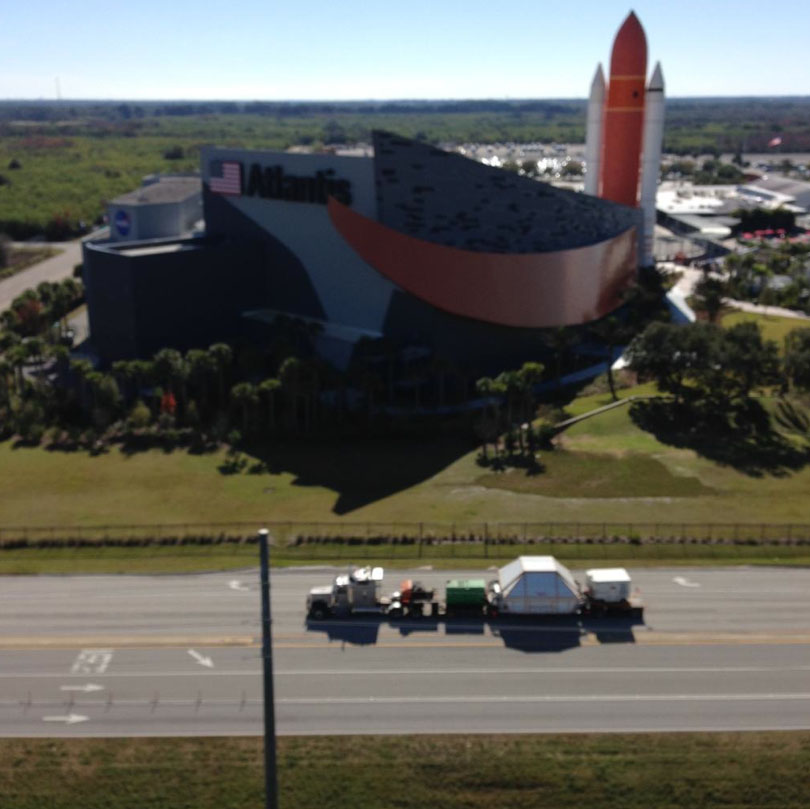 Completing a 2,700-mile journey across the United States, America's inaugural Orion spaceship arrived back home at the Kennedy Space Center on Thursday, just under two weeks after its trial by fire.
Orion, tucked in a shipping container, made the trek back to Florida from Naval Base San Diego in California, where the capsule was brought ashore from its Pacific splashdown.
"From a waypoint over the Pacific Ocean, there's your new spacecraft, America," NASA commentator Rob Navias said Dec. 5 as Orion descended gracefully under three main parachutes.
After launching from the Cape Canaveral Air Force Station at dawn, a United Launch Alliance Delta 4-Heavy rocket delivered Orion into its preliminary orbit. From there, the rocket's upper stage boosted Orion a second time, to reach a high point of 3,604 miles.
It was a two-orbit flight test to check out the spacecraft's avionics, software, radiation protection and heat shield, re-entering at 20,000 mph to simulate a deep-space return to stress its systems while unmanned.
"We have splashdown, Orion is back on Earth. America has driven a golden spike as it crosses a bridge into the future," Navias added at 11:29 a.m. EST, capping a four-hour, 24-minute flight in space.
"The flight itself was such a great success, but that's only the beginning of the story," said Orion Program Manager Mark Geyer. "Now we get to dig in and really find out if our design performed like we thought it would. This is why we flew the flight. We demonstrated on Dec. 5 that Orion is a very capable vehicle. Now we're going to keep testing and improving as we begin building the next Orion."
Initial inspection of the crew module turned up nothing unexpected. There were indications of some micrometeoroid orbital debris strikes on the sides of Orion.
With the spacecraft back at Kennedy, where it was assembled and prepared for launch, engineers will be able to remove the back shell of the spacecraft and perform inspections of its cabling, fluid lines, propulsion system and avionics boxes. Heat shield samples already have been removed and sent to a laboratory where their thickness, strength and charring will be examined.