A new navigation satellite lifted off aboard a Soyuz rocket Sunday and reached an orbital perch 12,000 miles above Earth to test upgraded capabilities aimed at improving positioning services for Russian military and civilian users.
The spacecraft will join Russia's Glonass navigation system, an analog to the U.S. military's GPS network.
The Glonass satellite launched at 2152 GMT (4:52 p.m. EST) Sunday on top of a Soyuz 2-1b booster from the Plesetsk Cosmodrome, a military facility about 500 miles north of Moscow, according to Russia's state-run RIA Novosti news agency.
The kerosene-fueled three-stage Soyuz launcher and a hydrazine-burning Fregat upper stage were supposed to deploy the Glonass spacecraft in orbit at an altitude of 12,000 miles about three-and-a-half hours after liftoff.
A statement from Roscosmos — the Russian Federal Space Agency — confirmed the 2,060-pound navigation satellite separated from the launcher in the correct orbit.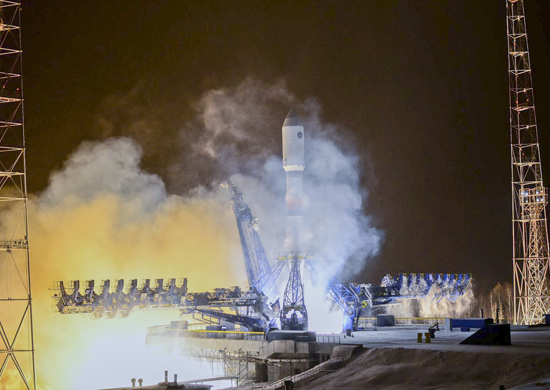 The payload sent into space Sunday is the second craft in a series of upgraded Glonass K satellites designed to last longer, transmit more navigation signals, and launch on smaller rockets.
Like the first Glonass K spacecraft, which launched in February 2011, the second satellite will demonstrate new technologies that Russia plans to incorporate in the future operational Glonass navigation system.
The Glonass K satellite is expected to operate for 10 years — an improvement from the seven-year design life of previous satellites — and features five navigation channels, including a new civilian L-band signal. The new craft are lighter, generate more electrical power, and are based on an unpressurized Express 1000K bus built by ISS Reshetnev.
"The Glonass K satellite will boost the system's accuracy, enhance its operational characteristics and expand application opportunities," said a description posted on ISS Reshetnev's website.
The introduction of the new-generation Glonass K satellites will allow Russia to transfer launches of its navigation spacecraft from the Baikonur Cosmodrome in Kazakhstan to Plesetsk, which sits on Russian territory. It will also reduce the Russian military's reliance on the Proton rocket, which launches three of the older design Glonass satellites at a time.
Russia is eager to retire the Proton rocket and move launches of government satellites to launch pads inside Russia.
Future Soyuz flights could launch two Glonass satellites in one mission.
The Glonass navigation constellation currently in orbit includes 24 operational satellites and two spares, enough to provide global coverage for users on land, at sea, or in the air, according to an official Roscosmos website.
Follow Stephen Clark on Twitter: @StephenClark1.