Updated with more details at 7:30 p.m. PDT (10:30 p.m. EDT; 0230 GMT)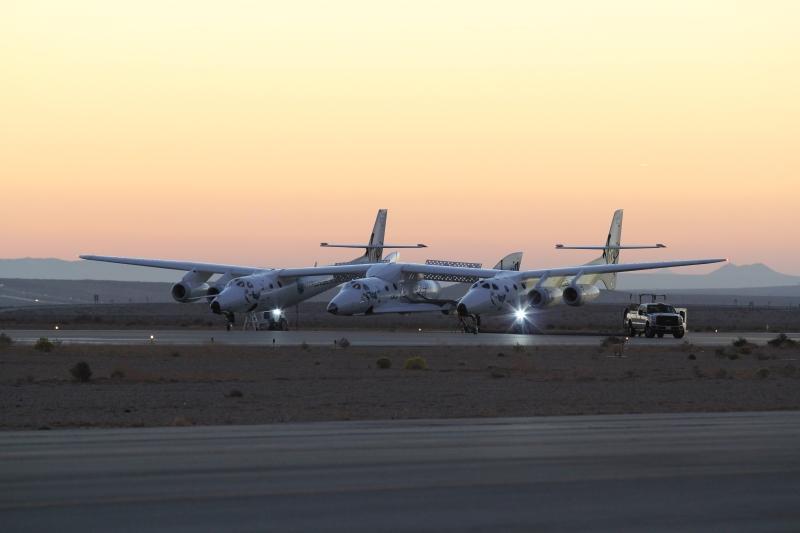 Virgin Galactic's SpaceShipTwo rocket plane crashed during a powered test flight over California's Mojave Desert on Friday, leaving one pilot dead and another seriously injured.
One of the spacecraft's two pilots died in the crash, and the other crewman was injured and transported to a local hospital, according to Stuart Witt, CEO of the Mojave Air and Space Port, where the flight originated.
Officials did not identify the people aboard SpaceShipTwo, but the pilots were employees of Scaled Composites, the company that built the rocket plane, according to Kevin Mickey, Scaled's president.
"We are human, and it hurts," Witt said. "Our hearts, thoughts, prayers are absolutely with the families and the victims."
The anomaly apparently occurred after the space plane fired its rocket motor following a high-altitude drop from Virgin Galactic's WhiteKnightTwo mothership at 10:10 a.m. PDT (1:10 p.m. EDT; 1710 GMT).
Moments later, something went wrong and officials declared an emergency, Witt said.
"Our primary thoughts at this moment are with the crew and family, and we're doing everything we can for them now," said George Whitesides, CEO of Virgin Galactic.
1 dead, 1 seriously injured when Virgin Galactic's #SpaceShipTwo crashes in California. @TomCostelloNBC starts us off pic.twitter.com/Rmvx2Y1siL

— NBC Nightly News (@NBCNightlyNews) October 31, 2014
Footage from television news helicopters in the area showed the desert floor littered with fragments of SpaceShipTwo.
Observers also reported spotting a parachute in the air.
"Space is hard, and today was a tough day," Whitesides said. "We are going to support the investigation as we figure out what happened today, and we're going to get through it. The future rests, in many ways, on hard days like this, but we believe we owe it to the folks who were flying these vehicles, as well as the folks who have been working so hard on them, to understand this and to move forward, which is what we'll do."
The Federal Aviation Administration said it is investigating the mishap. A team from the National Transportation Safety Board is expected to arrive in Mojave early Saturday to begin surveying the crash site.
"On behalf of the entire NASA family, I offer our deepest condolences to the family and loved ones of the pilot lost in today's accident involving Virgin Galactic's SpaceShipTwo, and we are praying for a speedy recovery of the other pilot," NASA Administrator Charlie Bolden said in a statement. "While not a NASA mission, the pain of this tragedy will be felt by all the men and women who have devoted their lives to exploration. Space flight is incredibly difficult, and we commend the passion of all in the space community who take on risk to push the boundaries of human achievement."
The suborbital spacecraft was making its first powered flight since January and was testing a redesigned rocket motor.
http://twitter.com/BBCBreaking/status/528263108469747712/
Virgin Galactic, part of Richard Branson's Virgin Group, was aiming to complete qualification of the rocket-powered plane in time to begin space tourist flights to the edge of space next year.
"We've always known that the road to space is extremely difficult — and that every new transportation system has to deal with bad days early in their history," Branson said in a statement. "Space is hard — but worth it. We will persevere and move forward together."
SpaceShipTwo is designed to reach the internationally-recognized boundary of space at an altitude of 100 kilometers, or about 62 miles. More than 700 individuals have signed up to pay approximately $250,000 to ride the rocket plane when it is operational.
Slung beneath the WhiteKnightTwo carrier plane, the spacecraft took off at 9:19 a.m. PDT (12:19 p.m. EDT; 1619 GMT) from the Mojave Air and Space Port in California. The takeoff was delayed more than three hours to wait for bad weather to clear the area.
The test flight was the 55th flight of the SpaceShipTwo vehicle, and the craft's 35th free flight. It was the fourth time SpaceShipTwo had fired up its hybrid rocket motor in flight, and the first powered mission since Virgin Galactic and Scaled Composites, the spacecraft's builder, switched from a rubber-based propellant to a plastic-based fuel mix.
After its release from the mammoth WhiteKnightTwo mothership, the rocket plane was supposed to fire its rocket motor then configure its wings to glide back to Earth for a landing on a runway at Mojave, Calif., where it took off under the WhiteKnightTwo carrier craft.
The 60-foot-long rocket plane — about the size of a Falcon 900 business jet — is based on the SpaceShipOne craft that won the $10 million Ansari X Prize in 2004 after completing two flights of a private reusable manned spacecraft within two weeks.
Thoughts with all @virgingalactic & Scaled, thanks for all your messages of support. I'm flying to Mojave immediately to be with the team.

— Richard Branson (@richardbranson) October 31, 2014
Virgin Galactic is one of several companies going after the space tourism market. SpaceShipTwo was designed to fly up to six passengers on suborbital jaunts, giving tourists a chance to see the curvature of the Earth and float in weightlessness for a few minutes each trip.
Officials decided this spring to modify the space plane's rocket motor to use a different type of fuel. Instead of burning a rubber-based fuel mix known as HTPB used on SpaceShipOne and SpaceShipTwo's initial test flights, Virgin Galactic selected a new propellant grain known as polyamide which officials said offered improved performance.
"This was a new fuel formulation that had been proven and tested on the ground many times," Mickey said in a press conference.
Mickey described the change as a "small nuance to the rocket motor design."
"We were flying a rocket motor today that had been thoroughly tested on the ground and had been through a qualification series, and we expected no problems with the motor," Mickey said.
The hybrid rocket motor burns the solid fuel with nitrous oxide — laughing gas — as an oxidizer.
John "Danny" Olivas, a former space shuttle astronaut and an independent flight safety consultant, said it is too early to know what caused the crash, but SpaceShipTwo flew three successful rocket-powered test flights before engineers modified the rocket motor.
"I think the most notable thing that is significant was that the prior test flights had been with a different motor configuration and a different propellant system that what was presently being tested," Olivas said.
"It's still very early to tell exactly what happened — it's very speculative," Olivas said. But whenever you have a significant change such as with the motor, that's going to be one of the first things you need to look at in the investigation."
Space Ship Two was tracked on Flightradar24. Signal was lost at 17.12 UTC 10 km north of Mojave pic.twitter.com/0aga5Ka0SQ

— Flightradar24 (@flightradar24) October 31, 2014
Follow Stephen Clark on Twitter: @StephenClark1.