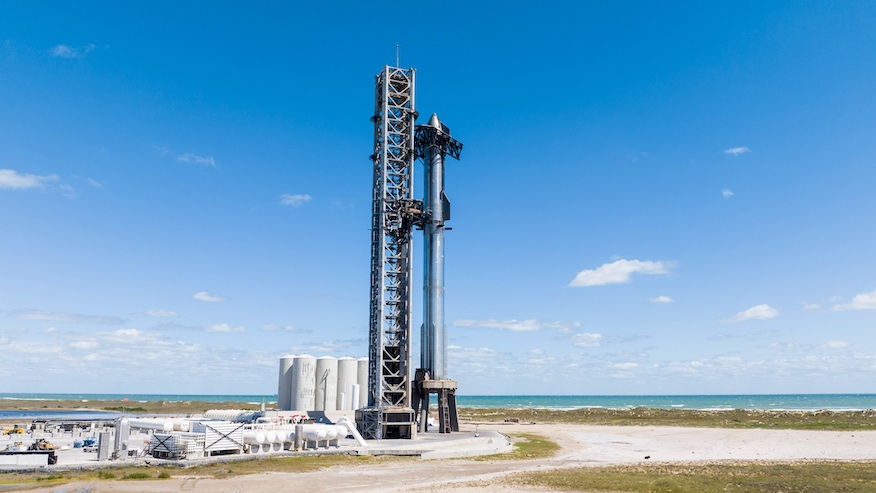 Update Oct. 19: Added comment from the Federal Aviation Administration.
Update Oct. 18: Added date that the U.S. Fish and Wildlife Service received the final biological assessment from the Federal Aviation Administration.
SpaceX leadership is heading to Capitol Hill on Wednesday to lobby for greater efficiency when it comes regulatory approval from the Federal Aviation Administration (FAA). The company is hoping to streamline the process of issuing launch licenses for both Starship test flights and more routine Falcon 9 rocket missions.
Ahead of the hearing before the U.S. Senate Subcommittee on Space and Science, the U.S. Fish and Wildlife Service told Spaceflight Now its regulatory approval process for the second Starship test flight could potentially last until the spring of 2024.
In a statement on Tuesday, a FWS spokesperson said their agency received a final biological assessment from the FAA Oct. 5 and FWS has up to 30 days to review it. This came after the FAA sent FWS a letter in August, which requested "reinitiation of Endangered Species Act consultation."
"Under Section 7 of the Endangered Species Act, reinitiation of formal consultation is required when a project and its impacts change significantly, the amount of take issued previously is exceeded, we have new information on listed species not previously considered, or a new species is listed," the spokesperson said. "Reinitiation involving major changes in effects analysis or changes in the [FWS'] biological opinion are addressed fully in a new consultation. For SpaceX reinitiation with FAA, we are considering the operation of a water deluge system."
That new deluge system was part of a list of 63 corrective actions created as part of the SpaceX-led mishap investigation following the failed launch of the first integrated flight test on April 20, 2023.
The system has been used a few times, including on a pair of static fire tests of Booster 9, which is set to be the next to fly for SpaceX, along with Ship 25.
On Tuesday, the company unstacked the rocket after stacking it just a day before. Following Monday's stacking operation, SpaceX said in a post on the social media site X, "Starship fully stacked while team prepares for a launch rehearsal. We continue to work with the FAA on a launch license."
However, that license could still be a ways off. Following the 30-day review of the final biological assessment from the FAA, the FWS has "135 days to issue an amended biological opinion."
That 135 days is comprised of the formal consultation period, which could last up to 90 days, and the process of crafting its biological opinion, for which it has 45 days.
Spaceflight Now reached out to the FAA for comment on what actions it needs to take once it receives the FWS' amended biological opinion. A spokesperson for the FAA said the agency "will announce whether any environmental mitigations are required for the water deluge system when the environmental review is complete."
Starship fully stacked while team prepares for a launch rehearsal. We continue to work with the FAA on a launch license pic.twitter.com/1uJdDmCouI

— SpaceX (@SpaceX) October 16, 2023
Political pressure mounting for launch
The adjusted timeline comes as Bill Gerstenmaier, SpaceX's Vice President of Build and Flight Reliability, prepares to testify before the Senate Subcommittee on Space and Science on Wednesday in a panel focusing U.S. commercial human space activities.
Testimony from Gerstenmaier and representatives from Blue Origin, Virgin Galactic, National Aerospace Solution and CS Consulting, will run the gamut from "suborbital flights to lunar surface habitats."
That last one is key for SpaceX and the Starship program. The rocket was chosen as the Human Landing System (HLS) for the Artemis 3 and Artemis 4 missions for NASA.
Several demonstration flights of Starship will be required before NASA will authorize its astronauts to fly aboard Starship. Those include a ship-to-ship refueling demonstration as well as an uncrewed lunar landing.
In an interview with Ars Technica this week, a senior SpaceX official said that a backlog with FAA work caused them to make some tough calls on what they want the agency to prioritize regarding their launch vehicles.
"Licensing at this point for Starship is a critical path item for the Artemis program and for our execution," a SpaceX official said. "Certainly looking forward into next year, we really need to operate that program at a higher cadence of flights. Six to eight months turns, that's not great for the program."
At the rate that regulatory approval is moving, that turnaround could theoretically become a year or more.