Update 4 a.m. EDT: A Falcon 9 lifted off from Vandenberg Space Force Base, California, at 12:43 a.m. PDT (0743 UTC). Its first stage booster, making its 14th flight, landed successfully on a drone ship in the Pacific. Upper level winds forced SpaceX to scrub the Starlink 6-22 mission from Cape Canaveral.
SpaceX was hoping to kick off the second week of October with a pair of back-to-back Falcon 9 launches, lifting off from both of its Space Force-based launch pads.
However, at about T-23 seconds, a hold was called by the launch director. Minutes later, SpaceX said they were standing down from the Starlink 6-22 launch attempt from Space Launch Complex 40 (SLC-40) at Cape Canaveral Space Force Station in Florida due to strong upper-level winds.
SpaceX had been targeting a liftoff at 11:38 p.m. EDT (0338 UTC) to send up 22 Starlink V2 Mini satellites up to low Earth orbit. The launch had already been delayed twice as pre-launch preparations had fallen behind schedule.
The scrub was followed less than 4.5 hours later by the Starlink 7-4 mission, which successfully launched at 12:43 a.m. PDT (3:43 a.m. EDT, 0743 UTC) from Space Launch Complex 4 East (SLC-4E) at Vandenberg Space Force Base in California. Because of its trajectory, its payload consists of a slightly smaller load of 21 Starlink V2 Mini satellites.
Both mission featured Falcon 9 rockets. The two first-stage boosters, B1067 at SLC-40 and B1063 at SLC-4E, were each aiming to launch for a 14th time.
The Starlink 6-22 is now looking to launch no earlier than Monday, Oct. 9, at 8:42 p.m. EDT (0042 UTC).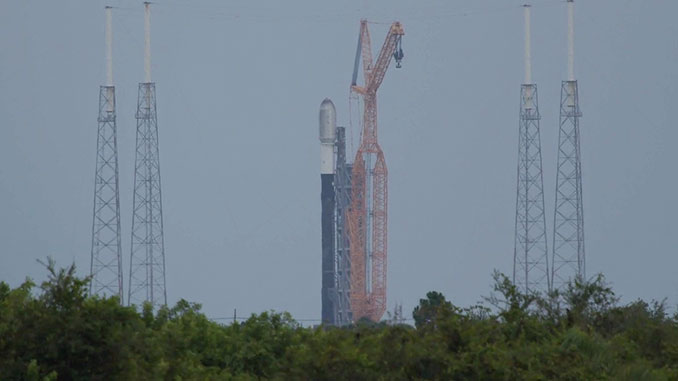 Busier every year
SLC-40 continues to be a workhorse launch pad for SpaceX. Following the Starlink 6-22 mission, the company will have used it to launch a total of 148 times, a majority of the 263 Falcon 9 launches that will have taken place by that point.
SpaceX is also greatly ramping up activity at Vandenberg. Following the Starlink 7-4 mission, it will account for 21 out of the 22 industry launches from VSFB so far in 2023. The other mission was Firefly Aerospace's Victus Nox launch in September.