Update 11:00 p.m. EDT: SpaceX's Falcon 9 rocket successfully launched from SLC-40 at Cape Canaveral Space Force Station. The first stage booster, tail number B1077, landed on the drone ship, A Shortfall of Gravitas.
Update 8:58 p.m. EDT: SpaceX shifted the launch time of the mission to a new T-0 at 10:21 p.m. EDT (0221 UTC).
Update 7:52 p.m. EDT: SpaceX adjusted the T-0 liftoff to 9:31 p.m. EDT (0131 UTC). Beyond this point, SpaceX has three additional launch opportunities to launch the Starlink 6-13 mission on Thursday.
Update 7:05 p.m. EDT: SpaceX pushed back the T-0 liftoff to 8:40 p.m. EDT (0040 UTC on Sept. 1). SpaceX noted in a post on X, formerly Twitter, that its launch teams were keeping an eye on the impacts of Hurricane Idalia on the Cape.
Original story:
SpaceX is preparing a Falcon 9 rocket for what will be its 60th orbital launch of the year. The Starlink Group 6-13 mission is targeting a liftoff no earlier than 7:52 p.m. EDT (2352 UTC) on Thursday, Aug. 31, with a batch of 22 Starlink V2 Mini satellites headed to low Earth orbit.
With this launch and another about to fly from California, SpaceX is on the cusp of breaking the record it set in 2022 of 61 missions.
According to analytics firm BryceTech, SpaceX continues to dominate the launch market. In the first two quarters of the year, SpaceX notched 43 orbital launches. That's just ten shy of the 53 launches from every other launch provider around the world over the same timeframe.
Put another way, SpaceX launched 447,209 kg of spacecraft upmass between the first two quarters. The next closest launcher was the China Aerospace Science and Technology Corporation (CASC), which launched 47,034 kg in the same period.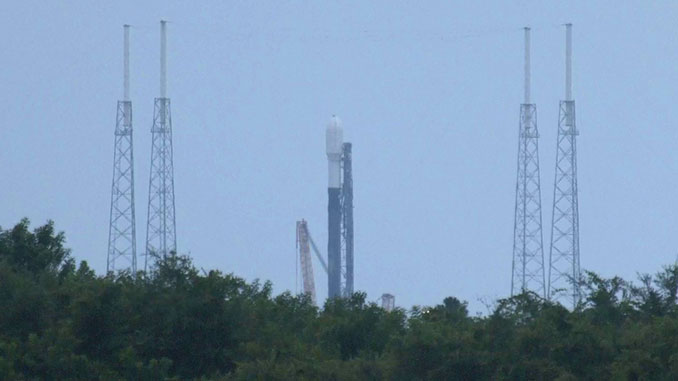 SpaceX was poised to tie its 2022 launch record with a mission from Vandenberg Space Force Base that was scheduled for liftoff Thursday morning. However, an engine issue with one of the Falcon 9's Merlin engines played spoiler to what would've been a double launch day for SpaceX.
The company is currently targeting no earlier than Friday, Sept. 1, at 7:26 a.m. PDT (10:26 a.m. EDT, 1426 UTC) to launch that mission on behalf of the U.S. Space Development Agency. So far, they have not provided an update on the status of the engine issue. Another Starlink mission is scheduled for the Cape as soon as Sunday.
Weather could also stymie the Thursday night Starlink launch from Florida. The 45th Weather Squadron at Cape Canaveral Space Force Station forecast that there was only a 20 percent chance of favorable weather at the opening of the launch window.
Those odds improve to 60 percent go whether by the end of the window, which closes at 11:29 p.m. EDT (0329 UTC on Sept. 1). There are five backup opportunities within that window and another six the following day.
The booster supporting the Starlink 6-13 mission, tail number B1077, previously flew six missions, including the Crew-5 mission. It will land in the Atlantic Ocean on SpaceX's drone ship, 'A Shortfall of Gravitas'.
SpaceX's other Florida-based drone ship, 'Just Read the Instructions', pulled into Port Canaveral earlier in the day after sheltering in the Bahamas as Hurricane Idalia pushed through Florida and up the East Coast.