An upcoming player in the space tourism game offered a look inside their Florida manufacturing site as they continue to ramp up towards customer flights in 2024. Space Perspective is offering a balloon-based opportunity for customers to experience the overview effect in a manner less jarring than launching aboard a rocket or a space plane.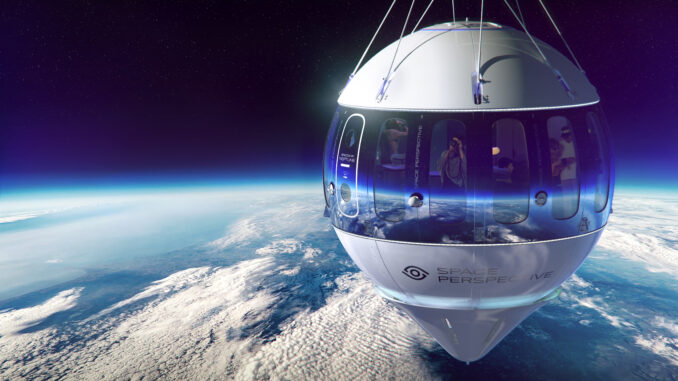 On Tuesday, the company welcomed press and dignitaries to its Seely SpaceBalloon Facility in Titusville where leaders spoke about the enterprise inside an expansive, 700-foot-long tent that houses a pair of tables stretching 600 feet in length.
"At Space Perspective, we are opening space to unprecedented numbers of people through our carbon-neutral Spaceship Neptune that carries eight explorers and a captain on a six-hour, gentle and astounding journey to space," said company founder and co-CEO Jane Poynter.
"And we're doing it from right here on Florida's Space Coast."
During a passenger flight, customers will either launch from land or aboard Space Perspective's Voyager ship to begin their six-hour flight. Eight passengers aboard the Spaceship Neptune capsule will ascend at a rate of 12 miles per hour until apogee at about 100,000 feet is reached.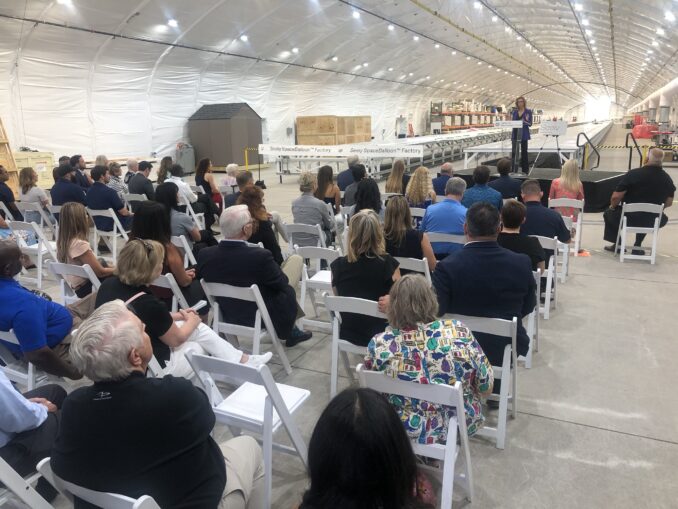 The balloon and capsule will take another two hours to make their descent to an oceanic splashdown where the capsule and balloon will be picked up by a recovery vessel.
Taber MacCallum, the other founder and co-CEO of Space Perspective, said they are in the process of making the first balloon that will be used to support the flight of an uncrewed capsule. 
"We'll go through a series of test flights without people before we then move to fly with people," MacCallum said.
Even without the promise of a microgravity experience, the cost of reaching near the edge of space is not cheap. MacCallum said the current cost for a seat is $125,000. He said to date about 1,650 people have signed up for a flight, for a total of more than $200 million backlog.
He said it will take at least a few years to work through those first customers.
"As we start to fly with people, we'll get even more in, so I think what's generally true about this market, it is operationally limited," MacCallum said. "We will be limited by how quickly we can safely add more capsules, add more launch facilities and grow our operations, not the market itself."
From a safety standpoint, MacCallum said like SpaceX, Virgin Galactic and Blue Origin, they are regulated during flight by the Federal Aviation Administration (FAA) through its Office of Commercial Space Transportation.
He added that following splashdown in the ocean, they are also regulated by the U.S. Coast Guard.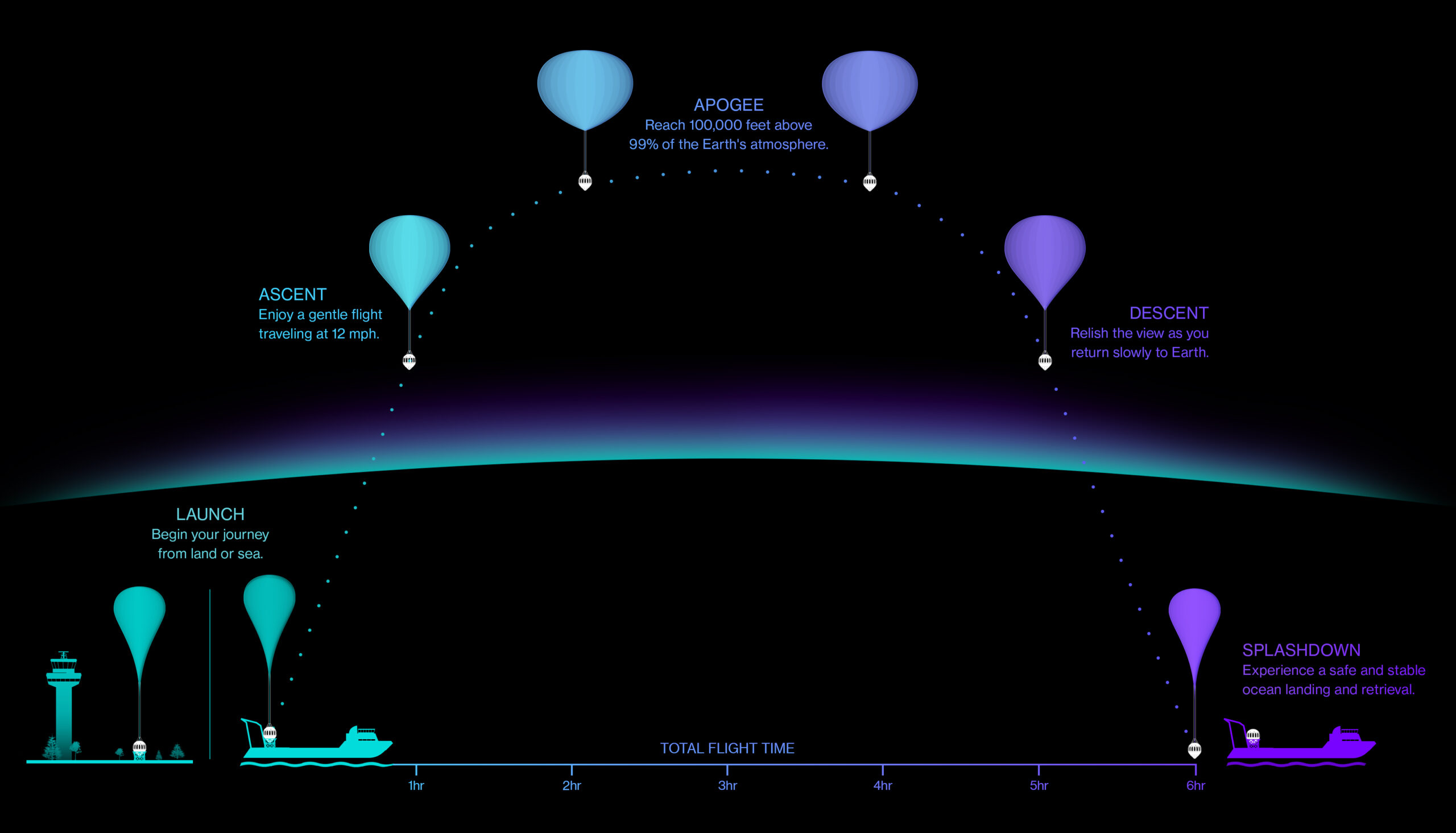 "So, we go through a licensing process. The basis of that licensing process starts in a series of flights that are without crew so that we can test the backup systems and redundant systems and then we go into flights with people," MacCallum said. "So, it's a stepwise process with a lot of gates that result in a license to fly."
Among those safeguards is partnering with the company Operator Solutions, a rescue service that also supports the private astronaut missions for Axiom Space in the event of an emergency.
Another part of the their backup systems is a parachute built into the capsule itself.
"We'd only ever use a parachute in the event of an incident or a failure," said Taber MacCallum, the founder and co-CEO of Space Perspective. "So, the parachute is always there as a backup, but ascending and descending in a balloon is the safest way to fly."
Path to flight
MacCallum said they will begin their test campaign with the first uncrewed flight targeting later in 2023 with crewed flights taking place in 2024.
As the market continues to open up access to varying levels of the space experience, MacCallum said he doesn't see their business as being in direct competition with the likes of the rocket companies.
"It's a different experience and I really don't look at SpaceX or Blue or Virgin as really competitors. We work very closely together in the regulatory side, the safety side," he said. "We're sort of like the entry, right? We're the slowest to go up, the smoothest. So, I think from doing our kind of experience, people might then go onto Blue or Virgin, but it's certainly designed to be the most accessible."
MacCallum said there are some overseas locations that are competing to be next in line for access to Space Perspective's launch services, but didn't go into detail on where those would be located.
Frank DiBello, the president and CEO of Space Florida, said it's exciting to see Space Perspective enter into this phase of operations and believes it will continue to spur the space tourism market onto further growth.
"More and more companies are going to see that there is a pent up demand for humans to fly to the edge of space or experience a space perspective," DiBello said. "And that's why this is so cool. So cool for Florida."