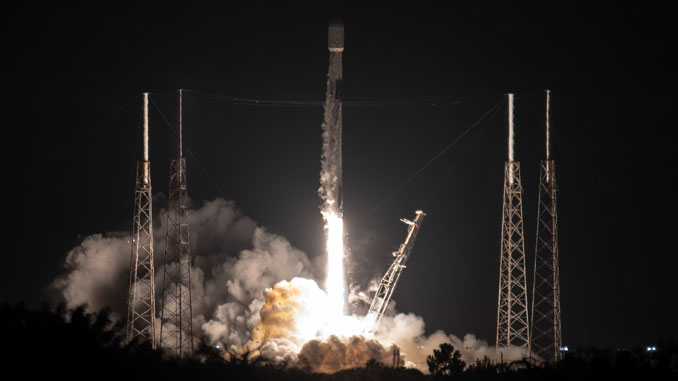 A SpaceX Falcon 9 rocket launched from Cape Canaveral Sunday carrying 22 more second-generation Starlink satellites into orbit, breaking a launch pad turnaround record.
The booster, making its fourth flight, lifted off from Space Launch Complex 40 at 10:41 p.m. EDT (0241 UTC). It was three days 21 hours and 41 minutes since the launch of Intelsat's Galaxy 37 mission from pad 40. The previous record of 4 days 3 hours and 11 minutes was set less than two weeks ago between Starlink missions 6-6 and 6-7. Sunday's launch was pushed back from its original time of 9 p.m. EDT (0100 UTC) when the rocket went up right at pad 40 at around 5 p.m. EDT (2100 UTC), which is later than usual.
After lifting off from Space Launch Complex 40, the Falcon 9 headed south-east, targeting an orbit inclined at 43 degrees to the equator. After separating from the second stage about two and a half minutes into flight, booster 1078 arced downrange for a landing on the drone ship A Shortfall of Gravitas, which will be stationed in the Atlantic east of the Bahamas.
The booster had previously flown the Crew-6, SES O3b mPOWER and the Starlink 4-4 missions. Its last launch was 37 days ago.
Two burns of the second stage place the satellites into the required circular orbit. Separation of the 22 satellites occurred about one hour, five minutes after launch.
It was the ninth launch of the so-called V2 mini satellites which are larger and have four times the bandwidth of the previous models. The full-sized V2 Starlink satellites are due to be launched by SpaceX's fully-reusable Starship vehicle, but the delayed debut of Starship led SpaceX to create a condensed version of the satellites so they could be launched on Falcon 9.
Following the successful conclusion of the Starlink 6-8 mission, based on statistics compiled by Jonathan McDowell, SpaceX has now launched 4,903 Starlink satellites, and the number of Starlink satellites currently in orbit is approximately 4,562.
In early May, SpaceX announced it had more than 1.5 million subscribers to Starlink. The company's internet service is available in more than 60 countries.