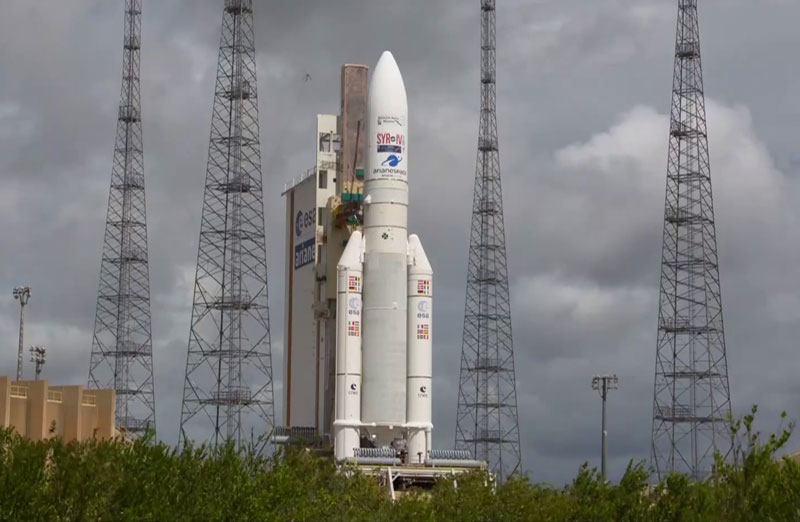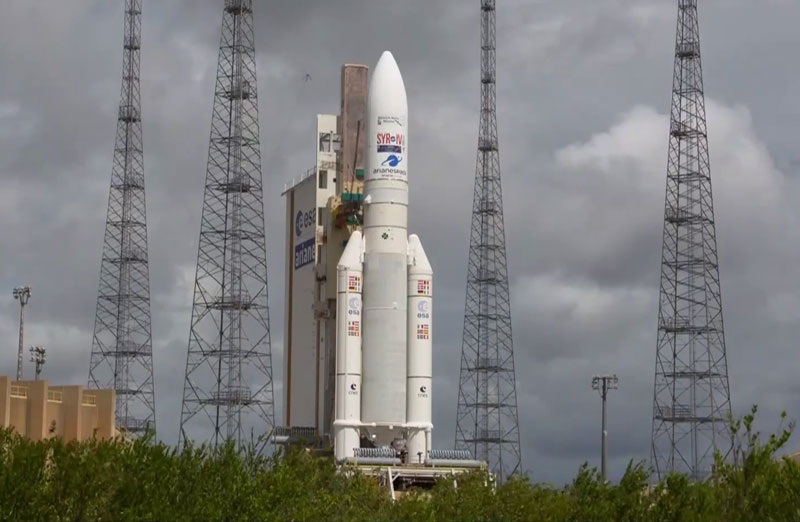 The last Ariane 5 rocket was hauled to the launch pad on Monday at the Guiana Space Centre, Europe's South American spaceport. Ariane 5, which for years was the world's leading commercial satellite launcher, is scheduled to make its final lift off on Tuesday, carrying a French military satellite and a communications technology testbed spacecraft for Germany.
Propelled by a 540-horsepower, diesel-powered tug, the 180-foot-tall (54.8-meter) Ariane 5 rocket rolled out of its final assembly building at jungle launch site and travelled along rails to the ELA-3 launch zone. The 1.7-miles (2.7-kilometer) journey took about two hours. With the rocket in place at the pad, technicians will work to connect the mobile launch table to the ground propellants lines that will feed liquid hydrogen and liquid oxygen into the rocket during the countdown.
Liftoff of this final mission, designated VA261, is scheduled at the opening of a 95-minute launch window that opens at 6:30 p.m. Kourou time (5:30 p.m. EDT / 2130 UTC) on Tuesday. The Ariane 5 will carry the Heinrich-Hertz and Syracuse 4B satellites into a geostationary transfer orbit from the Guiana Space Center on the northeastern coast of South America.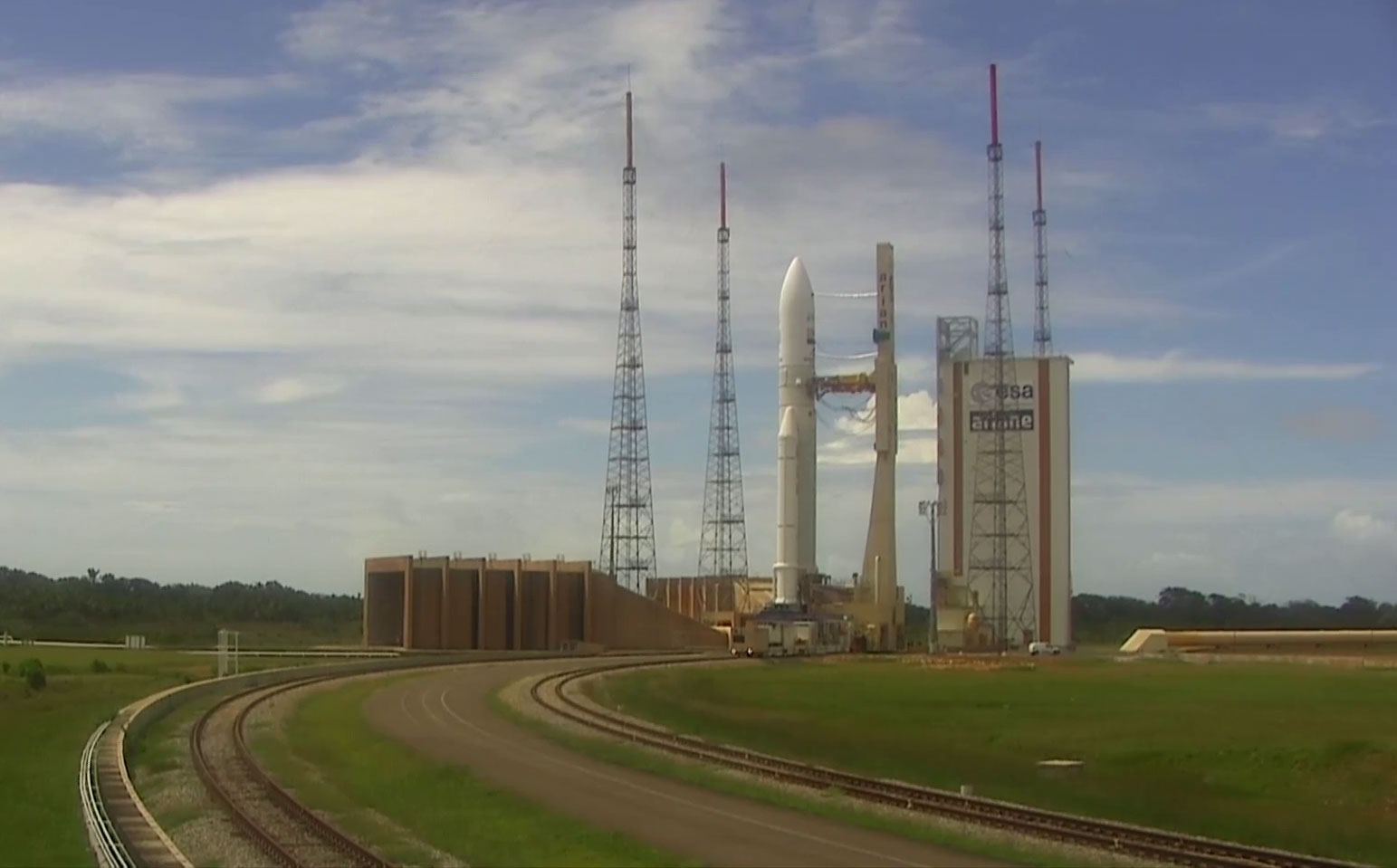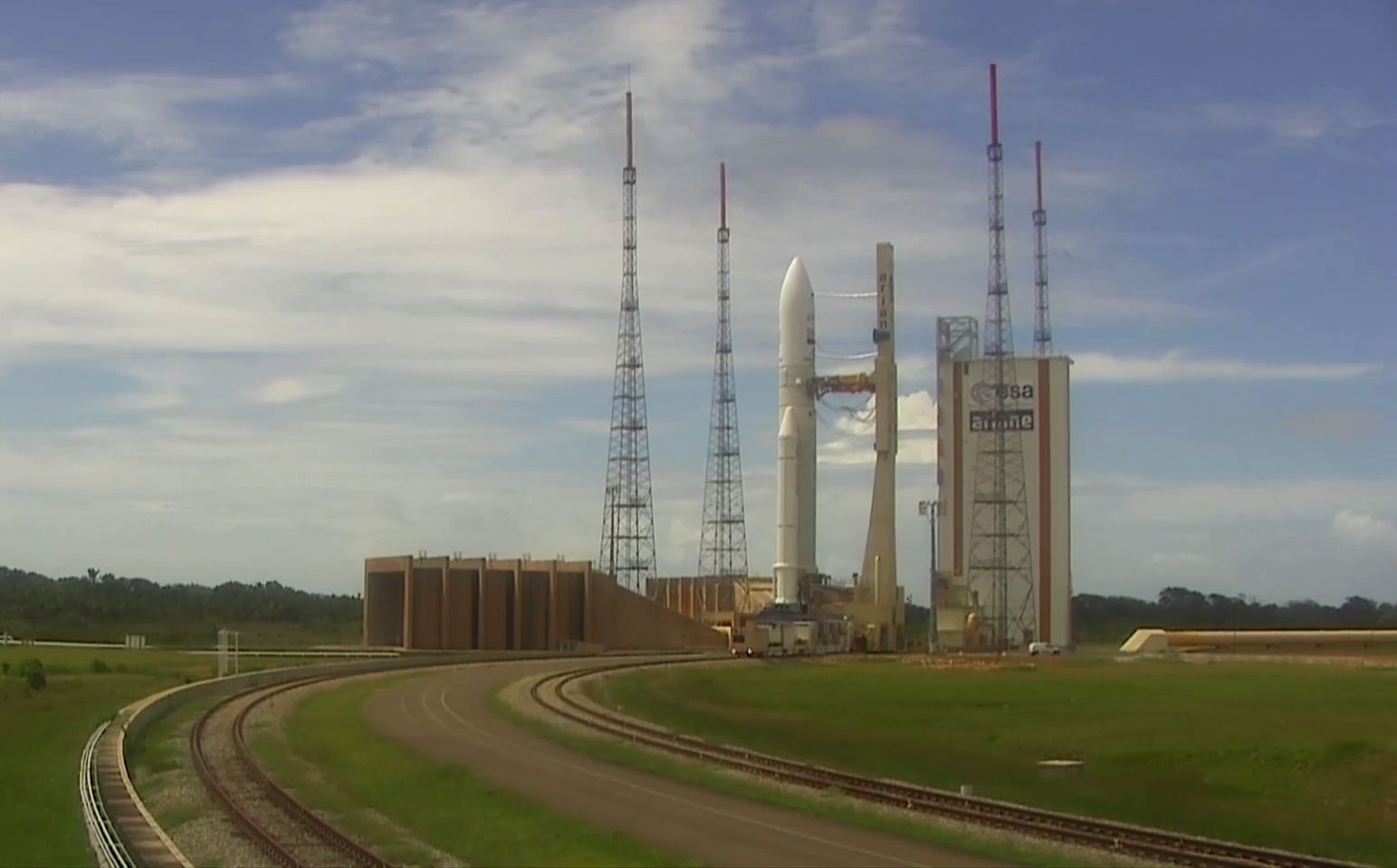 Syracuse 4B, built by Airbus, will relay secure communications between French military aircraft, ground vehicles, and naval vessels, including submarines. It was built by an industrial consortium formed by Thales Alenia Space and Airbus Defence and Space. The Heinrich Hertz satellite, built by OHB, will test new communications technologies on a mission funded by the German space agency, DLR. The spacecraft features onboard processors that can be reprogrammed to employ new communication protocols as they are developed.
This last mission will be the 117th for the Ariane 5 since it was introduced in 1996. The European rocket, marketed by Arianespace, was once dominant in the commercial launch business, but lower-cost launch services from Elon Musk's SpaceX have eroded its position.
The retirement of the Ariane 5 will for now leave Europe without its own independent access to space. The new Ariane 6 vehicle is not expected to make its inaugural launch until 2024, years later than planned, and the Vega C small satellite launcher has been grounded since a failure in December 2022. In addition, the Russian invasion of Ukraine ended a cooperative venture that launched Soyuz rockets from Europe's French Guiana spaceport.