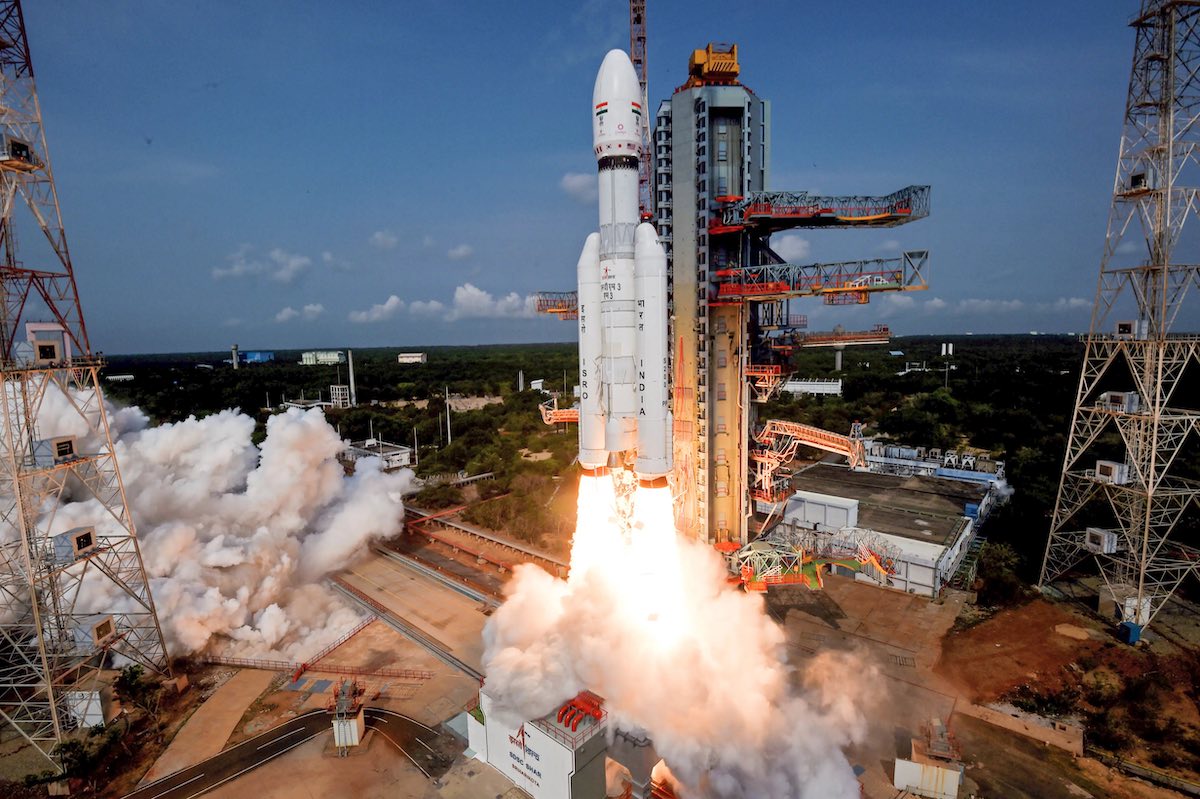 The successful launch of 36 more OneWeb satellites aboard India's most powerful rocket Saturday brought the total number of OneWeb spacecraft in orbit to 618, enough for the London-based company to start global broadband service later this year.
The mission was the penultimate launch for OneWeb's first-generation satellite network, with another batch of spare spacecraft scheduled for launch on a SpaceX Falcon 9 rocket in May. The launch was the 18th flight dedicated to deploying OneWeb satellites, a tally that includes 13 launches on Russian Soyuz rockets booked with the French launch service provider Arianespace, three SpaceX missions, and two Indian rocket flights arranged through New Space India Ltd., the commercial arm of the Indian Space Research Organization.
The milestone mission capped a decade-long effort to develop, build, and launch the OneWeb network, overcoming bankruptcy and the fallout of Russia's invasion of Ukraine last year.
"This is the most significant milestone in the history of OneWeb, as we reach the satellites needed for global coverage," said Neil Masterson, OneWeb's CEO. "Over several years, we have remained focused on our commitment to deliver a network that will provide connectivity for our customers and communities that need it most. With today's satellite deployment, facilitated by our expert team and our partners at ISRO and NSIL, we are realising this central ambition and are even closer to changing lives at scale."
The Indian LVM3 rocket — also called the GSLV Mk.3 — blasted off from the Satish Dhawan Space Center, located on Sriharikota Island on India's east coast, at 11:30:20 p.m. EDT Saturday (0330:20 UTC Sunday) after a smooth countdown. Liftoff occurred at 9 a.m. local time in India.
The 143-foot-tall (43.5-meter) rocket ignited two powerful S200 solid rocket boosters as the countdown clock reached zero. The boosters quickly powered up to generate 2.2 million pounds of thrust, propelling the LVM3 rocket off the launch pad at the Indian spaceport. The rocket initially headed southeast over the Bay of Bengal, then turned south in a maneuver designed to avoid an overflight of Sri Lanka.
The LVM3's two core stage air-lit Vikas engines ignited about two minutes into the flight, and the burned-out boosters jettisoned to call into the sea. The nose cone on top of the rocket jettisoned moments later to reveal the OneWeb satellites mounted to a dispenser structure. The core stage separated and the cryogenic third stage ignited a hydrogen-fueled engine to fire more than 10 minutes and accelerate the OneWeb satellites to orbital velocity.
The OneWeb satellites began separating from their dispenser on the GSLV's upper stage at T+plus 19 minutes, 42 seconds. The spacecraft deployed in groups of four over the following hour.
Massimiliano Ladovaz, OneWeb's chief technology officer, tweeted late Saturday that ground controllers established contact with all 36 satellites after deployment from the Indian launch vehicle. U.S. military tracking data confirmed the rocket placed the satellites into an on-target near-circular orbit with an altitude of about 380 miles (450 kilometers) and an inclination of 87.4 degrees to the equator.
The OneWeb satellites, each weighing about 325 pounds (147.5 kilograms at launch), were expected to deploy solar panels and activate xenon ion thrusters to maneuver into their operational orbit at an altitude of 745 miles (1,200 kilometers). Once in their final orbit, the satellites will be ready to enter commercial service later this year.
OneWeb's satellites are built in a factory just outside the gates of NASA's Kennedy Space Center in Florida by a joint venture between OneWeb and Airbus Defense and Space. The satellites are are designed to beam low-latency broadband internet signals to customers around the world. Based in London, OneWeb is one of several operators either already launching large fleets of internet satellites, or planning to begin launches soon.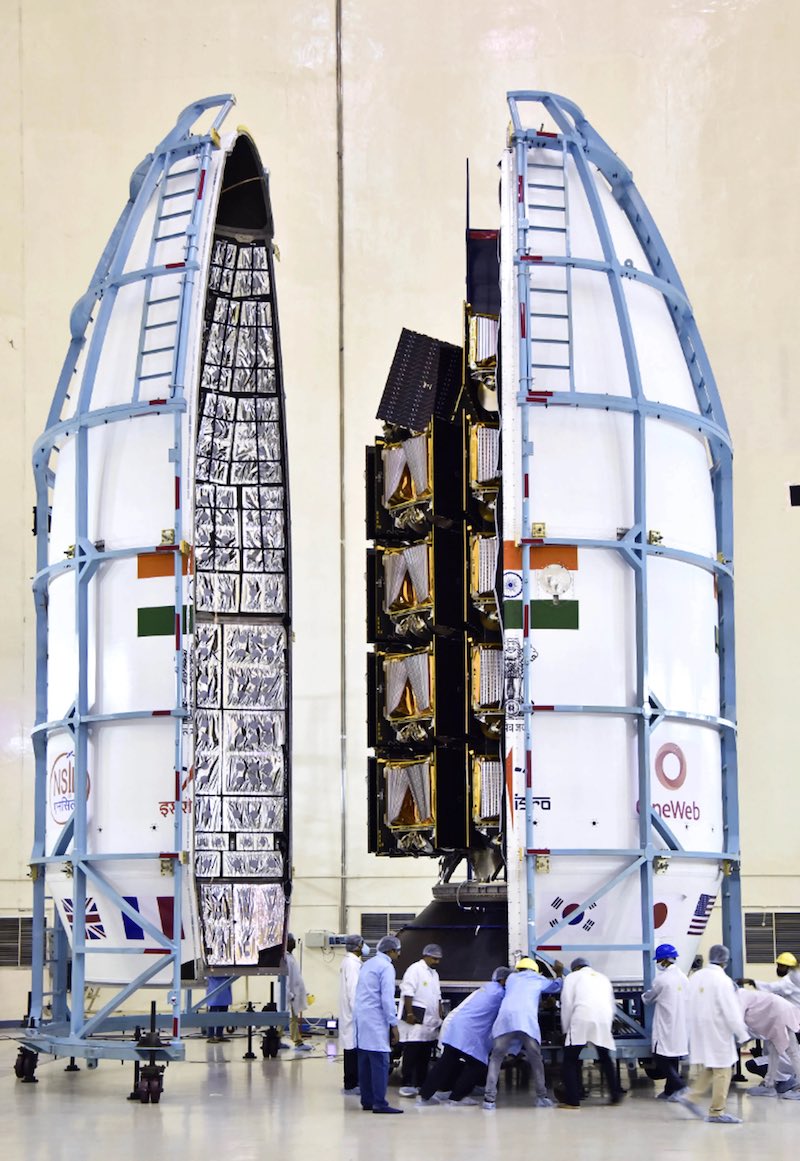 SpaceX's Starlink internet constellation, which flies at lower altitudes than OneWeb, currently includes more than 3,800 satellites in orbit. Amazon's Kuiper constellation will launch its first prototype satellites later this year, with plans to deploy more than 3,200 satellites in the next few years.
OneWeb originally booked launches on Russian Soyuz rockets through Arianespace, which had commercial rights to market Soyuz launches on the global market.
Russia's space agency refused to launch more missions for OneWeb after Western governments levied sanctions on Russia in response to the country's invasion of Ukraine last year. Officials from OneWeb do not expect to regain custody of 36 OneWeb satellites that were stranded at the Russian-controlled Baikonur Cosmodrome in Kazakhstan when launches were suspended.
The company quickly booked launches with SpaceX and NSIL for the remaining launches required to complete the first-generation network. OneWeb also built replacements for the satellites confiscated by Russia.
"This launch is a very important milestone for ISRO as we demonstrated the successful launch of a second consecutive commercial payload of OneWeb," said S. Somanath, chairman of ISRO, India's space agency. "This valued customer trusted our capability and we have proved it in a very short span of time."
An Indian GSLV Mk.3 rocket launched in October with 36 OneWeb satellites, and three SpaceX missions from Cape Canaveral using Falcon 9 rockets in December, January, and earlier in March added 120 more satellites to the fleet. The 36 OneWeb satellites launched Saturday brought the number of active OneWeb spacecraft to 618.
OneWeb has reported failures of two satellites in their constellation.
The final launch of OneWeb's first-generation network is planned for early May on a SpaceX Falcon 9 rocket from Vandenberg Space Force Base, California. That mission will carry 15 spare satellites for OneWeb, plus a prototype for OneWeb's next-generation constellation, which could number thousands of spacecraft.
The next OneWeb launch with SpaceX will share a ride to orbit with five spare satellites for Iridium's voice and data relay network.
Email the author.
Follow Stephen Clark on Twitter: @StephenClark1.