STORY WRITTEN FOR CBS NEWS & USED WITH PERMISSION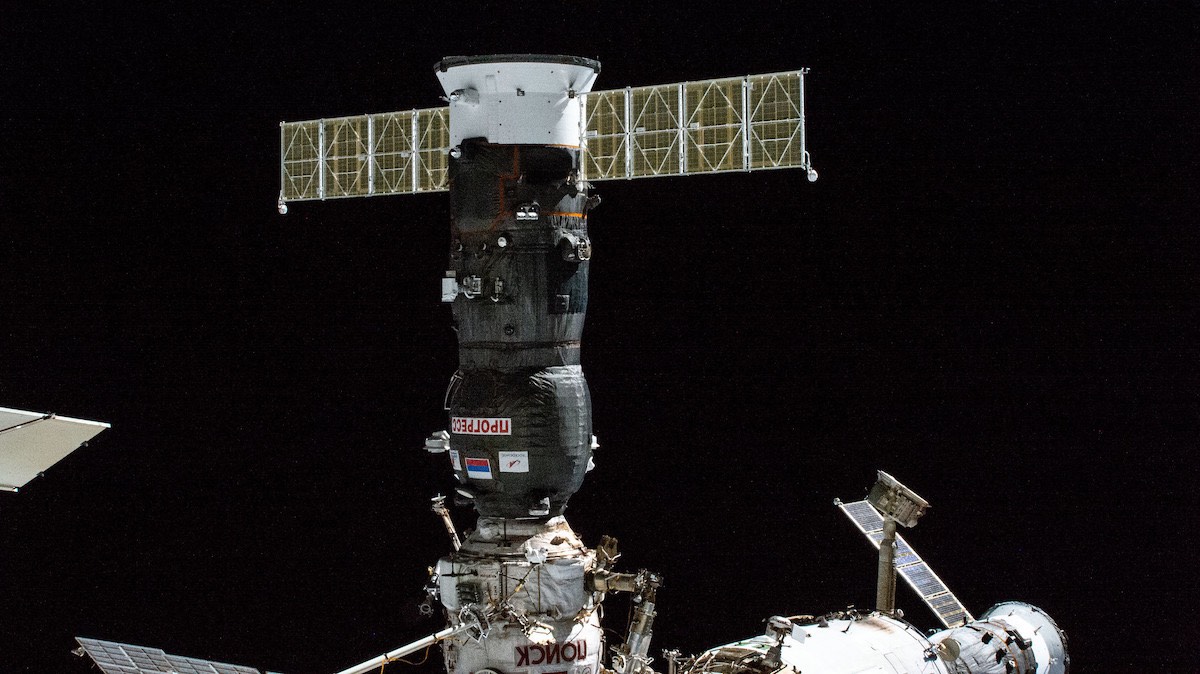 A Russian Progress supply ship successfully docked with the International Space Station early Saturday but in an unlikely, presumed coincidence, another Progress, docked at a different port, suffered a sudden loss of coolant similar to an incident that disabled a Soyuz crew ship in December.
It was not immediately known if the Progress MS-21/82S spacecraft suffered a malfunction of some sort or if it might have been hit by space debris or a micrometeoroid, like the small particle that ruptured a coolant line on the Soyuz MS-22/68S crew ferry ship two months ago.
The Russian space agency Roscosmos revealed a "depressurization" event via the agency's Telegram account, saying the space station's seven-member crew was in no danger. But the post did not specify which system had been affected. NASA clarified that later in a brief conversation with astronaut Frank Rubio aboard the station.
"Hey Frank, just want to make sure we put it out in the open in terms of status for 82P," mission control called. "You guys are probably already aware we had that TCS (thermal control system) coolant leak out to space this morning. The leak has stopped but at this point, we believe that it's completely leaked out.
"So not concerned from having an active leak on the Progress right now. From our perspective, the system is in a good, stable configuration. The Russians configured 82P to a dormant low-power mount, just keeping essential equipment powered."
The Progress was launched last October and is now loaded with trash and no-longer-needed equipment. It is scheduled to undock from the lab complex next Friday.
The plan going forward, NASA told Rubio, is to "keep the vehicle as is, so there's no additional troubleshooting or any actions that will be done in the short term. We're still targeting undocking at the end of next week. But of course, plans might change as we gather more information on the issue."
On December 14, a micrometeoroid punctured a coolant line on the hull of the Soyuz MS-22/68S crew ferry ship docked at the forward Rassvet module, allowing the spacecraft's supply of coolant to spew out into space.
Russian engineers decided the damaged Soyuz, which carried two cosmonauts and a NASA astronaut to the station last September, could not be used to bring its crew back to Earth in March as originally planned. The concern was that high temperatures could possibly damage flight computers and other equipment during re-entry.
Instead, an unpiloted Soyuz is being launched February 19 to replace the damaged ship. It is scheduled to dock at the Poisk module on February 21, after the now-damaged Progress is released.
A new Progress, meanwhile, was launched from the Baikonur Cosmodrome in Kazakhstan Thursday carrying nearly 3 tons of supplies and equipment. That spacecraft caught up with the space station early Saturday and docked without incident at the aft port of the Russian Zvezda module.
The Progress MS-21/82S issue, presumably unrelated, developed during or shortly thereafter.
Progress cargo ships do not carry crew members and are not designed to return to Earth. After delivering supplies, equipment and propellant, they typically are loaded with trash and no-longer-needed equipment and then discarded to burn up in the atmosphere.
The Russians have not yet said if the Progress MS-21/82S vehicle will undock next week as planned or whether the incident will delay launch of the replacement Soyuz in order to carry out additional inspections.