EDITOR'S NOTE: Watch a replay of our live coverage of the Falcon 9 launch with the O3b mPOWER 1 and 2 satellites.
SpaceX launched a Falcon 9 rocket Friday from Cape Canaveral on a mission to boost two high-power broadband satellites for SES's O3b mPOWER network toward a unique equatorial orbit some 5,000 miles above Earth.
Flying due east from Florida's Space Coast, the Falcon 9 rocket placed the first two O3b mPOWER satellites into orbit to join SES's 20 first-generation O3b internet satellites launched from 2013 through 2019.
The 229-foot-tall (70-meter) Falcon 9 rocket took off from Space Launch Complex 40 at Cape Canaveral Space Force Station at 5:48 p.m. EST (2248 GMT) Friday, the end of the day's nearly 90-minute launch window. The mission was the 200th flight of a SpaceX Falcon rocket since 2006, including 191 Falcon 9 flights, five Falcon 1s, and four Falcon Heavy launches.
The Falcon 9 on Friday was filled with a million pounds of kerosene and liquid oxygen propellants in the final 35 minutes before liftoff, and the Merlin 1D engines on the first stage booster flashed to life and ramped up to full throttle in the final few seconds before liftoff. Hydraulic clamps opened to release the Falcon 9 for its climb into space.
The nine main engines produced 1.7 million pounds of thrust for about two-and-a-half minutes, propelling the Falcon 9 and and the two O3b mPOWER satellite into the upper atmosphere. Then the booster stage — tail number B1067 in SpaceX's fleet — shut down and separated from the Falcon 9's upper stage.
The booster extended titanium grid fins and pulsed cold gas thrusters to orient itself for a tail-first entry back into the atmosphere, before reigniting its engines for a braking burn and a final landing burn, targeting a vertical descent to SpaceX's drone ship "A Shortfall of Gravitas" about 420 miles (670 kilometers) east of Cape Canaveral.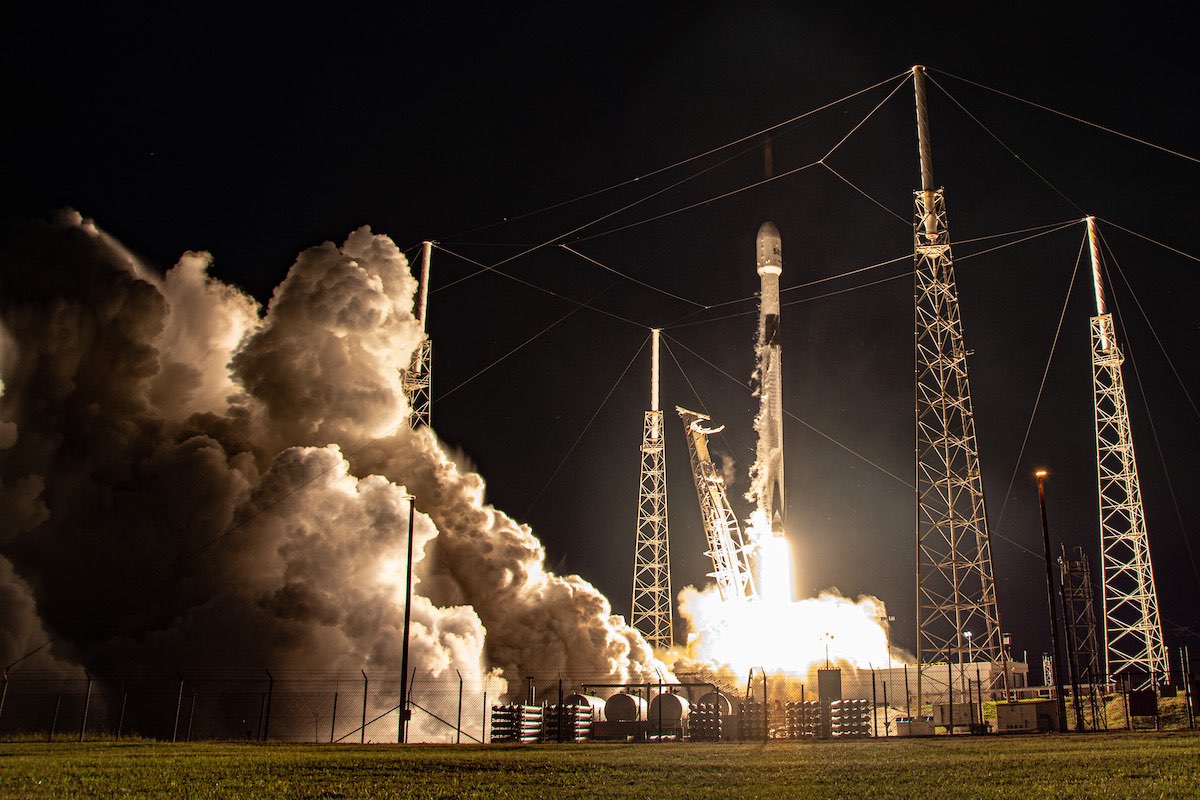 SpaceX did not have live video of the rocket landing, but later confirmed the booster successfully touched down on the landing platform holding position in the Atlantic Ocean.
The landing marked the completion of the booster's eighth flight to space. The booster debuted June 3, 2021, with the launch of a Dragon cargo mission to the International Space Station, and launched two astronaut crews into space on NASA's Crew-3 and Crew-4 missions. It has also launched the Turksat 5B communications satellite, another space station resupply mission, and a batch of Starlink internet satellites. Most recently, the booster launched and landed Nov. 13 on a mission with Eutelsat's Hotbird 13G television broadcasting satellite.
For the O3b mission, the Falcon 9's upper stage fired its engine three times to send the two Boeing-built broadband satellites into a higher orbit, closer to their final operating altitude about 5,000 miles (8,000 kilometers) over the equator.
The first O3b mPOWER satellite deployed from the rocket 1 hour and 53 minutes into the mission, followed by separation of the second spacecraft 2 hours after liftoff. The satellites will unfurl their solar panels and switch on xenon-fueled thrusters to maneuver into their operational orbit, a process that will take until about April, according to SES, the Luxembourg-based company that owns the O3b network.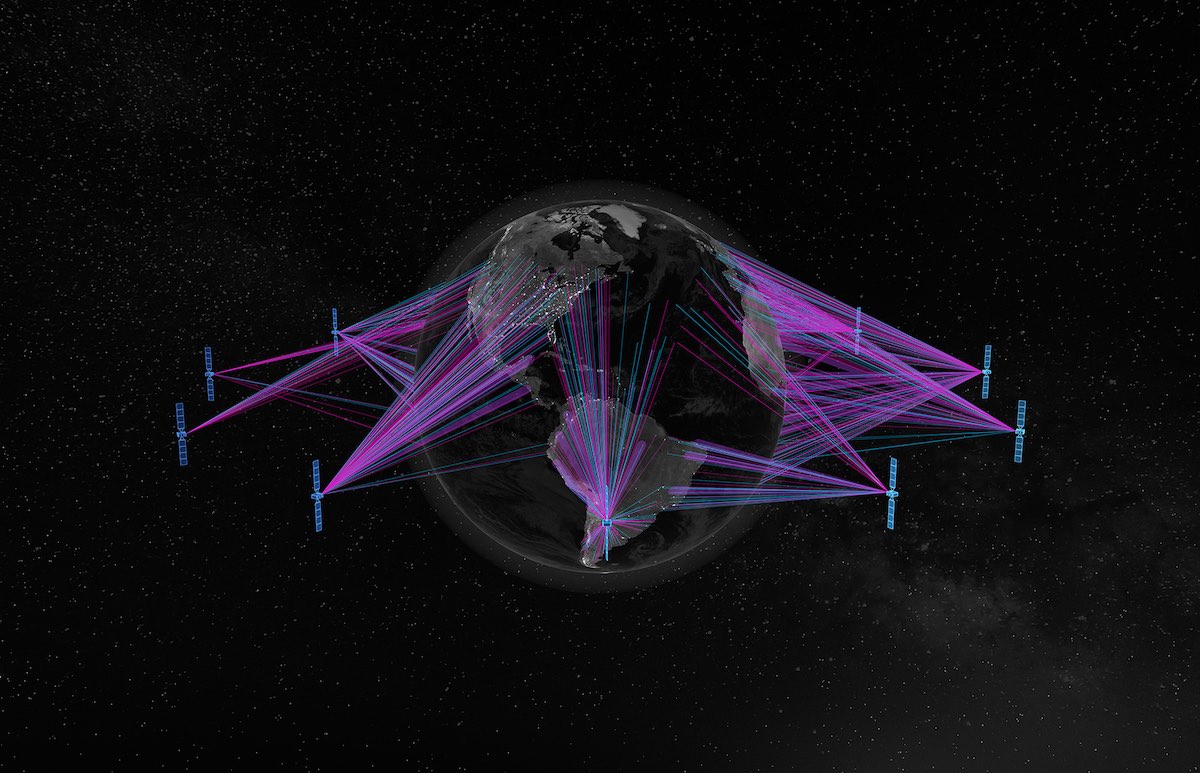 The two O3b spacecraft, when combined, weigh roughly 9,000 pounds (4,100 kilograms) in launch configuration, a Boeing official told Spaceflight Now.
The O3b mPOWER satellites will beam high-speed internet services around the world, providing "fiber-like" connectivity to users between 50 degrees north and south latitude, according to SES, the Luxembourg-based operator that owns the O3b fleet. Airplanes, cruise ships, energy companies, research institutions, and remote communities can remain connected using the O3b network.
SES already has 20 O3b satellites in Medium Earth Orbit. They flew to space on Russian Soyuz rockets under a launch services contract with Arianepace.
The new O3b mPOWER satellites will operate in a similar Medium Earth Orbit, or MEO, over the equator as the original O3b satellites.
"SES's O3b mPOWER system is a true gamechanger and will transform the way people think about connectivity," said Ruy Pinto, chief technology officer at SES. "Delivering performance above all, O3b mPOWER will offer connectivity services to government organizations and enterprises based in the most remote regions. In times of natural disasters, when networks are disrupted, O3b mPOWER's low-latency services can quickly restore critical communications networks."
O3b stands for "Other 3 Billion" in recognition of the billions of people without access to reliable internet service.
The original O3b satellites, built by Thales Alenia Space nearly a decade ago, had 10 user beams per spacecraft. The new O3b mPOWER satellites, built on Boeing's 702 spacecraft platform, each have more than 4,000 beams that can be adjusted to focus bandwidth on high-demand areas.
SES has focused on developing broadband satellites for a MEO constellation constellation, which puts the relay stations closer to Earth than geostationary orbit some 22,000 miles over the planet. That reduces the latency, or lag, in internet signals compared to geostationary satellites. As few as three geostationary satellites could provide global coverage, but more satellites in MEO required to reach around the world.
But that number is still far fewer than the hundreds or thousands of internet satellites companies like SpaceX and OneWeb are launching into low Earth orbit. Satellites flying less than 1,000 miles above Earth reduce latency even further than MEO satellites, but many more spacecraft are needed for global coverage.
Steve Collar, SES's chief executive, said the O3b mPOWER satellites are comparable to the power provided by conventional large geostationary satellites.
"But the miniaturization, you don't see these incredibly large satellites," Collar said. "It's really, really tightly packed. It's like taking a desktop phone and turning it into an advanced iPhone. It's the same kind of miniaturization that has to take place. And it's really impressive what's been achieved at Boeing."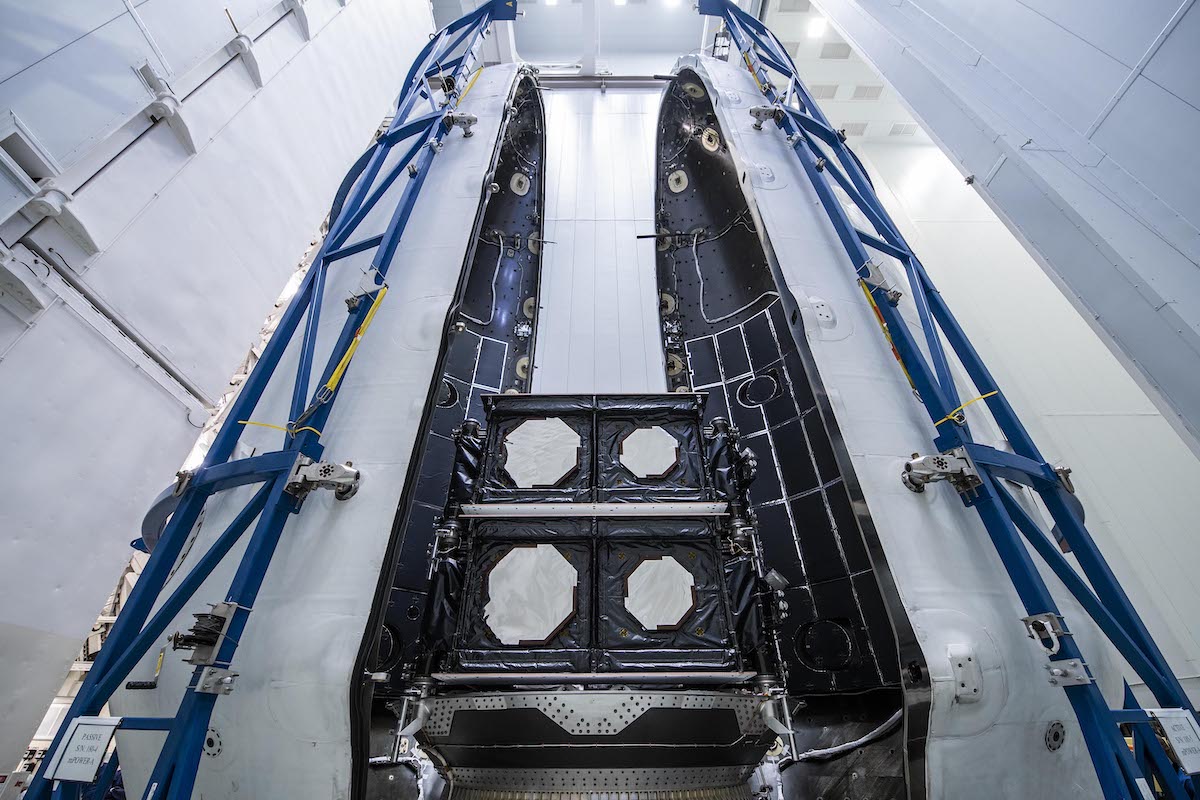 Boeing is contracted to build 11 O3b mPOWER satellites. More O3b mPOWER payloads are scheduled to launch on Falcon 9 rockets in 2023.
"SES approached us with a vision to create global equity, by providing people with high-speed connectivity where it wasn't economically or physically feasible to build fiber infrastructure," said Jim Chilton, senior vice president of space and launch at Boeing. "We partnered to create a super computer constellation in space to meet that goal, and we can't wait to see what SES does as the 702X platform's first user."
SES operates more than 50 satellites flying in geostationary orbit above the O3b constellation. The company's network architecture allows them to move customers between the O3b satellites and the geostationary satellites as needed, and software allows the O3b mPOWER satellites to shift their beams to focus on areas with high demand.
"That's going to be particularly relevant for cruise ships, for planes in the air that can fly across the Atlantic using the O3b mPOWER constellation," Collar said. "And then when they arrive over the U.S., they'll use SES 17, which is our geostationary satellite that we really designed for aviation and aeronautical connectivity.
"So we can combine the merits of what we're able to achieve with mPOWER and some of our geostationary assets through this software enabled space brain, and the fact that we're fully digital, we're fully software reconfigurable, we can point beams anywhere, and we can serve customers from 10 megabits to 10 gigabits. That's really the strength of the system."
One user of the O3b network is Princess Cruises.
"From a cruise perspective, the consumer does not care whether it's Starlink, or SES, or another provider," said John Padgett, president of Princess Cruises. "What the consumer cares about, what guests cares about, is consistent, reliable, affordable, high performance communications.
"Now with mPOWER, we can take that to the next level," Padgett said in a media telecon Friday. "I think there is a lot of exploration going on in the cruise industry around Starlink. But I can tell you, from a Princess standpoint, we buy into the engineering model that backbones mPOWER because it's the right number of satellites, it's the right level of complexity, and it's industrialized enough where we can then really depend on operations.
"It's not just a guest amenity to us," Padgett said. "So you can't have high performance one minute, and no performance the next. We need really reliable communications that are high performing. And that's what we think we get with this mid-Earth orbit satellite configuration, and the portfolio of tools that SES has in in their tool chest.
ROCKET: Falcon 9 (B1067.8)
PAYLOAD: O3b mPOWER 1 & 2
LAUNCH SITE: SLC-40, Cape Canaveral Space Force Station, Florida
LAUNCH DATE: Dec. 16, 2022
LAUNCH TIME: 4:21-5:48 p.m. EST (2121-2248 GMT)
WEATHER FORECAST: Greater than 90% chance of good weather
BOOSTER RECOVERY: "A Shortfall of Gravitas" drone ship in the Atlantic Ocean
LAUNCH AZIMUTH: East
TARGET ORBIT: Medium Earth Orbit transfer
LAUNCH TIMELINE:
T+00:00: Liftoff
T+01:12: Maximum aerodynamic pressure (Max-Q)
T+02:33: First stage main engine cutoff (MECO)
T+02:36: Stage separation
T+02:44: Second stage engine ignition (SES 1)
T+03:22: Payload fairing jettison
T+06:33: First stage entry burn ignition (three engines)
T+06:55: First stage entry burn cutoff
T+08:03: Second stage engine cutoff (SECO 1)
T+08:24: First stage landing burn ignition (one engine)
T+08:47: First stage landing
T+27:10: Second stage engine restart (SES 2)
T+27:43: Second stage engine cutoff (SECO 2)
T+1:49:52: Second stage engine restart (SES 3)
T+1:50:18: Second stage engine cutoff (SECO 3)
T+1:53:19: First O3b mPOWER spacecraft separation
T+2:00:19: Second O3b mPOWER spacecraft separation
MISSION STATS:
191st launch of a Falcon 9 rocket since 2010
200th launch of Falcon rocket family since 2006
8th launch of Falcon 9 booster B1067
163rd Falcon 9 launch from Florida's Space Coast
106th Falcon 9 launch from pad 40
161st launch overall from pad 40
131st flight of a reused Falcon 9 booster
8th SpaceX launch for SES
57th Falcon 9 launch of 2022
58th launch by SpaceX in 2022
55th orbital launch attempt based out of Cape Canaveral in 2022
Email the author.
Follow Stephen Clark on Twitter: @StephenClark1.